Queen Elizabeth II to become Britain's longest reigning monarch: In keeping the show going for a record 63 years, she has given great service
She is as popular as ever - seven out of 10 people in Britain are in favour of the monarchy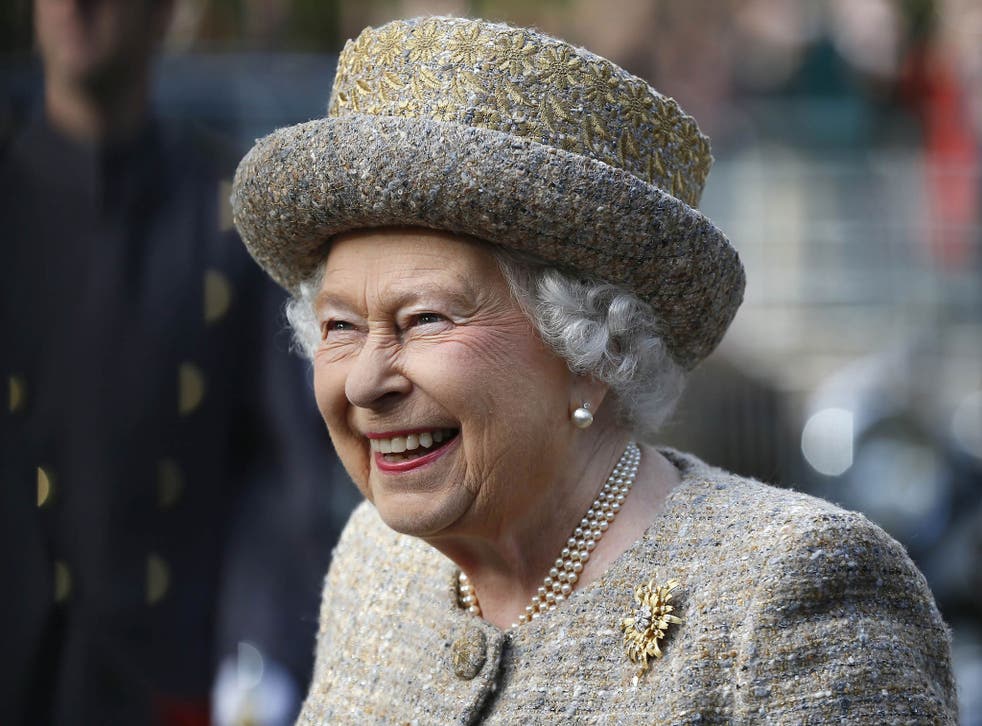 She's tiny. That's the first thing to say about Elizabeth Alexandra Mary Windsor, or to quote her title in full: "Elizabeth the Second, by the Grace of God, of the United Kingdom, Canada and Her other Realms and Territories Queen, Head of the Commonwealth, Defender of the Faith".
She comes drifting along a line of dignitaries at the Tower of London like a super-sleek great-grandmother – beady eyes shining and head nodding slightly at each new inanity offered by a doting, or, at least, starstruck, subject.
"Yes Ma'am," says the lady next to me, nearly knocking the sovereign's eye out with a hat feather as she curtsies. She rhymes it with the start of Marmite (although it should rhyme with jam), and people either love the Queen or they … well, they don't hate her, do they? They love her just a little less.
Some time after 5.30pm on 9 September, Elizabeth will become the longest-reigning monarch in British history, having surpassed Queen Victoria's record of 63 years, seven months and two days. She is as popular as ever. Seven out of 10 people in Britain are in favour of the monarchy; most of the rest have no strong views.
Even republicans like me have to admit that there is much to admire about an 89-year-old who is so obviously dedicated to her work, with stamina that would shame a woman half her age. "Say what you like," says my mum, who knows what I think, "but if anyone knows what it means to have a sense of duty in this day and age, it is her."
Mum is excited to be at the rededication of the Chapel of St Peter ad Vincula in the Tower (this happened almost a year ago), because it means she gets to meet the Queen. She's no rabid royalist, but Her Majesty represents the values of her own parents' generation, those tough, improvising men and women who survived wartime and remade the nation afterwards, and who are nearly all gone now.
They only exchange glances, as the really important people have been lined up a stride away to actually shake hands with the Queen, while we make do with the Duke of Edinburgh, who demands to know: "What are you doing here?"
The answer to his barked question is too complicated to get out in time (I helped raise money for the chapel by spending the night in a cell in the Tower, which is another spine-tingling story altogether), but he doesn't care anyway. He has moved on.
There will be more encounters like this on 9 September, when the Queen ventures out from her long Balmoral summer holiday to climb aboard a steam train and open the new Borders Railway in Edinburgh.
Portrayals of The Queen on screen and on stage

Show all 9
She doesn't want a party to celebrate entering the record books, says a palace source, because it would be like celebrating Victoria's death. "She would see that as very disrespectful to one of her ancestors."
They take the long view, the Royal Family. And we should, too, when trying to work out how to react to this moment.
I don't want a queen, to be honest. Nothing personal, but it's just not fair. Why should one member of one family be chosen above all others to wear the crown and have the wealth, glamour and influence, just by virtue of their birth?
(Don't tell me that she is not as rich as she looks, as most of the property and palaces belong to the Crown Estate and are held in trust for future generations. Don't tell me the monarchy costs 53p for every citizen and brings in a billion pounds a year to the economy. I get all that. She is still worth £330m in her own right, as an accident of birth. The Green Party may want to put her in a council house but it's not going to happen. Her face is on the money, for goodness' sake.)
It's all a bit medieval, isn't it? Undemocratic, you might say. Unjust. Not at all in tune with the sort of country I would like to live in, namely one that sees all its citizens as equal and behaves accordingly.
Yes, I know that is unrealistic, with the number of blue bloods in the Cabinet. I know their part of the Establishment has a tighter grip now than it has for decades, but they can be voted out, if only people acquire the sense to do so in the next five years (and somebody comes up with a plausible alternative).
"Hereditary public office goes against every democratic principle," says the campaign group Republic. "The monarchy is a broken institution. A head of state that's chosen by us could really represent our hopes and aspirations – and help us keep politicians in check."
It's an attractive thought, until you contemplate what a couple of wild-eyed former Prime Ministers might have made of the job if they had been elected President Thatcher or President Blair. God bless you, Ma'am, for sparing us that. Still, hereditary monarchy reinforces the sense of "them and us" that continues to cripple this country. So I'd rather she wasn't there. But she is.
That's not her fault. It's a bit of a stretch to call her a prisoner of circumstance – the cage(s) are gilded – but she didn't ask to be born to a father who had to become king against his will when his flaky brother abdicated for love. (Any more than the young Elizabeth had a clue what she was doing when her uncle goaded her into making a Nazi salute as an eight-year-old, while he filmed her with a cine camera. Putting that on the front page of The Sun recently was a low blow indeed.)
She became a woman during wartime, driving a truck for the Army and learning to mend the spark plugs, up to her elbows in grease in the blackout while the bombs fell. She was in the crowds during the great jubilation of VE Day, and felt their relief. She knew what was coming, declaring on her 21st birthday in 1947: "I declare before you all that my whole life, whether it be long or short, shall be devoted to your service and the service of our great imperial family, to which we all belong."
That pledge is one reason why she will never abdicate. She really does believe that she was put on the throne by God. While her first-born son shows an interest in religions of all kinds, and will be judged on whether he can be a monarch for a multicultural society, she has taken the opposite approach: sticking firmly to the Anglican faith that blessed her coronation and to which she swore sole allegiance.
The empire was just about still there when she became Queen suddenly in 1952, after her father died of cancer. Winston Churchill scraped together all the pomp and ceremony his government could afford for her coronation in 1953 – and, just as he hoped, the young Queen that people saw in the new Technicolor television pictures provided a bright splash of glamour in grey, drab, austerity Britain.
David Cameron is right, for once, when he says in the foreword to a new book about her long reign that she has served with "grace, dignity and decency" through great change. "In the 1950s it might have been hard to imagine, but the United Kingdom has become a country where a woman can become prime minister; where gay people can get married, not be sent to prison; and where in one or two generations people from any ethnic background can come here with nothing and rise as high as their talents allow."
That last bit is not strictly plausible, but he appears to be sincere.
"These great advances in our society", he continues, "epitomise the most significant change of all. In just over 60 years we have made huge progress in building a multiracial, multi-faith democracy."
We're not there yet by any means. Mr Cameron could certainly do a hell of a lot more to make it happen. But it is true that the Queen has lived through changes from the end of rationing to the first man on the Moon, from the legalisation of homosexuality to equal marriage – even while quietly reshaping the image of the monarchy in response.
Her strategy has been to try to make the members of the House of Windsor seem just ordinary enough to be liked – by letting the cameras film them on a picnic in the Sixties, for example, and spreading stories about how she eats her tea in front of the telly from a Tupperware box – but still different enough to seem regal.
It all backfired during the Eighties and Nineties, when the younger members of the Family let her down badly – Charles was a bastard to Diana, Fergie frolicked with and without Andy, Harry dressed up as a Nazi. Windsor Castle burned down and at first she expected the rest of us to pay for all the repairs.
And the Queen got it spectacularly wrong in 1997 after the death of the Princess of Wales, appearing cold, uncaring and out of step. Republicanism briefly flared. But somehow she pulled it all back.
William and Harry grew up into decent blokes (if you don't mind the whole prince thing). Kate brought a dash of Home Counties glamour (although she seems to be overdoing it on the post-baby diet). George is a cute enough kid. Suddenly, the House of Windsor looks like the model family that Elizabeth wanted all along.
What does it all amount to, though? Not much, according to the historian Dr David Starkey. "She has done and said nothing that anybody will remember. She will not give her name to her age. Or, I suspect, to anything else."
Her refusal to say anything controversial has starved republicanism of air, he says, and he means it as a compliment. "For she came to the throne with one thought only: to keep the royal show on the road."
That may be true, but he's missing the point. Keeping the show on the road for the past 63 years has been something close to a modern miracle, and it has done us all a favour. She has been a constant, calming presence in a country that has often needed one.
You have to admire her self-discipline and sense of duty. When she goes, the great swell of affection people have for her will die away too, and questions will be asked again about what the monarchy is for, in this day and age. Some of us will hope to find a better way. But it won't happen this week. We may not want a Queen, but we are lucky enough to have had a good one.
She may be tiny but her impact has been immense. Elizabeth has done her best and given her all. For that we should be grateful.
Join our new commenting forum
Join thought-provoking conversations, follow other Independent readers and see their replies