Raul Castro so impressed with Pope Francis he 'may start praying again and return to Church'
It's a controversial statement given Cuba only reinstated Christmas in 1998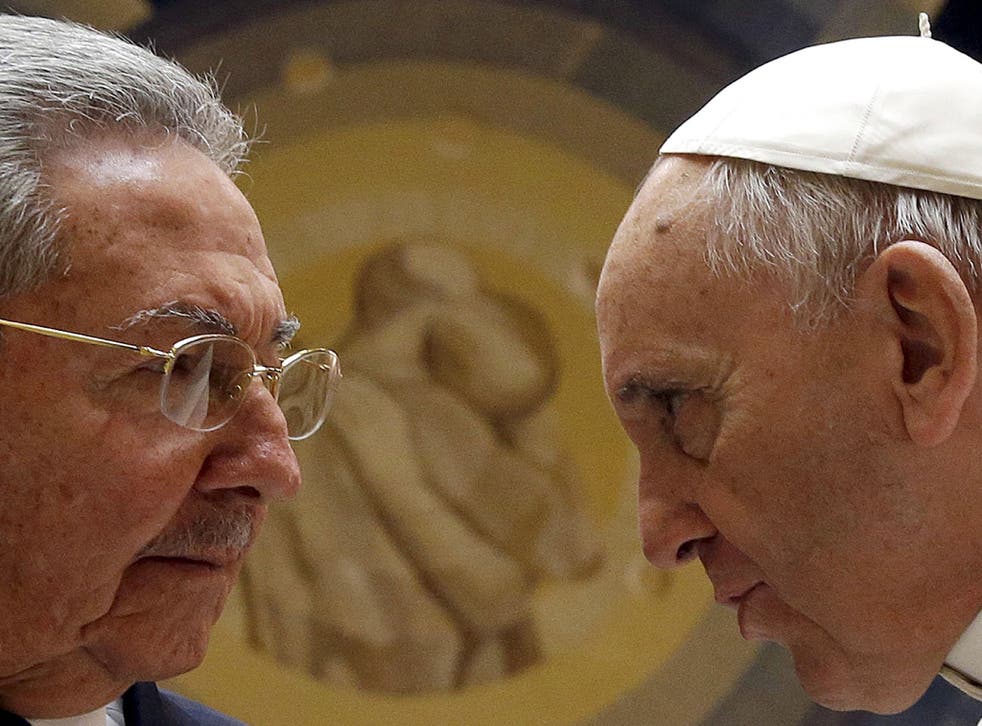 Raul Castro is a huge fan of Pope Francis, it turns out – so much so that the Cuban President has said he could be persuaded to return to the Catholic Church.
Francis entertained the communist revolutionary for nearly an hour during a "strictly private" meeting at the Vatican, and it seems that one of the more unlikely international bromances has started to blossom.
At a later news conference with the Italian Prime Minister Matteo Renzi, Castro revealed that he admires the Pope as a champion of the poor, and that he reads all of his speeches.
It is rare for Francis to give private audiences on a Sunday, when he is usually busy with his Mass, but an exception was made to accommodate the Cuban leader on his way back from Moscow.
Speaking to reporters as he came out of the meeting with Francis, Castro said he was left "really impressed by his wisdom and his modesty".
The meeting was primarily an opportunity for Castro to thank Francis for his mediation role in the recent thawing of relations between Cuba and the US.
And the pair will be reunited when Francis visits both those countries in September – at which point Castro said he will "attend all his masses and be happy to do so".
The president joked later that he had been brought up in the same religious order as Francis – he was educated by Jesuits before his brother Fidel led the Cuban Revolution in the 1950s.
Pope Francis gives life advice: in pictures

Show all 10
He said: "I told the Prime Minister that if the Pope continues to talk as he does, sooner or later I will start praying again and return to the Catholic Church – I am not kidding."
It is a significant statement for Cubans – while both of the Castro brothers were baptised as Catholics, the Church's activities in the country were suppressed for decades after the overthrowing in 1959 of President Fulgencio Batista.
The government began loosening restrictions in the early 1990s – and Christmas was only re-instated as a holiday in 1998 after a visit by the late Pope John Paul II.
Join our new commenting forum
Join thought-provoking conversations, follow other Independent readers and see their replies