Tony Benn, James Rebhorn and the rise of the 'selfie' obituary
The late James Rebhorn and Tony Benn both compiled their own obituaries. These new 'selfies' show the lives of the famous in a different light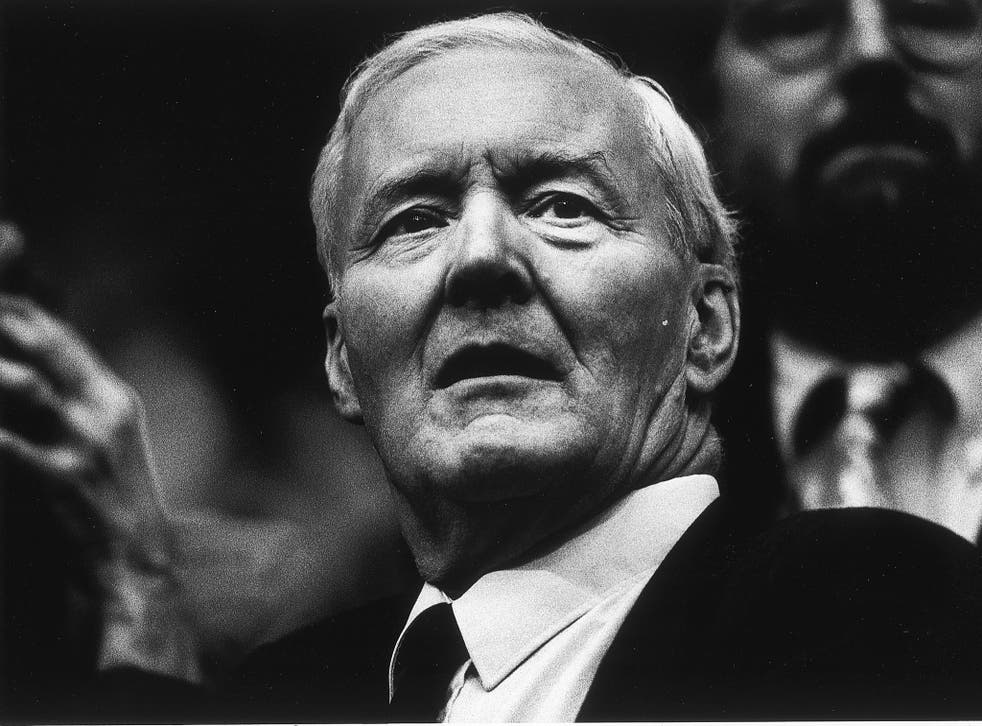 Revered by colleagues and adored by family and friends, Chris Maume, who has died at the age of 102 after a long and vigorous life, was widely acclaimed as the finest obituaries editor of his generation...
This is one possible intro to my obituary, were I writing it myself (other intros are available). The Homeland actor James Rebhorn, who died a few days ago, was considerably more modest when he did his. In a heartfelt piece, which concludes, "He was a very lucky man in every way", he gives love and thanks to everyone who helped make his life such a well-lived one.
Wearing my professional hard hat, I'd have to say it reads not so much like an obituary as a particularly eloquent and dignified awards-ceremony acceptance speech. But then it's not really written to place James Rebhorn, character actor with an illustrious list of credits, in a biographical context. Any reader unfamiliar with his acting career would come out none the wiser. It's addressed to those who knew him, to make them feel slightly better about his passing, perhaps, and it is immensely touching.
In a similar vein, Tony Benn's 40-second message recorded several years ago for a Channel 4 news crew and released when he died a couple of weeks ago – it's on YouTube – is essentially an expression of love for his family. The only allusion to Benn the public figure comes at the end: "I hope that I didn't give offence, because I tried to speak my mind."
The wit and wisdom of Tony Benn

Show all 15
The best-known auto-obituarist is Spike Milligan, who did his for The Sunday Correspondent (which he outlived by nearly 12 years), having got the idea when he was shown his advance obituary by a copygirl on a newspaper in Australia. The Milligan patter is there from the outset: "I was educated first at the Convent of Jesus and Mary where I consistently passed top of the class. While I was there the nuns had 16 immaculate conceptions." There follows a brisk, witty canter through his colourful life, some of it even true, and he concludes with a list of his hobbies – "writing The Goon Show and dying".
Serious points have been made in obit selfies. Bernard Manning was asked to write his by the Daily Mail. No surprise that it's stuffed full of terrible jokes, but there is a fleeting reference to how he was dropped by TV in the 1980s, though it is only one line and he doesn't come across as bitter. Of Jewish immigrant stock, he says, he does take the time to firmly deny being racist, citing his appearance at Clive Lloyd's testimonial and the fundraisers he did for the boxer John Conteh and cricketer Farokh Engineer.
Sometimes obit selfies have a very specific purpose. When a man named Val Patterson wrote his for The Salt Lake Tribune a couple of years ago, he needed to come clean on a few things. "As it turns out, I AM the guy who stole the safe from the Motor View Drive Inn back in June 1971," he confessed. And as for his doctorate from the University of Utah: "The day I went to pay off my college student loan at the U of U, the girl working there put my receipt into the wrong stack, and two weeks later, a PhD diploma came in the mail."
Elizabeth Sleasman had a fine motive for writing her obituary. She died last year near Seattle after 25 years of drugs and alcohol abuse, and wanted to leave a warning to others on that path. Her piece is heartbreaking. "During the last 10 years, I never knew from one day to the next where I was going to be, I ate out of garbage cans, begged, and stole. I slept in bushes, doorways, abandoned vehicles, and nearly froze to death in the winter."
She concludes with a piece of advice to other users: "I have quit now, but I am dead; don't wait as long as I did."
A self-penned piece by Walter George Bruhl Jr, of Delaware, went viral earlier this month after his grandson posted it on Reddit, and was clearly written to give his family a bit of a laugh and ease the pain somewhat. He writes of his early adulthood in the military – "he chose this path because of Hollywood propaganda, to which he succumbed as a child during World War II" – and his subsequent career in industry.
On his deathbed, he writes: "He was surrounded by his loving wife of 57 years, Helene Sellers Bruhl, who will now be able to purchase the mink coat which he had always refused her because he believed only minks should wear mink."
Cartoonist "Doonesbury" – Garry Trudeau – has written his obituary, which he sometimes quotes from at public appearances. "Feb 3, 2035 – former New York Knicks point guard Garry Trudeau died peacefully in his home today following a particularly fine meal and a visit from his great-grandchildren," he begins. "Mr Trudeau, who enjoyed an early modest success as a cartoonist, is best remembered for his abrupt career change when he appeared unannounced at a Knicks try-out camp."
Could obit selfies be the new, er, selfies? I can see it happening. Best get on with mine – as James Rebhorn tells his children, exhorting them to get on with their lives' work: "Time is flying by."
Join our new commenting forum
Join thought-provoking conversations, follow other Independent readers and see their replies