RNC 2016: Ben Carson declares that being transgender is the 'height of absurdity' at Republican Convention
Mockery of transgender Americans and their rights is popping up all over at the Republican fest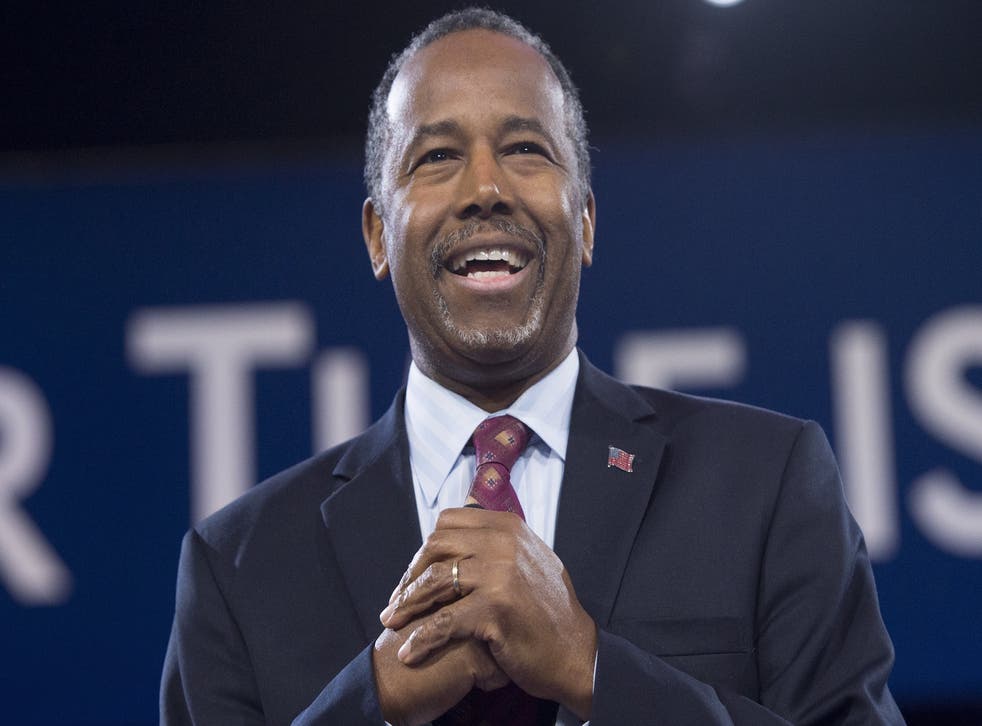 Ben Carson, the former brain surgeon who made his own run at the Republican nomination before dropping out, is telling delegates in Cleveland the "whole transgender thing" is "absurd".
Addressing the Florida delegation in their hotel before the start of official business on Tuesday, Mr Carson even went so far as to suggest that a person deciding they want to transition from one gender to another is like someone waking up and deciding to change their race.
Separately Mr Carson, who was given a walk through of the Quicken Loans Arena where the plenary sessions of the convention are taking place on Tuesday morning, told The Hill web site that the notion of someone even being transgender doesn't make any sense.
"For someone to wake up and think that they belong to a different sex because they feel different that day is the same as if you woke up and said I'm Afghani today because I saw a movie about that last night and even though my genetics might not indicate that, that's the way I feel, and if you say that I'm not, then you're a racist," Mr Carson told the news site.
There has been fierce national debate about transgender rights in America this year, notably in the wake of the passage of a North Carolina law in the spring that bound schools and other institutions to oblige transgender people to use the bathrooms of the gender they were born with not the one they have since made the transition to.
The transgender community was more or less unknown to many Americans until the former Olympic medal winner Bruce Jenner announced last year that he was close to completing a transition to a woman and that he was to be known thereafter as Caitlyn Jenner. She is now a successful television personality and was featured as a woman on the cover of Vanity Fair.
"You know, we look at this whole transgender thing. I got tell you, for thousands of years, mankind has known what a man is and what a woman is," Mr Carson mocked at the outset of his meeting with the Florida delegates, according to the Palm Beach Post.
"Now all of a sudden we don't know any more. Now, is that the height of absurdity? Because today you feel like a woman, every though everything about you genetically says that you're a man or vice versa," he carried on.
"Would that be the same as if you woke up tomorrow morning after seeing a movie about Afghanistan or reading some book and said, 'You know what? I am Afghanistan. I know I don't look that way. My ancestors came from Sweden…But I really am. And if you say I'm not, you're racist. You know, I mean this is how absurd, this how absurd we have become."
Mr Carson, who was persuaded to make his failed run for president after drawing headlines for severely criticizing President Barack Obama to his face at a national prayer breakfast in 2014, reportedly drew several rounds of laughter as he made his remarks.
It is not the first time that the issue of transgender rights and bathroom access have seeped into discourse at the convention that opened in Cleveland on Monday and runs until Thursday.
On Monday evening retired Army Lt. Gen. Michael Flynn and one-time Director of the Defence Intelligence Agency serving President Barack Obama, astonishingly tied the support of liberals for transgender rights to the country's failure to take tough foreign policy stances and fight wars.
"War is not about bathrooms," he cried. "War is not about political correctness or words that are meaningless. War is about winning."
Join our new commenting forum
Join thought-provoking conversations, follow other Independent readers and see their replies