Robin Williams dead: Children speak of their struggle to understand father's suicide
'I'll never, ever understand how he could be loved so deeply and not stay'
Lizzie Dearden
Wednesday 13 August 2014 14:48 Comments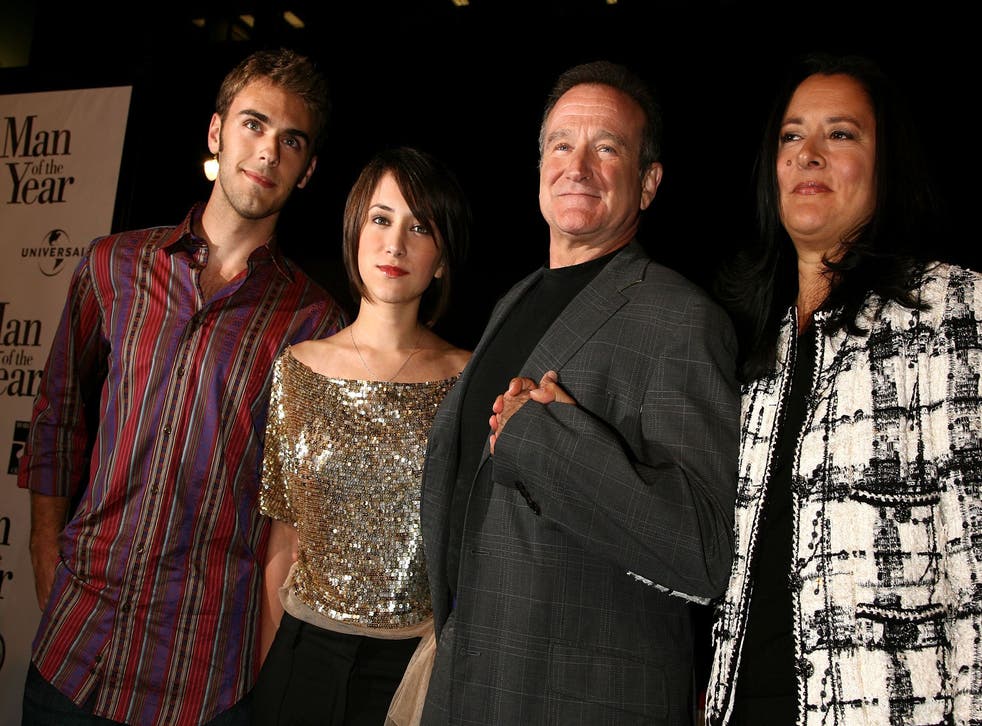 Robin Williams' three children have spoken of the "immeasurable loss" of their "father and best friend" and their struggle to come to terms with his suicide.
The 63-year-old actor was found dead on Monday after hanging himself at his home in Tiburon, California.
His daughter, Zelda Williams, talked of the last day they spent together on his recent birthday, when she and her brothers shared "gifts and laughter".
"He was always warm, even in his darkest moments," the 25-year-old said.
"While I'll never, ever understand how he could be loved so deeply and not find it in his heart to stay, there's minor comfort in knowing our grief and loss, in some small way, is shared with millions."
Barack Obama, Prince Charles, Steven Spielberg and countless actors who worked with Williams in his decades-long career were among those who shared their memories of the comedian in an unprecedented outpouring of tributes.
After achieving fame as eccentric alien Mork in the popular late-70s sitcom, Mork and Mindy, he went on to appear in loved and acclaimed films including Good Morning, Vietnam, Mrs Doubtfire and Good Will Hunting, for which he won an Oscar.
Williams made no secret of his long battle against cocaine and alcohol addition, once joking that cocaine was "God's way of telling you you're making too much money" and had recently started a rehabilitation programme after months of non-stop work.
Robin Williams: A career in pictures

Show all 30
His publicist confirmed after he had been suffering from severe depression in recent weeks.
His son, Zak Williams, said he will carry his father's heart with him every day.
"I would ask those that loved him to remember him by being as gentle, kind, and generous as he would be," he added.
Cody Williams, the actor's youngest child, said there were "no words strong enough to describe" his love and respect for his father.
He added: "The world will never be the same without him.
"I will miss him and take him with me everywhere I go for the rest of my life, and will look forward, forever, to the moment when I get to see him again."
Williams was last seen alive by his wife, Susan Schneider, on Sunday evening and she left the house on Monday morning to run errands believing he was asleep.
When Williams didn't answer a knock on the door a short time later, his personal assistant found him dead in a bedroom.
Officials said all evidence indicates the actor committed suicide by hanging himself but a final ruling will be announced after toxicology reports and interviews with witnesses are complete.
A pocket knife was found close to the actor's body, and there were superficial injuries on the body that were likely self-inflicted.
Family friends said Williams had been concerned about his finances in recent months and taken on a relentless work schedule, including the axed television show The Crazy Ones and a soon to be released Night at the Museum sequel.
His ex-wife Marsha Garces Williams, who is Zelda and Cody's mother, said her "heart was split wide open".
"My arms are wrapped around our children as we attempt to grapple with celebrating the man we love, while dealing with this immeasurable loss," she added.
Her daughter said: "While there are few things I know for certain right now, one of them is that not just my world, but the entire world is forever a little darker, less colourful and less full of laughter in his absence.
"We'll just have to work twice as hard to fill it back up again."
Register for free to continue reading
Registration is a free and easy way to support our truly independent journalism
By registering, you will also enjoy limited access to Premium articles, exclusive newsletters, commenting, and virtual events with our leading journalists
Already have an account? sign in
Join our new commenting forum
Join thought-provoking conversations, follow other Independent readers and see their replies