Ruby Rose calls for boycott on magazine for using 'unapproved' picture of her in sheer vest
Actress accused the magazine of exploiting her by using the image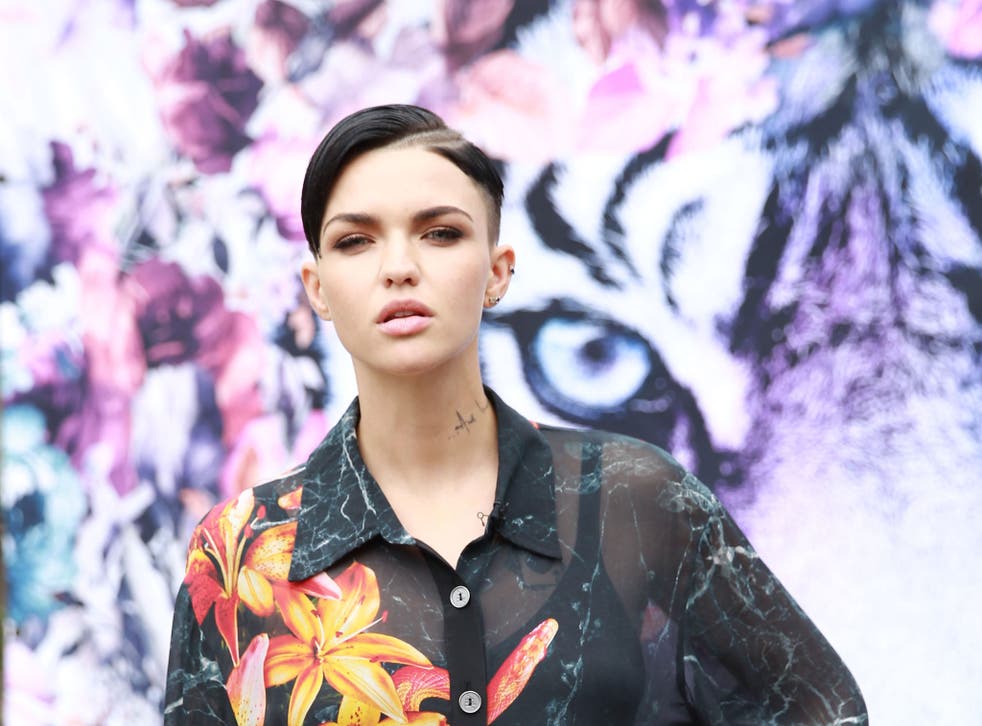 Ruby Rose has called for a boycott on Untitled Magazine, claiming it published an "unapproved" picture of her taken months previously.
The Orange is the New Black actress reacted angrily on social media after she was tagged in a photo of herself wearing a transparent shirt. Rose shared the image with a box covering her chest on Instagram and condemned the inclusion of the picture in a profile about her.
She wrote: "I am pro 'free the nipple' so when I was tagged in this photo by fans I wasn't sure where it came from but I assumed a BTS from a friends shoot or one where we had approved slightly [sic] transparency in an image.
"Imagine my shock to find that Untitled Magazine decided to publish images of me after we explained we wouldn't be doing the shoot if I wasn't appropriately covered. The difference with working with a friend and or choosing to use nudity for art / and someone taking the p**s and exploiting you is two different things.
"Please if you are a fan of mine boycott this issue. Or you are buying into greedy, exploitative propaganda. I have plenty of other shoots I'm proud of with professionals coming up - it's not needed in your collection."
The image was taken in April and used in the September print edition to accompany an interview with her. It is not featured in the online version of the article.
Rose claimed she had stressed she did not want nudity in the pictures and asked about Photoshopping any "nipslips" out ahead of the shoot, writing in a tweet to the magazine: "I had two team members with me that day and I myself even asked about Photoshopping OUT any nudity or "nip slips" - this was all totally agreed upon. We have followed up for MONTHS about this shoot."
She also reacted angrily when Untitled promoted its interview on Twitter after she had expressed her anger, accusing its editors of trying to generate publicity off the back of her response.
Untitled said it was unaware of any issues surrounding the picture before going to print and received a number of emails from Rose's team praising the shoot after it had concluded.
Indira Cesarine, the magazine's editor in chief, told The Independent: "We would never publish unauthorised photos of an actress we are profiling in the magazine. The photo shoot was an original production for the magazine's 'Girl Power' themed print edition, which was photographed exclusively by female photographers and written exclusively by female journalists in an effort to promote gender equality and female empowerment.
Best Netflix originals to watch in 2015

Show all 12
"Unfortunately no concerns were raised to the magazine regarding these photos prior to the issue being printed and distributed. We have multiple emails from her team re-iterating how happy they were with the photo shoot, and there were no concerns over the photos raised with the magazine after the shoot took place.
"We were never asked for any additional approvals regarding the photo shoot, and no one from her team notified anyone from the magazine regarding retouching for this photo shoot. The first time we heard of her concerns over the photos was from her Instagram post alleging we were trying to exploit her, which is categorically false.
"With regards to approvals, we never signed a contract giving her or her PR representatives photo approval of these images. It is standard procedure if photo approval is required for there to be a photo approval contract signed by the magazine before the shoot takes place. This was not presented and it was our understanding from the emails post shoot that her team was delighted with the photo shoot and there were no concerns regarding the images.
"If we had known of her concerns we would have not run the photo in question. They are published in a print magazine which is already distributed. We did not publish the photo in question online and are very upset to hear of Ruby's concerns now over this particular image."
The Independent has contacted Rose for comment.
Join our new commenting forum
Join thought-provoking conversations, follow other Independent readers and see their replies