Rupert Murdoch tweets 'congratulations' to Michael Gove after reports the MP will back EU exit
The media mogul wrote: 'Friends always knew his principles would overcome his personal friendships'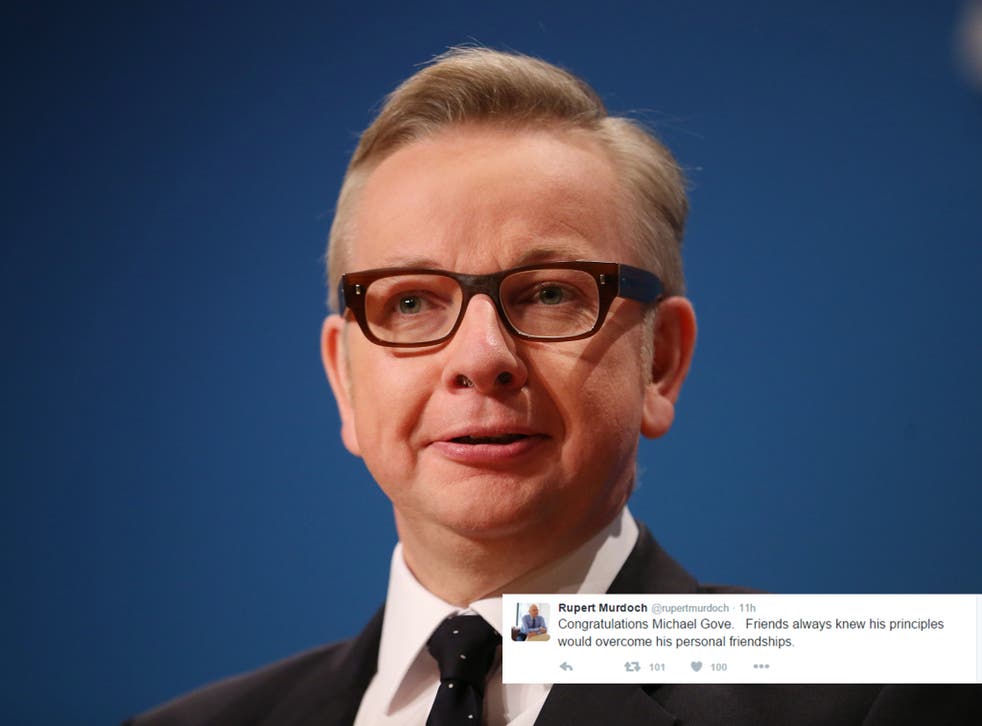 Media proprietor Rupert Murdoch has made a tweet expressing his support for Michael Gove after David Cameron all-but-confirmed that the Justice Secretary will campaign for an EU exit.
Mr Murdoch wrote: "Congratulations Michael Gove. Friends always knew his principles would overcome his personal friendships".
The 'friendship' referred to in the tweet may be that between Mr Gove and Prime Minister David Cameron, with whom Mr Gove has historically had a close allyship.
The Prime Minister said he was "disappointed, but not surprised" at Mr Gove's intention to back a vote to leave the European Union in the referendum likely to be held in June.
Mr Cameron plans to campaign to for Britain to remain a member of a reformed EU, after announcing on Friday that he had negotiated a deal that would give the UK "special status".
Mr Murdoch has not yet revealed his own stance on an EU exit.
Join our new commenting forum
Join thought-provoking conversations, follow other Independent readers and see their replies