Russell Brand explains the reason for his no-vote U-turn and admits he decided to back Labour BEFORE his Ed Miliband interview
The comedian also hinted at his own political intentions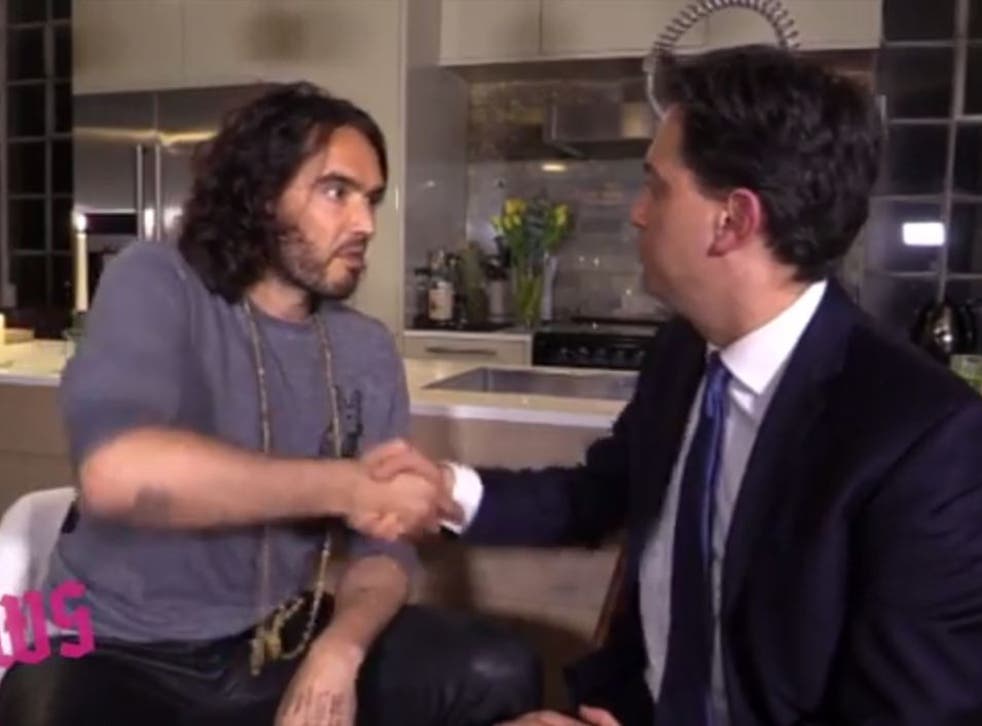 He famously sat in front of Jeremy Paxman and said he didn't vote. He encouraged the young not to engage in the current democratic system, either. He marched on Trafalgar with Anonymous. And he wrote a book called Revolution.
Needless to say Russell Brand's about-turn to back Labour leader Ed Miliband in the 11th hour came as something of a shock to his young supporters. And a welcome one to the left-of-centre party hoping to capitalise on some of the young, impressionable, formerly apathetic voters.
The comedian has faced criticism from all corners over the decision. Including from the Tories, whose leader David Cameron labelled him "a joke", before describing him as "some comic with a beard who thinks terrorism is funny".
So he's written a blog post to explain it all. Including confirming he'd planned to back Labour all along before his interview with 'Chim Charoo' Miliband even took place.
"In the episode of The Trews in which I interviewed Ed Miliband there is no Damascene moment," he writes via his website. "I did not tumble back in a white beam of enlightened reverie, scales falling, realising that the Westminster machine, with a different pilot will serve ordinary people. **We decided to endorse Labour before we approached them for the interview.**
Admitting that if we were to scrap the government, there is currently no system good enough to replace it, he adds: "The simple truth is I don't have a 'ready to wear' system of government to offer people on May 8th and neither does anyone else I've yet spoken to."
He continues: "Ultimately what I feel, is that by not removing the Tories, through an unwillingness to participate in the 'masquerade of democracy', I was implicitly expecting the most vulnerable people in society to pay the price on my behalf while I pondered alternatives in luxury.
"The reason I didn't suggest it sooner is because, twerp that I am, I have hope. I really do believe that real, radical change is possible that the tyranny of giant, transnational corporations can be ended, that ecological melt-down in pursuit of imaginary money can be arrested and reversed, that an ideology that aspires to more than materialism, individualism and profit can be realised and practiced."
Russell Brand's Most Controversial Quips

Show all 19
Elsewhere he adds: "My position will not have changed on May 8th, I'll be doing my best to amplify movements I believe in, from housing, to trade unions, football fan campaigns, social enterprises, digital activism, student occupations, organic agriculture, crypto-currencies; the same things I'm doing today, the things I've been learning about for the last 18 months; since I said I don't vote on the telly.
"My recommendation that people vote Labour is an optimistic punt that the degeneration of Britain will be slowed down and the lives of the most vulnerable will be a little more bearable than they'd've been under the Tories.
"Nothing more ambitious than that."
Nothing more ambition, in fact, than his own seeming offer to enter the political fray if it doesn't work out with Miliband, as he writes further up in the piece: "Does this country need a radical new political movement? An equivalent of Syriza in Greece or Podemos in Spain? It feels like it does and when the next administration fails to deliver because of the limitations of parliamentary politics I'll happily participate in setting it up. With you.
"Do we need an international confederation of new political alliances that are committed to real change, real democracy, a revolutionary alternative to capitalism? That can challenge the IMF, WTO, WBO and all the other global acronyms so portentous and phony they may as well be the wrestling federations they sound like? Of course we do, my schedule's pretty clear, I'll join in. Will you?"
He ends his post with an honourable nod towards those who fought for the vote.
"It will take serious activism, committed action comparable to the sacrifice of those whose memories are continually evoked as a spur for us to vote," he writes. "The women who died for that right, the people all over the world branded terrorists and imprisoned or executed for demanding democracy.
"I fully understand that real change, real democracy is not something that can be palmed off in a booth twice a decade, a crossed box and crossed fingers.
"Democracy is for life, not just elections."
---
Are you undecided about who to vote for? Are you confused about what the parties stand for? Take this interactive quiz to help you decide who to vote for...
Join our new commenting forum
Join thought-provoking conversations, follow other Independent readers and see their replies