Scottish Independence: Crying 'Yes' or screaming 'No', this is what would happen if only the famous were allowed to vote
Scottish or not, the opinionated celebrity turn out to the vote has been, per percent of the famous population, monstrously high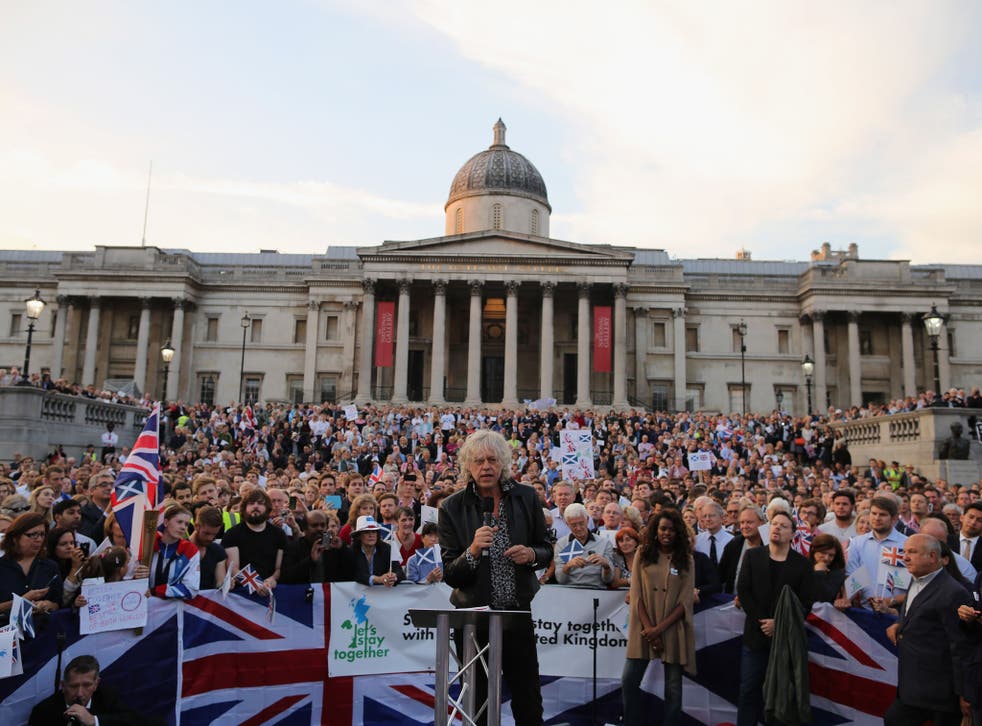 Bob Geldof. Bjork. David Beckham. David Attenborough. David Bowie. All have one thing in common.
Each one has made public declarations of their political leanings in the great debate for and against Scottish independence. Each one of them is a household name, too – instantly recognisable and renowned in their respective fields. But none of them – not one – can cast a vote that counts.
Scottish or not, the opinionated celebrity turn out to the vote has been, per percent of the famous population, monstrously high.
There are those stridently urging the nation to vote 'Yes', break away from Westminster and declare Scotland a free nation. Vivienne Westwood, a woman whose entire career in fashion has been influenced by British heritage went as far as to say she "hates England".
"I like Scotland because somehow I think they are better than we are. They are more democratic," she said.
Renegade Bjork posted a lengthy – and somewhat repetitive – Facebook message featuring the lyrics to her rather apt 2008 song "Declare Independence".
"Declare independence! Don't let them do that to you! Start your own currency! Make your own stamp! Protect your language!" it read.
Scottish Independence: For and against

Show all 24
She's from Iceland, as it happens.
Others backing the 'Yes' campaign include the genuinely Scottish (hurrah!) Frankie Boyle, the also Scottish The Proclaimers, Scottish actor Alan Cumming, very English musician Billy Bragg, the used-to-be Scottish Sean Connery and Scot Annie Lennox. Oh, and Sigur Ros. Who are, like Bjork, from Iceland.
Then there are the undecided. Like actor James McAvoy, who declined to say whether he'd vote for or against independence for "career preservation".
Canadian Leonard Cohen offered similarly little, while Mike Myers declared his Dreamworks character Shrek well and truly "on the fence".
Bill Clinton decided not to weigh in on the debate until the 11th hour, and then he said this.
Then there are those urging Scotland to stick with the Union.
David Beckham made a valiant attempt to rally the nation back onside, although did so by bringing up the particularly painful memory of the England v Scotland Euro qualifier in 2000 (they won the second leg at Wembley, but ultimately were knocked out on aggregate).
Marcus Brigstocke kicked off a social media backlash when he labelled the rhetoric used by Scottish Nationalists as "based on fingers crossed, f**k the Tories, William Wallace b****cks".
JK Rowling went straight for the jugular, too, when she declared hardline nationalists "death eaters".
As did Irishman Sir Bob Geldof, who, despite not actually being part of the Union himself, had some strong words for voters as he led a Better Together rally in Trafalgar Square on 16 September.
"This argument needs to be had among us all, you can't selfishly resolve it amongst yourselves by taking an easy opt-out clause," he said.
And then there were the 200 odd other household names who signed this open letter.
Mick Jagger, David Walliams, Sting, Bryan Ferry, David Gilmour, Sir Cliff Richards, Richard Dawkins, Michael Douglas and Stephen Hawking were all among those who put their signatures to the 'vote No' petition. As did slightly more random blasts from the past, like former England rugby captain Will Carling, Team GB decathalete Daley Thompson and TV gardener Alan Titchmarsh.
"What unites us is much greater than what divides us," it read. "Let's stay together."
As a result, based on the above evidence and the crudest of maths, we can conclude that if the famous were the only people whose opinions and votes truly mattered, the Union would remain intact.
Luckily for Scotland, however, it's not their decision to make.