Scout Willis on topless Instagram protest: 'I'm arguing for a woman's right to choose how she represents her body'
The daughter of Bruce Willis and Demi Moore explains the reasons behind her recent protest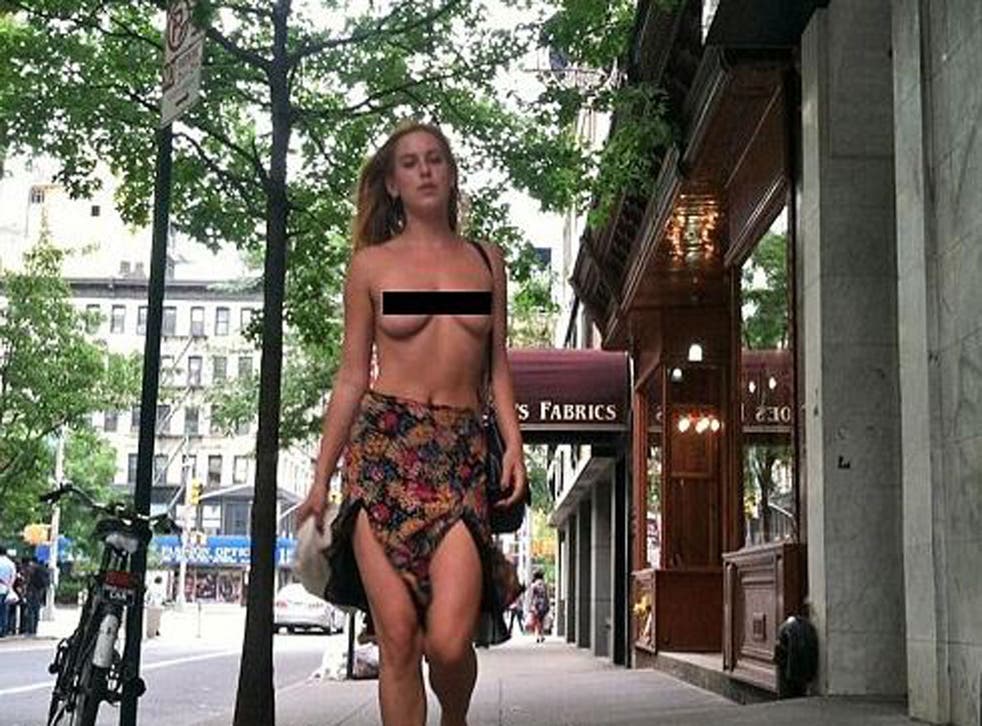 Scout Willis has said that her recent topless protest against Instagram's no nudity clauses was triggered by her belief that "no woman should be made to feel ashamed of her body".
Last week, the 22-year-old walked around New York partially naked to highlight her feelings about the social media channel's policies against female nudity.
Days before, she was banned from Instagram, after sharing a photograph of a jumper that featured an image of two topless women.
The network admitted that some of its policies may seem "overly strict" and gave her account back, but she decided against rejoining and took action by strolling the streets of New York to demonstrate how women are allowed to go nude in the city, but not on Instagram.
She also launched the hashtag #FreeTheNipple.
"I am not trying to argue for mandatory toplessness, or even bralessness," she said.
"What I am arguing for is a woman's right to choose how she represents her body — and to make that choice based on personal desire and not a fear of how people will react to her or how society will judge her. No woman should be made to feel ashamed of her body."
Willis lamented the channel's disproportionate rulings on acceptable nudity – which state that: "Accounts found sharing nudity or mature content will be disabled and your access to Instagram may be discontinued."
"Why would it be okay with Instagram and Facebook to allow photos of a cancer survivor who has had a double mastectomy and is without areolas but photos with fully exposed breasts, particularly if they're unaffected by surgery, don't follow Instagram's Community Guidelines?" she asked.
She said that what started as a "as a challenge to Instagram and its prejudiced community guidelines became an opportunity for dialogue", although her high profile background has led to some of the wrong issues being highlighted.
"Matters like the taboo of the nipple in the 21st century, public breastfeeding, slut shaming, fat shaming, breast cancer awareness, body positivity, gender inequality, and censorship have found their way into mainstream discussion," she wrote on XO Jane.
"But unfortunately the emphasis in the press has been on sensationalising my breasts, chiefly in terms of my family.
"I understand that people don't want to take me seriously. Or would rather just write me off as an attention-seeking, over-privileged, ignorant, white girl. I am white and I was born to a high profile and financially privileged family. I didn't choose my public life, but it did give me this platform. A platform that helps make body politics newsworthy."
How did these Rihanna pictures manage to get past Instagram?

Show all 21
Ultimately, she says, her protest was a success, as it provoked "conversations about gender equality and body positivity that are both necessary and sorely lacking".
Rihanna tweeted her support for Willis, after deleting her own Instagram account following the channel's censorship of one of her topless photos. The singer wore a nipple-revealing, shimmering dress designed by Adam Selman to the CFDA Awards on Monday 2 June – which may or may not have been a protest against the channel's restrictive rules.
US Vogue editor Grace Coddington was also temporarily removed from Instagram last month, after sharing a topless line drawing of herself. She was permitted back on the network days later.
Join our new commenting forum
Join thought-provoking conversations, follow other Independent readers and see their replies