Shia LaBeouf runs around Amsterdam museum 144 times for bizarre art '#metamarathon'
Little did the bemused tourists know they know they were actually witnessing the actor's latest artistic endeavour being performed. Several times.
Jenn Selby
Friday 26 September 2014 13:12 Comments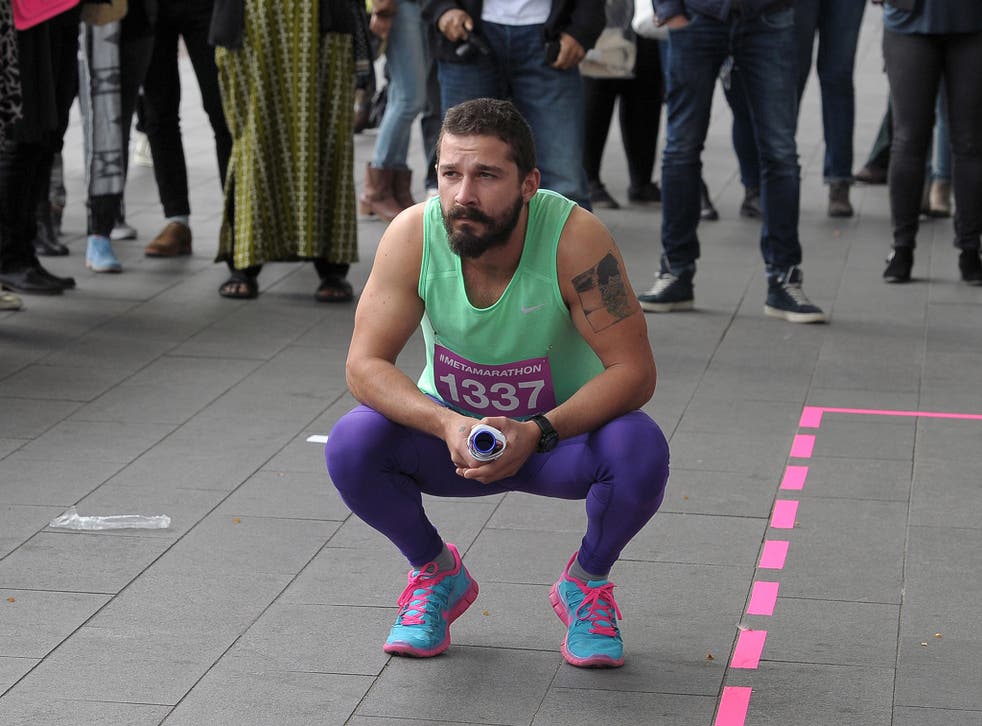 Is he lost? Did he mean to wear that? Is his entire existence merely a concept?
Or so Shia LaBeouf's unwitting audience of confused-looking tourists might have thought when they first clapped eyes on the actor, dressed in violet and green lycra, running laps around a museum in Amsterdam 144 times.
Little did they know they were witnessing the actor's latest artistic endeavour – the "#metamarathon" performance – which was completed as a 12 hour arts conference went on (and on and on, presumably) inside.
Hendrik Folkerts, the Stedelijk museum's public curator, explained to AFP that he was hosting a conference about how the world would be perceived by children of the Eighties if they were similarly absorbed by social media and the cult of the celebrity.
His erratic behaviour appeared to reach a peak when he wore a brown paper bag over his head to the premiere of the Lars von Trier movie in February. It was scrawled with the message: "I am not famous any more".
He followed this up by walking out of a press conference at the Berlin Film Festival, after plagiarising a famous quote by Eric Cantona. The footballer similarly walked out of a news conference in 1995 scheduled after his conviction for assault.
"When the seagulls follow the trawler, it's because they think sardines will be thrown into the sea," LaBeouf rasped, adding, "Thank you very much," before pushing the microphone away and fleeing the scene.
After headbutting a fellow drinker in a London pub in January, he then claimed his entire life was "performance art", actualising his statement by setting up an installation piece in the Cohen Gallery in Los Angeles entitled '#IAMSORRY'.
This sparked its own spate of plagiarism, mainly by the work of Sliders actor Jerry O'Connell, who set up rival installation '#IAMSORRYTOO'.
More recently in June, he was arrested at the Studio 54 theatre for disturbing a performance of Cabaret.
He later pleaded guilty to disorderly conduct.
Register for free to continue reading
Registration is a free and easy way to support our truly independent journalism
By registering, you will also enjoy limited access to Premium articles, exclusive newsletters, commenting, and virtual events with our leading journalists
Already have an account? sign in
Join our new commenting forum
Join thought-provoking conversations, follow other Independent readers and see their replies