The Independent's journalism is supported by our readers. When you purchase through links on our site, we may earn commission.
Shin Dong-hyuk: What you need to know about the North Korean prisoner who admitted claims in bestseller Escape From Camp 14 were false
The human rights activist and subject of the biography, which featured shocking scenes of executions, apologised for inaccuracies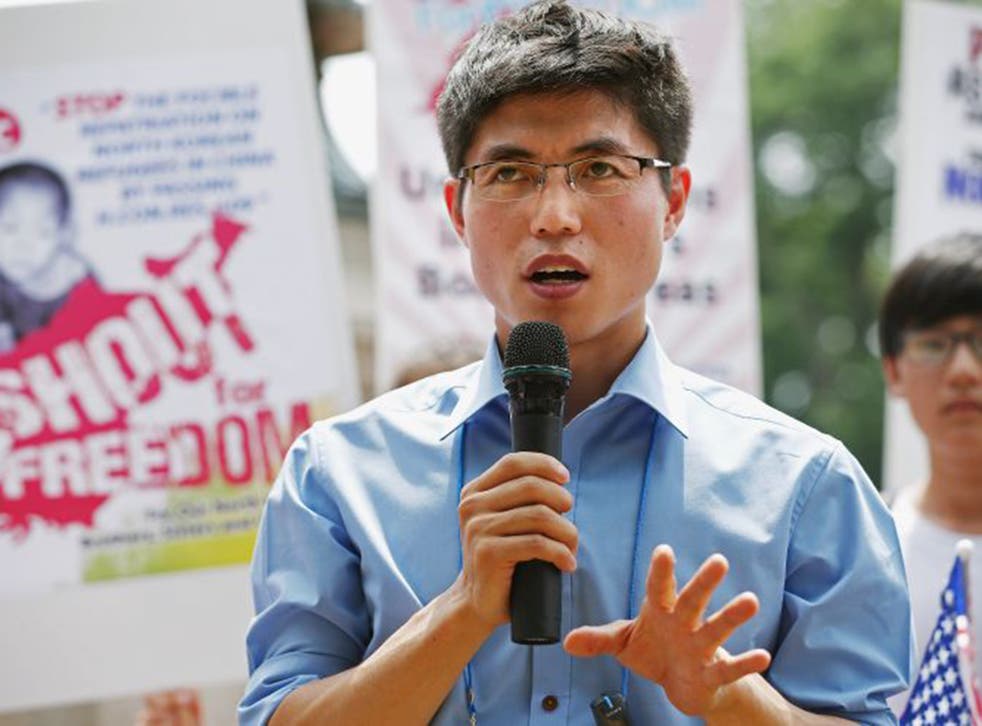 Shin Dong-hyuk's chilling account of horrendous brutality at the hands of North Korean guards was, in part, false. Here's why his story was poised to bring down Kim Jong-un's government, and what's going to happen next.
Escape from Camp 14: One Man's Remarkable Odyssey From North Korea to Freedom in the West, was written by journalist Blaine Harden in 2012, and it formed the basis of a UN inquiry into Kim Jong-un's despotic regime.
Shin is the only known person to have escaped North Korea
Shin Dong-hyuk, 32, lives in Seoul, South Korea, and is believed to be the only prisoner to have escaped from a "total control zone" camp in North Korea. He was born in Camp 14, which is in between the Taedong river and extends into mountains in the South Pyongyang Province. Imprisonment in this camp is for life and people who are "politically unreliable" are sent here for hard manual labour. North Korea exercises a "three generations of punishment" rule, meaning that if Shin's grandmother had committed a "crime", he would still have been born there. His parents were imprisoned for unspecified political crimes, and Shin says his father was given his mother, Jang Hye Gyung, as a reward. His parents were allowed to spend five nights together and his father was allowed to visit a few times a year. After overhearing his mother and older brother plotting to escape, brainwashed Shin, then aged 13, told the guards, who executed them. He told the Financial Times in 2013: "I did not have feelings for my parents. I try even now but I have a hard time doing that."
North Korea: In pictures

Show all 14
The inaccuracies are mostly to do with Shin's timeline of events
He was born in Camp 14, and said that that's where he escaped from in 2005 with another inmate, who was electrocuted on the security fence. Shin said he climbed over the dead body of the man and escaped into China. Shin's book contains vivid details of the torture and hard labour he endured in Camp 14. However, Shin has admitted that he had been moved to less-severe-by-North-Korean-standards Camp 18 when he was about six, along with his mother and brother. This was where he betrayed them, and where he watched their executions.
Shin now says that he escaped the camps twice. He was kept in an underground prison for six months, where he was burned and tortured, and had his finger mangled from a guard pulling out his fingernail. This happened when he was 20 years old, and not 18 as he said in the book.
Shin's father has spoken out against him on state TV
In autumn 2014, Shin's father, Shin Gyung Sub, was captured refuting his son's account, saying that Shin never lived in a labour camp, and calling him a "liar". This was dismissed as political propaganda.
His account was pivotal to the UN campaign to indict Kim for crimes against humanity
Shin spoke in front of the UN Commission of Inquiry, and the report led to a worldwide campaign to hold the dictatorship to account for human rights violations. Human rights experts say that the fundamentals of his account remain the same - that he was starved and tortured - but that it could undermine the campaign to bring Kim to justice.
In a status on his Facebook page, Shin said he "may or may not be able to continue in my work and efforts in trying to eliminate the political prison camps and bring justice to the oppressed".
Shin is now a Christian
Many exiles join the Christian community after escaping the hardships of North Korea. Shin said: "It is similar in a way. In the prison camp, every day I repented and confessed the bad things I'd done to the prison guards. And in church, too, I repent the things I have done wrong. The formula is the same but the difference is that in the prison camp I was forced to do this. In church I confess of my own volition."
He has adoptive US parents
A retired nurse, Linda Dye, and her husband Lowell informally adopted Shin after he 2005 escape from North Korea. The couple, who live in Clintonville, Ohio, met Shin at a human rights event in New York, and have since taken him to traditional American events, such as Thanksgiving and state fairs. He says he tries to be a "good son" for them.
Shin doesn't have a girlfriend and says he "never had a chance to meet a girl", despite writing about a relationship in Escape From Camp 14.
Shin's favourite film is Schindler's List
Shin has discussed his "evolving from being an animal" and finds it hard to relate to the outside world. "I don't really know anything about music," he told the FT. "I can't sing and I don't feel any emotion from it. But I do watch lots of films and the one that moves me the most is Schindler's List."
His biographer is standing by him
Harden posted a statement on his website today in the wake of the amended story: "Asked why he had altered such details, when they in no way changed the horror of his story, Shin said he thought the dates, places and circumstances were not all that significant.
"'I didn't realize that changing these details would be important,' he said.''I feel very bad that I wasn't able to come forward with the full truth at the beginning.'
"In light of my conversation with Shin, I am working with my publisher to gather more information and amend the book."
Register for free to continue reading
Registration is a free and easy way to support our truly independent journalism
By registering, you will also enjoy limited access to Premium articles, exclusive newsletters, commenting, and virtual events with our leading journalists
Already have an account? sign in
Register for free to continue reading
Registration is a free and easy way to support our truly independent journalism
By registering, you will also enjoy limited access to Premium articles, exclusive newsletters, commenting, and virtual events with our leading journalists
Already have an account? sign in
Join our new commenting forum
Join thought-provoking conversations, follow other Independent readers and see their replies