Should Maria Sharapova serve sugar? The Sugarpova Candy Lounge near the Wimbledon courts has provoked outrage among nutritionists
The tennis star's sugary sales pitch coincides with the publication of a report which recommends people should halve their intake of added sugar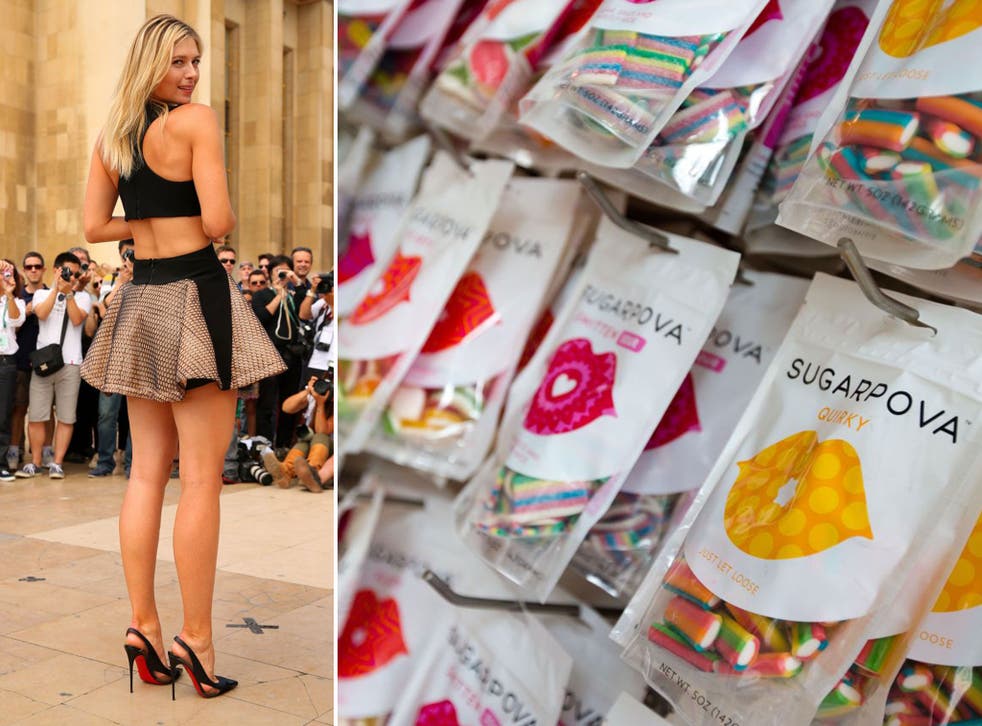 Strawberries and cream is the traditional indulgence for the tennis fan with a sweet tooth. But this year, Wimbledon spectators are being encouraged to munch on handfuls of sweets marketed by one of the players they are watching.
Scientists and nutritionists have condemned the creation of a pop-up store for Maria Sharapova's Sugarpova sweet brand near the All England club as "reprehensible", saying it bears comparison with Martina Navratilova's decision to wear clothes emblazoned with cigarette advertising in 1982.
The Sugarpova Candy Lounge opened on Wimbledon High Street on 16 June and is selling treats to tennis fans during the championships. Products include Sporty Mix tennis ball-shaped chewing gum, advertised with the slogan: "Serve yourself some fruit flavored gumballs and chew them up on the court. Winning sure is sweet."
Sharapova, 27, the world's wealthiest female athlete, founded the sweet firm in 2012 with her own money and considered temporarily changing her surname to Sugarpova during the US Open last year to promote the "premium candy line".
But the tennis star's sugary sales pitch coincides with the publication of a report which recommended that people should more than halve their intake of added sugar. A draft report by the Scientific Advisory Committee on Nutrition said sugar should account for no more than five cent of a person's energy intake, despite many failing to meet the previous 10 per cent target. A single can of fizzy drink would swallow most adults' daily allowance.
Professor Tom Sanders, the head of diabetes and nutritional sciences at King's College London, said: "I find sporting celebrity endorsements of unhealthy foods such as sweets and soft drinks reprehensible. The use of player's clothing to promote cigarettes was outlawed almost 30 years ago – now it is time to crackdown on player endorsement of unhealthy foods.
"I would like to see an outright ban on sports personalities being involved in the advertising or marketing of sugar sweetened drinks, confectionary and crisps. Celebrity endorsement has a huge impact on sales to young people who are those most at risk of become obese."
Kawther Hashem, a nutritionist working with the campaign group Action on Sugar, agreed that celebrity endorsement sends the wrong message: "The underlying cause of obesity and diet-related illnesses is our food and drink environment. Sugary sweets should not be associated with Wimbledon, full stop."
Max Eisenbud, Sharapova's agent, denied children were targeted. "If you look at the product, it's very premium. There's no aiming or targeted marketing towards kids.... It's pretty expensive. I don't think kids are coming to buy Sugarpova, I think they buy other types of candy. We're not targeting kids, we never have. Obviously kids are going to buy it, but we're not targeting kids."
The pop-up store is heavily plugged on the Sugarpova Twitter feed and Facebook page. One post showed a picture of two young schoolgirls sitting with exercise books at tables outside the shop as their mothers looked on, with a caption that read: "If you finish your homework, you get a goodie!"
Today the shop's clientele acknowledged it was a hit with its younger customers. However, Alan Higgins, 86, accompanying his two grandchildren, said the moral question paled in comparison with the "good fun" they had.
Join our new commenting forum
Join thought-provoking conversations, follow other Independent readers and see their replies