Simon Pegg: Adults' obsession with science fiction causing society to become infantilised
'Now we're really not thinking about anything, other than the fact that the Hulk just had a fight with a robot'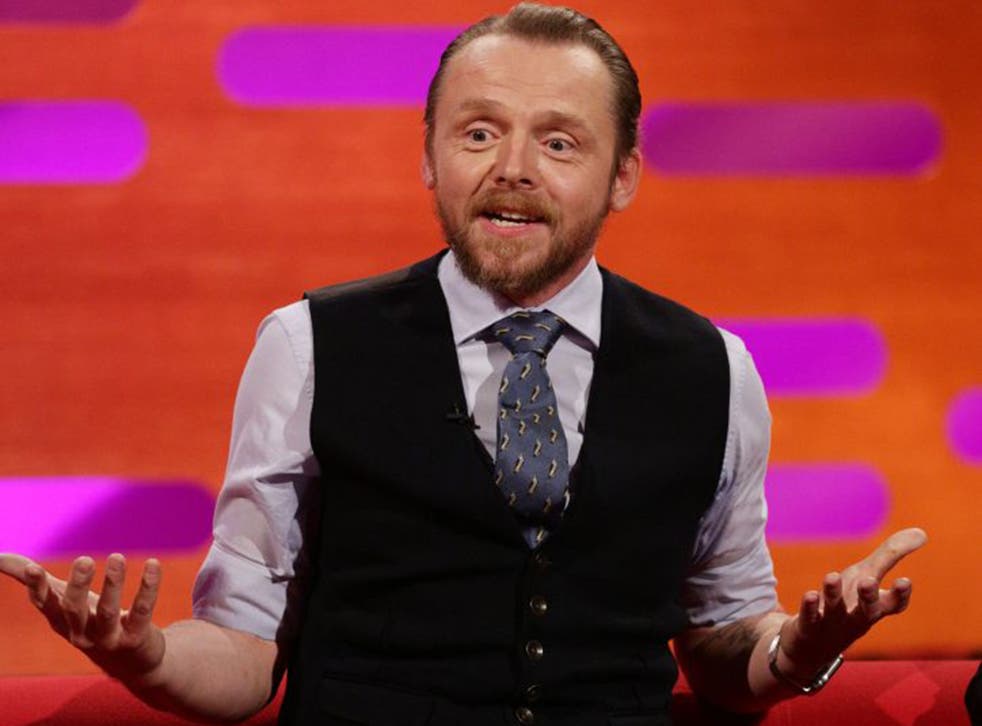 When an actor has built a career on playing hapless, slightly immature characters while paying homage to science fiction and comic books, it might pay to remember he specialises in comedy and doesn't want his work to be taken entirely seriously.
In an interview published on 19 May,Simon Pegg – star of Spaced, about a sci-fi obsessed comic book writer, and Paul, about two comic book geeks meeting an alien, and the co-writer of the next Star Trek science fiction extravaganza – has admitted to worries about society being infantilised by an obsession with comic books and science fiction.
The 45-year-old actor and writer told this week's Radio Times – while sipping from his Star Wars mug – that he now had reservations about becoming the "poster-child" for the "geekdom generation".
Comic Con 2014 attendees

Show all 30
"Obviously," he said, "I'm very much a self-confessed fan of science-fiction and genre cinema. But part of me looks at society as it is now and thinks we've been infantilised by our own taste. We're essentially all consuming very childish things – comic books, superheroes… Adults are watching this stuff, and taking it seriously!
"It is a kind of dumbing down because it's taking our focus away from real-world issues. Films used to be about challenging, emotional journeys. Now we're really not thinking about anything, other than the fact that the Hulk just had a fight with a robot."
In worrying about the infantilisation of modern culture, Pegg appears to be in excellent company. Alan Moore, writer of the Watchmen series, last year suggested that the current adult interest in comic book superheroes was "culturally catastrophic" and that"this embracing of what were unambiguously children's characters at their inception seems to indicate a retreat from the admittedly overwhelming complexities of modern existence". Pegg's comments, however, are likely to be considered every bit as eyebrow-raising as Moore's.
As suggested by the title of his autobiography Nerd do Well , much of Pegg's success has been based on playing characters with geeky obsessions who haven't quite grown up.
He first achieved cult fame in 1999 after co-writing the Channel 4 sitcom Spaced, in which he played a science fiction-consuming slacker and aspiring comic book artist. Then came Shaun of the Dead, the hit 2004 "rom-zom-com" in which he played a hapless, slightly immature 30-something fighting off zombies.
Other career highlights have included the films How to Lose Friends and Alienate People, in which he plays a hapless, slightly immature 30-something journalist, and Run, Fatboy, Run, in which he played a hapless, slightly immature 30-something boyfriend who runs away from his pregnant fiancée on his wedding day.
For fans worried that Pegg might grow up onscreen, however, there appears to be no immediate need to panic. In August he will star in Absolutely Anything, about a hapless, slightly immature 40-something given the power to do absolutely anything by "some very mad aliens".
Join our new commenting forum
Join thought-provoking conversations, follow other Independent readers and see their replies