Stéphane Charbonnier: Cartoonist and editor of Charlie Hebdo whose encapsulated the magazine's confrontational brand of satire
He took to drawing as a teenager and did illustrations at school before submitting work to the local paper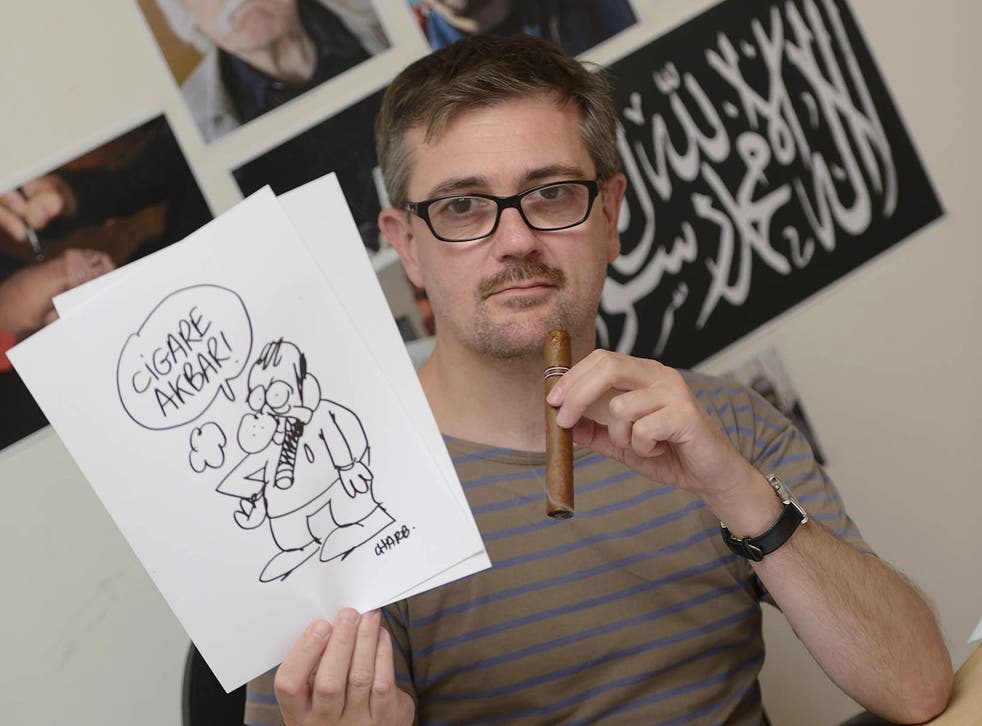 Stéphane Charbonnier, the editor of Charlie Hebdo, who was murdered along with 11 others, took over the weekly five years ago with a mission to break all taboos. Aggressively committed to freedom of expression, he was a cartoonist who led a small team of like-minded iconoclasts who had remained faithful to the magazine since its relaunch in 1992.
Charbonnier, known as Charb, was born in Conflans-Sainte-Honorine, north-west of Paris. He took to drawing as a teenager and did illustrations at school before submitting work to the local paper. He studied for a technical qualification before launching himself as a caricaturist, and in 1991 joined the satirical paper La Grosse Bertha (Big Bertha) which was brought out during the first Gulf War.
The following year he hooked up with Philippe Val and the veteran cartoonist Cabu, who were reviving Charlie Hebdo. The magazine sprang from the ashes of the no-holds-barred satirical paper Hara-Kiri, which had been forced to shut down for mocking the death of Charles de Gaulle in 1970. Many of the Hara-Kiri staff migrated to Charlie Hebdo, which was set up months later before folding in 1981.
In pictures: Reaction to Charlie Hebdo attack

Show all 39
Charbonnier had a regular slot entitled "Charb doesn't like people". He also worked for the Franco-Belgian comic magazines L'Echo des Savanes and Fluide Glacial, as well as the communist daily Humanité and the mass-market weekly Télérama. His strips included the scatological Maurice et Patapan, an anti-capitalist cat and dog. In Fluide Glacial, his contribution was entitled "The Fatwa of Ayatollah Charb". Like many of his colleagues he did live TV work, drawing political cartoons on air. He took part in T'empêches tout le monde de dormir (You're stopping everyone from sleeping) until it was taken off air in 2008.
The following year, after Val's departure from Charlie Hebdo, Charbonnier took over as editor of the weekly, which had already been at the centre of an international media storm for poking fun at Islam. In 2006 it had provoked a fierce debate on freedom of speech after republishing cartoons from the Danish newspaper Jyllands Posten targeting the Prophet Mohamed. That issue of the magazine, reprinted twice, sold 400,000 copies, a huge increase on its average sales of about 45,000. Charbonnier was unrepentant and vigorously defended the paper's right to freedom of expression, maintaining that its irreverent cartoons were harmless.
Two years after becoming editor he published a special edition with the Prophet Mohamed as guest "editor-in-chief". A day after the "Charia Hebdo" issue came out the magazine's offices were firebombed; from that time he lived under police protection, following death threats.
In September 2012, during the international outcry over the trailer for the inflammatory Innocence of Muslims video made in the US, Charlie Hebdo courted more controversy by publishing cartoons of a naked Mohamed. The furore caused French authorities to order the closure of French schools, consulates and cultural centres in a score of Muslim countries, fearing retaliatory attacks.
The rector of the Grand Mosque in Paris, Daniel Boubakeur, expressed "astonishment and concern" over the caricatures, which he said were an incitement to religious hatred. But Charbonnier invoked freedom of expression. "If you start by asking whether or not you have the right or not to draw Mohamed... then the next question is 'Can you put Muslims in the paper? And then, 'Can you put human beings in the paper?' In the end, you can't put anything in, and the ... extremists ... will have won."
In 2013 Charbonnier, who was unmarried, was accused of further provocation by publishing a book entitled The Life of Mohamed. The cover pictured a goofy-looking cartoon prophet leading a sweating camel through the desert. Two months later he was placed on a hit list by a magazine affiliated to Al Qaeda. When the terrorists stormed into the magazine's offices on Wednesday, they were shouting Charbonnier's name. An avant-garde magazine, Tel Quel, republished an interview with Charbonnier from 2012 in which he said that he would "rather die standing than live on my knees."
Born Conflans-Sainte-Honorine, Île-de-France 21 August 1967; died Paris 7 January 2015.
Join our new commenting forum
Join thought-provoking conversations, follow other Independent readers and see their replies