The Independent's journalism is supported by our readers. When you purchase through links on our site, we may earn commission.
Stephen Hawking admits he 'briefly tried to commit suicide' in discussion on assisted dying
Hawking, now aged 72 and largely regarded as one of the most influential theoretical physicist since Einstein, was given just three years to live in 1963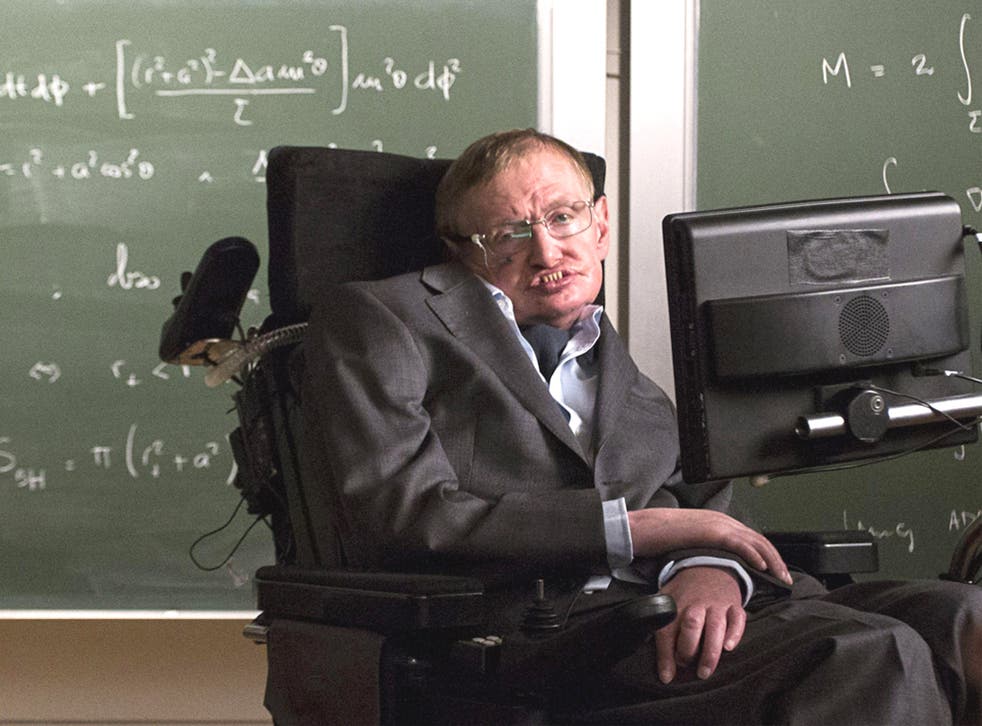 Professor Stephen Hawking has admitted that he "briefly tried to commit suicide" in the 1980s when his worsening neurological disease left him unable to breath or speak without assistance.
The Cambridge professor was discussing his own experiences of being diagnosed with a terminal illness in an interview with the BBC about assisted dying.
Hawking, now aged 72 and largely regarded as one of the most influential theoretical physicist since Einstein, defied medical experts who predicted he had just months to live in 1963 after he was diagnosed with Motor Neurone Disease (MND) – a progressive neurological disorder that affects the cells that control voluntary muscle activity, like speaking, walking, swallowing, and general movement of the body, leaving sufferers disabled and eventually causing their deaths.
Only 5 per cent of people with MND survive for more than a decade after diagnosis.
In 1985, Hawking developed a serious complication and caught pneumonia. His lungs, already weakened from his condition, were unable to cope and he was forced to undergo a tracheostomy operation, during which a tube was inserted into his windpipe through his neck, bypassing his mouth and nose and irreversibly removing his voice.
Ambassadors For Assisted Dying

Show all 10
Asked by the BBC whether he thought there was a danger, based on his own experience, that the assisted dying bill might lead to people choosing death who may have gone on to lead a long and productive life, he said: "That is a decision the individual has to make, it is wrong for the law to take away that option."
"I admit that when I had my tracheostomy operation, I briefly tried to commit suicide by not breathing. However, the reflex to breathe was too strong."
The operation led to Hawking's eventual use of the Equalizer computer program, which, coupled with a voice synthesiser, allowed him to select words from a series of menus on the screen controlled by a switch in his hand.
Elsewhere in the interview, Hawking explained why he supported Lord Falconers' bill that proposes allowing doctors to prescribe a lethal dose to terminally ill patients judged to have less than six months to live.
"If you have a terminal illness and are in great pain, I think you have the right to choose to end your life," he said during the interview, aired on the BBC News At 10 last night.
"We don't let animals suffer, so why should your pain be prolonged against your wishes?
"I think everyone should have the right to choose to end your own life, whether they are capable of doing so without assistance or not."
He went on to claim that "it is discrimination against disabled people to deny them to right to kill themselves that able bodied people have", but added that he thought it would be "wrong to despair and commit suicide unless one is in great pain".
"We should not take away the freedom of the individual to choose to die."
Asked whether he thought there was a danger that, if assisted dying becomes legal, vulnerable terminally ill people may feel pressurised to die, he said: "There has to be safe guards that the person genuinely wants to die, and they are not being pressurised into it.
"These safeguards need to be up for discussion. I would suggest as a minimum that two doctors should certify that a person is in pain and has a life expectancy of less than a year. I would also suggest that a person would be given at least two weeks to reassess their decision to die."
"I believe one should have control of one's life, including its ending," he concluded. "Personally, I think suicide would be a grave mistake. I would consider it only if I was in great pain with no prospect of relief."
For confidential support call the Samaritans in the UK on 08457 90 90 90, visit a local Samaritans branch or click here for details