Steve Bannon: White supremacists celebrate Donald Trump's appointment of far-right Breitbart boss
Mr Trump appointed Mr Bannon to head his campaign this summer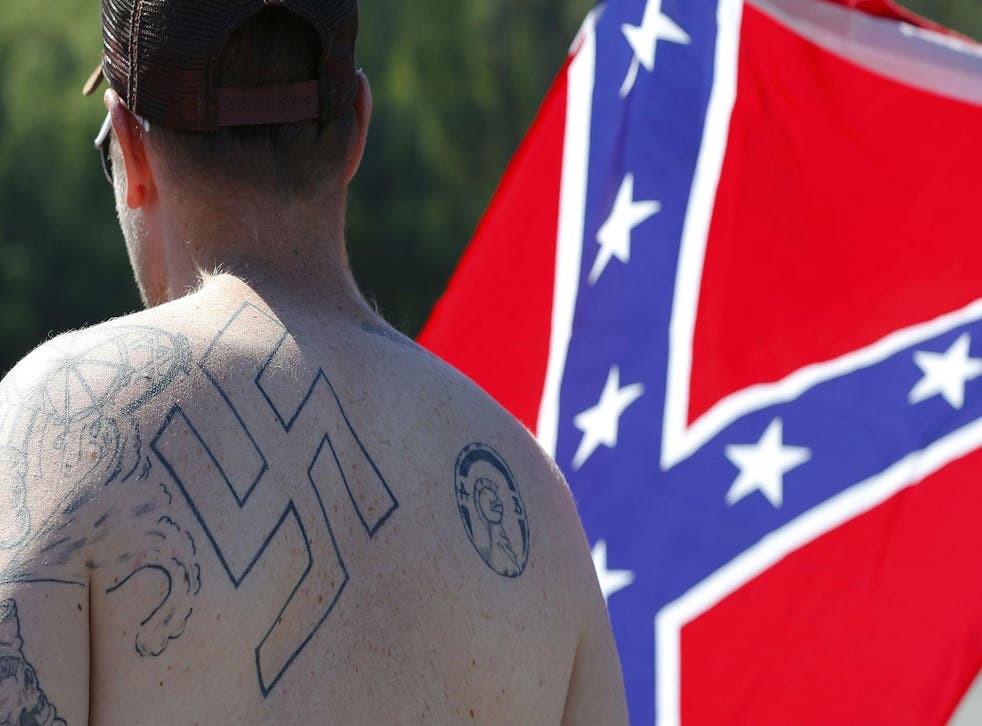 It's well-known that when Donald Trump was elected, those on the far-right, including white supremacists and so-called white nationalists – the difference between the two may not really exist –celebrated loudly. One of several branches of the Ku Klux Klan had even endorsed him.
Now, the appointment of the controversial "alt-right" media mogul Steve Bannon as a senior adviser to Mr Trump – a position that may be more significant than that of chief-of-staff – has been similarly cheered by white supremacists.
Andrew Anglin, proprietor of the Daily Stormer, one of the leading far-right websites and popular with neo-Nazis, declared of Mr Trump: "Our Glorious Leader has ascended to God Emperor. Make no mistake about it: we did this."
In regard to Mr Bannon making it into the White House, he wrote: "I probably would have preferred Bannon as chief-of-staff and [Reince] Priebus as press secretary.
"But apparently Trump views Reince as a Washington insider who is also loyal to him and can be a go-between between the administration and the old GOP establishment. And I think he knows what he's doing here."
He added: "The k**e media is now portraying Trump as a cuck who is going back on everything, even though he has gone back on nothing."
One of those who commented on the posting, using the moniker smhz83, said: "Bannon is our man in the White House." He also posted a YouTube clip of a CNN report that detailed allegations from Mr Bannon's former wife that he would not allow their child to attend a certain school because there were "so many Jews".
Another commenter, ForeChristendom, said: "Bannon in the White House? Oooooyyyy veeeeyyyyyy."
Another poster, Fash_McQueen, wrote: "The Hill is reporting that Laura Ingraham is under consideration for White House Press Secretary. That would be fantastic. She's gone full nationalist."
The poster added: "She also gave the best speech at the RNC Convention.
And then it got even better…"
Trump and Ryan clash over immigration
Beneath that post, the person uploaded an image of Ms Ingraham raising her right arm to Mr Trump in a way that many at the time, likened to a Nazi salute.
Another white supremacist website, Occidental Dissident, had an article that began: "Steve Bannon is now the top dog of Republican strategists. How about that?"
It said that Mr Bannon would be Mr Trump's equivalent of Karl Rove or Valerie Jarrett. Oh my, how the worm has turned in Washington."
The Southern Poverty Law Centre, an anti-extremist watchdog, said that Mr Bannon, formerly the head of Breitbart News, did not "just make Breitbart a safe space for white supremacists", but also welcomed a scholar blacklisted from the mainstream conservative movement for arguing there was a connection between race and IQ.
Richard Spencer, who heads the National Policy Institute, a white supremacist "think tank" based in Arlington, Virginia, welcomed Mr Bannon's appointment as Mr Trump's campaign manager this summer.
Since Mr Trump's victory, he has been posting various messages on Twitter about the appointment of Mr Bannon to a senior role.
"Strategist is the best possible position for Steve Bannon in the Trump White House," he said. "Bannon will answer directly to Trump and focus on the big picture, and not get lost in the weeds."
He added: "Bannon is not a chief of staff, which requires a 'golden retriever' personality. He'll be freed up to chart Trump's macro-trajectory."
Join our new commenting forum
Join thought-provoking conversations, follow other Independent readers and see their replies