Steve Strange funeral: Mourners give Visage frontman a send-off fitting for a New Romantic
The singer died last month, aged 55, after suffering a heart attack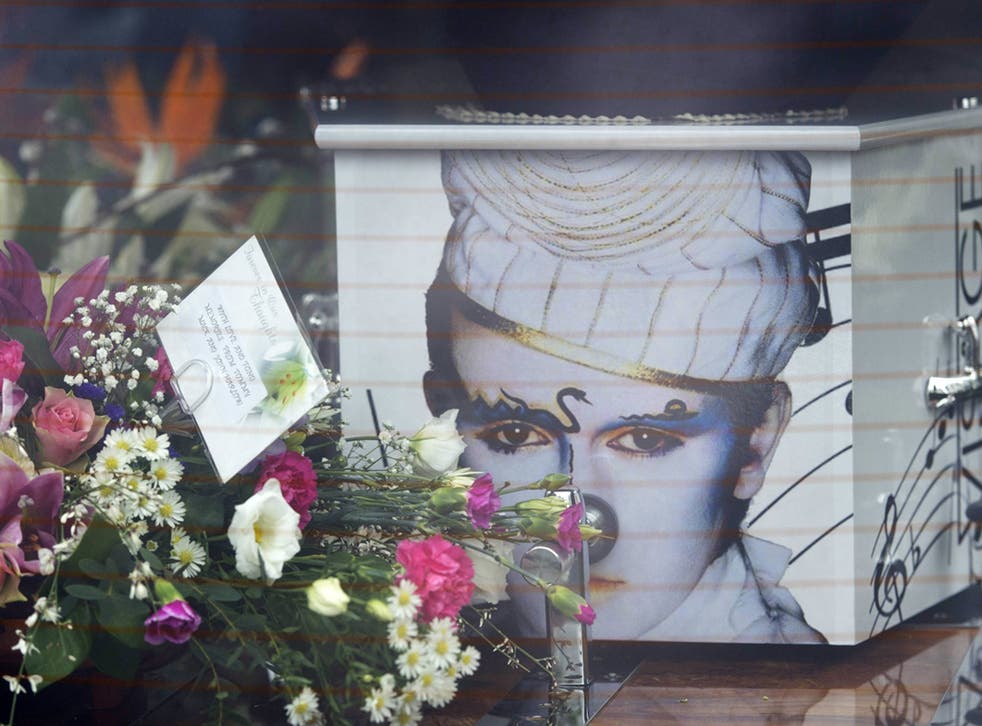 Steve Strange was given a memorable send-off yesterday at a funeral service attended by family, friends and fellow musicians.
The late Visage frontman was carried on his final journey by pallbearers including 80s pop stars Boy George and Spandau Ballet brothers Martin and Gary Kemp – in a white coffin adorned with iconic pictures from his career.
Other mourners at the service in the seaside town of Porthcawl, south Wales, included Spandau Ballet's Tony Hadley and bandmate Steve Norman, as well as hairdresser Nicky Clarke.
The New Romantic pioneer died at the age of 55 last month, after suffering a heart attack while on holiday in Egypt.
But amid the sadness, there was sense of celebration as Strange's coffin was led up to the church by a marching jazz band before Visage's biggest hit "Fade To Grey" boomed out of a PA system.
Spandau Ballet saxophone player Norman told mourners Strange had taken him and bandmate Martin Kemp under his wing during the 1970s.
He said: "He was a generous and caring human being with a massive heart.
"A lot of great stuff has been said about Steve since his passing - about how he shaped the 1980s - and it is very much deserved. I just wish a few more people had told that to him when he was around....he was a sensitive soul who needed that affirmation from people."
Norman recalled the last time he had spoken to Strange just before Christmas and took comfort in telling his long-time friend how much he loved him.
The service also include a passionate tribute from Boy George, who said: "Goodbye Steve - punk rocker, new Romantic, old romantic, first class show off, fellow freak, beautiful gay man, seminal pop star, wrecking ball, futurist fashionista."
Mourners also heard a rousing performance of the Welsh hymn "Myfanwy" from Bridgend Male Voice Choir and a biblical verse from 1 Corinthians.
Among the floral tributes was one which described Strange as "the quintessential peacock".
As his coffin was loaded into the hearse, crowds - a mixture of fans and curious locals - burst into spontaneous applause.
The Welsh singer - whose real name was Stephen John Harrington - founded Visage with bandmate Rusty Egan in 1978 while hosting club nights at the Blitz nightclub.
After signing a record deal with Polydor Records, the group's second single "Fade To Grey" became a massive hit - making the top 10 in the UK and reaching number one in several other countries.
However, following the release of their third album Beat Boy, which only reached number 79 in the UK album charts, the group would go on a long hiatus.
Following a long battle with drug problems and personal problems, Strange reformed Visage in 2002 for a series of live dates.
It took a further 12 years before Visage would release another album - Hearts And Knives.
Although their fourth LP failed to win over new fans and wow critics, its follow-up in 2014, Orchestral, was described as a triumphant return to form.
The album featured re-recordings of Visage classics backed by a symphony orchestra - with friends saying it had re-invigorated Strange.
Following the funeral, a wake was held at the town's the Hi-Tide Inn where members of Visage were expected to perform with invited guests paying their own tributes.
Tony Hadley said Strange's death marked the end of an era.
"He was a lovely, lovely guy," he added.
And Martin Fry, frontman of 80s band ABC, said Strange had been a long time friend.
"Steve had an incredible sense of humour. I miss him, I miss him already."
"It's a sad day but a chance to pay my respects to a guy I hope will be remembered for a long time."
Additional reporting by Press Association
Join our new commenting forum
Join thought-provoking conversations, follow other Independent readers and see their replies