'Taste the wine': What prosecutors say Bill Cosby did, in graphic detail
Prosecutors now say that Cosby drugged and assaulted Andrea Constand in 2004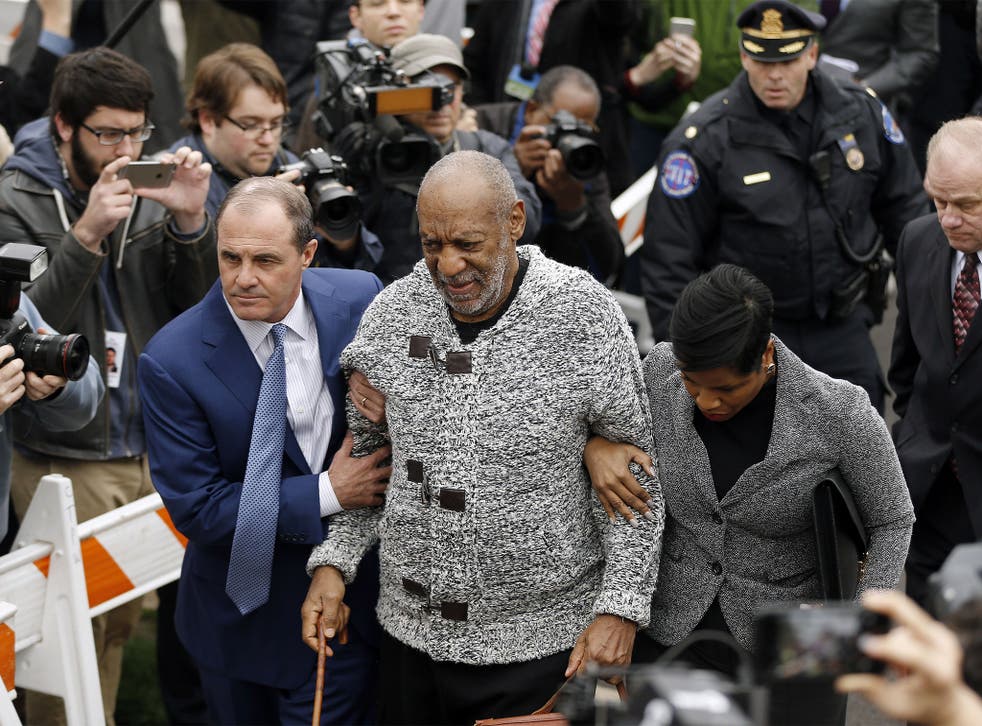 After facing sexual-assault accusations from dozens of women over several decades, Bill Cosby was criminally charged for the first time on 30 December.
Prosecutors in Pennsylvania revived a nearly decade-old investigation and now say that Cosby drugged and assaulted Andrea Constand in 2004.
The official criminal complaint, filed in Montgomery County, portrays Cosby as knowingly abusing the trust the victim placed in him to sexually assault her after she had repeatedly rejected his sexual advances.
Below are excerpts from the complaint, detailing how the two met and what happened. You can read the entire document here.
1. How they met
Cosby's relationship with Constand began on official terms, through his alma mater, Temple University, where she worked at the time. But the two eventually began spending time together away from Temple, developing a relationship she described as one of mentorship and sincere friendship — and that Cosby described as one of romance.
2. 'She never thought he would hit on her': The first sexual advance and denial
Prosecutors say Constand had already made it clear to Cosby that she had no interest in a sexual relationship with him and had denied at least two of his sexual advances prior to the alleged assault. The first occurred after a romantic dinner Cosby apparently arranged at his home.
3. The second sexual advance and denial
Apparently, Cosby did not receive the message, prosecutors say, because he made a second pass at Constand during a subsequent encounter.
4. 'She told Cosby she trusted him': Why Constand went back
Despite Cosby's sexual advances, Constand still trusted him and continued to accept his invitations to social and professional functions, according to the criminal complaint. She went to his New York home to meet with an entertainment-industry contact and visited Cosby at home and at a Connecticut casino — all without any further inappropriate contact.
Then, in early 2004, he called her to his Cheltenham, Pa., home to discuss her career plans. Constand accepted, even though Cosby added "that no one else would be present and that she should dress in comfortable clothing," the complaint notes. Soon after welcoming Constand, Cosby provided her pills and wine to get her to relax, according to the complaint.
5. 'Frozen' and 'paralysed': The alleged sexual assault
After Cosby allegedly persuaded Constand to take the pills to relax, he further insisted that she drink the alcohol he provided.
Constand told police she lost strength in her legs, her vision became "blurry" and she became "dizzy."
6. The mother gets involved
By March of 2004, Constand had moved back to Canada to live with her parents. Her mother, Gianna Constand, noticed changes in her daughter's personality and occasionally heard her scream in her sleep, apparently disturbed by nightmares, according to the complaint.
On the morning of Jan. 13, 2005, Constand finally told her mother what had happened almost a year earlier. Upset, the elder Constand decided to confront Cosby, with whom she had spoken before. After failing to reach him, the Constands reported the incident to Canadian authorities.
When Cosby finally called back, he admitted to the assault and offered to pay for therapy, the complaint states.
Cosby called the next day to invite Constand and her mother to meet with him in person, according to the criminal complaint. He promised to pay for their airfare and expressed interest in helping Constand financially and with her educational goals. A representative for Cosby would reach out to Constand's mother again, repeating the invitation to meet in person, which she declined, prosecutors allege.
7. The first criminal investigation
Soon after Cosby and Constand's mother spoke by phone, authorities in Pennsylvania launched an investigation. When they interviewed Cosby, he offered a different recollection of what happened that night, describing an apparently consensual encounter.
Cosby also offered a different description of the nature of his relationship with Constand, which he described as social and romantic. The two had, on several instances, "petted and kissed," he told investigators at the time; but he stated — albeit in an "unusual" way — that they had not had sex, according to the complaint.
"When directly asked if he ever had sexual intercourse with the victim, Cosby gave the unusual answer, 'never asleep or awake,' " the document notes.
8. Why the case was revisited
The initial criminal investigation led nowhere, but Constand separately sued Cosby on civil grounds. That case was settled in 2006.
But in the summer, parts of Cosby's depositions from that lawsuit were made public through a court order. That information, coupled with other and newly public accusations against the entertainer, led prosecutors in Pennsylvania to review the case, which they reopened July 10.
They then reached out to Constand and her mother, who recalled telling Cosby that he was "a very sick man."
9. The conclusion: 'He wanted to ensure that she would not rebuff his sexual advances'
In the end, prosecutors decided that it was unlikely that the 2004 incident was consensual.
The newly public information also supported that conclusion, according to prosecutors. In the decade-old deposition, Cosby admitted to distributing drugs — Quaaludes — at least once to another woman before having sex with her, a fact that aligned with accusations from other women that he drugged and assaulted them.
Cosby's varying accounts of what drug he gave to Constand also suggested his guilt, prosecutors added.
In the end, there was considerable evidence to suggest Cosby intentionally drugged Constand in order to sexually assault her, prosecutors wrote.
Copyright: Washington Post