Tina Fey strips on David Letterman and declares she is done with 'conforming to gender norms'
'I'm never gonna wear a fancy dress on a talk show again'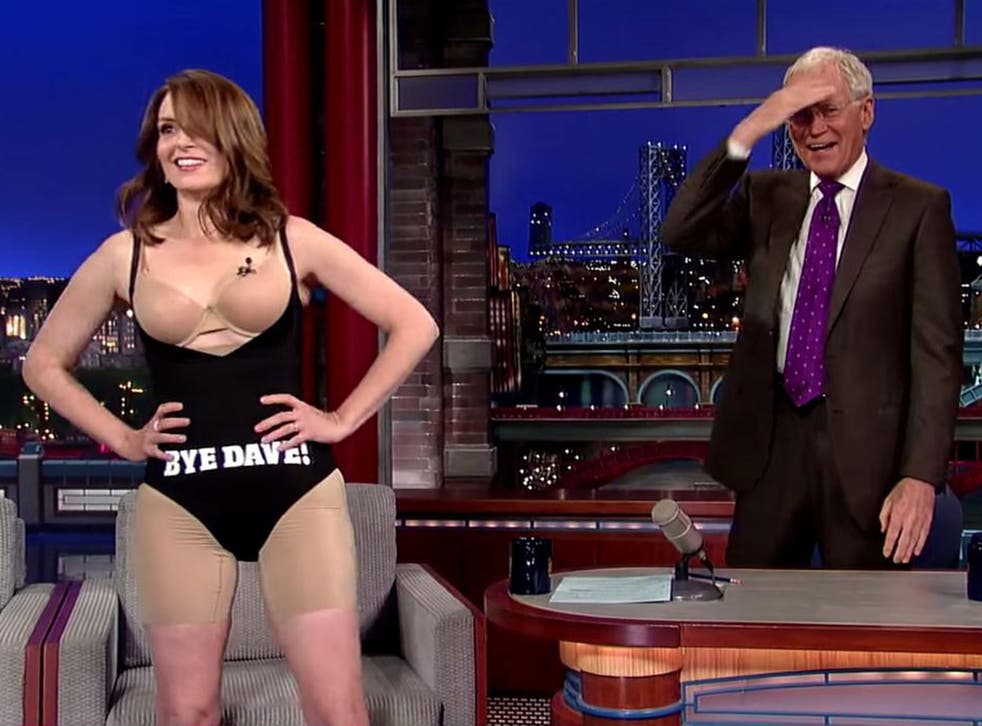 Tina Fey took a swipe at the expectations of women in the public eye with a more realistic 'striptease' to send off The Late Show host David Letterman as he steps down from the show.
The comedian explained to Letterman that she would be conforming to gender expectations for one night only in order to honour his departure by wearing a "fancy" dress.
"I realise that when you retire – this is it; I'm never gonna wear a fancy dress on a talk show again," she said.
"First of all: it's very hard work, and I don't know if you're aware of the contraptions. Under here it's almost medical.
"Because this is my last time wearing a fancy dress on a talk show and conforming to gender norms out of respect for you, my gift to you is I wanna give you the dress."
The 30 Rock creator then stood up and asked Letterman to unzip it for her before wriggling out of it and revealing body-shaping underwear accompanied by a black leotard with 'Bye Dave' printed across the front.
Her leotard also had '#lastdressever' written across the back, which Fey displayed briefly before declaring: "Never again!"
Fey's sketches often revolve around feminist themes. She most recently joined Julia Louis-Dreyfus and Patricia Arquette to celebrate Louis-Dreyfus's "last f***able day" in a parody sketch attacking ageism in the film industry for Comedy Central.
Explaining the concept of a day when the media decides a woman is not "believably fuckable", she said: "You know, how Sally Field was Tom Hanks' love interest in Punchline then like 20 minutes later she was his mum in Forest Gump".
Fey also promised that the next time we see here she'll be wearing a "slanket".
Join our new commenting forum
Join thought-provoking conversations, follow other Independent readers and see their replies