Vivienne Westwood says 'Yes' to Scottish Independence by declaring: 'I hate England'
The veteran British designer voiced her opinion at her latest London Fashion Week show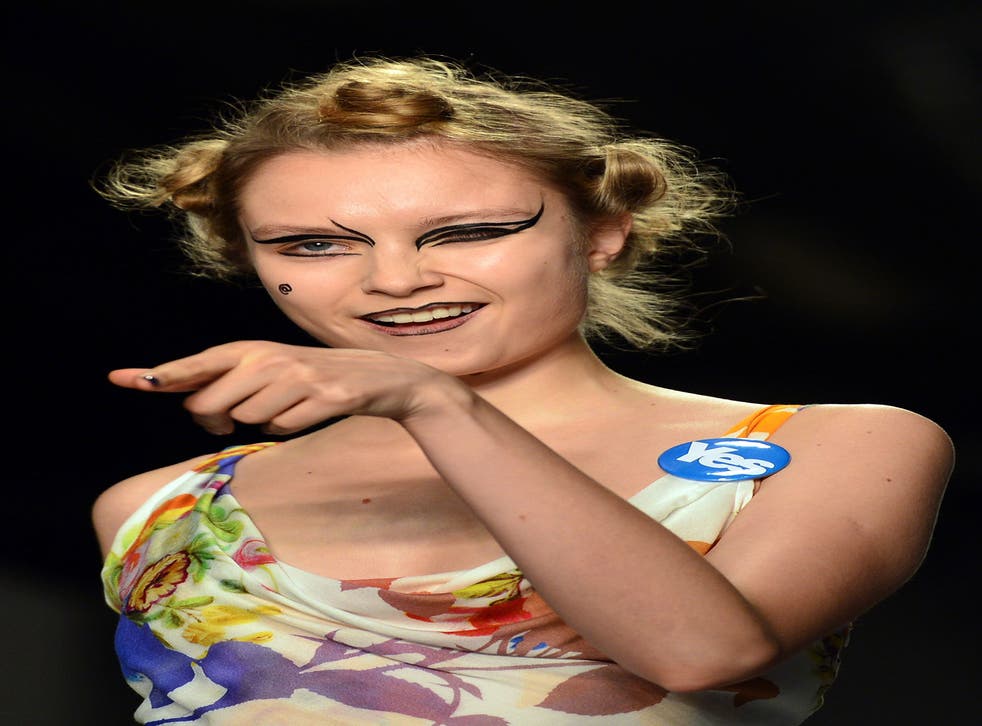 She may have been inspired by Britannia in its many forms, but Vivienne Westwood strongly supports Scottish Independence.
"I am so excited," she said at her latest London Fashion Week show.
"Fingers crossed they will win. Because if they do, it could be the turning point towards a better world.
"They could lead by example."
The designer – who has long been influenced by the nation's historical costumes and iconography, from tartan to crowns – branded each of her catwalk models with a "Yes" badge, just to ensure the message was clear.
Her catwalk shows are often used as a means of communicating her voice on global issues, although usually reserved for her take on climate change.
"I hate England," she said. "I like Scotland because somehow I think they are better than we are. They are more democratic."
Scottish Independence: For and against

Show all 24
She described those who vote no in the referendum as "frightened and stupid".
"I'm very unpatriotic about England because it has been completely ruined," she continued. "All politicians are bringing people down into a system that is over. It's the capitalist system. We just hope that Scotland can be a model for future hope and development, where we have a people's democracy, instead of only everything for profit, business and destruction."
The designer first aired her opinion on the debate at the Scottish Fashion Awards earlier this month, saying that an independent Scotland would be "a model to us all... if it could become a people-friendly society".
She is one of numerous high-profile names to have addressed the referendum, which takes place on 18 September. Among those arguing for independence are Frankie Boyle, The Proclaimers, Alan Cumming, Billy Bragg, Sean Connery and Annie Lennox.
The list of those who want Scotland to stay within the union include David Beckham, JK Rowling, David Bowie, Eddie Izzard, Alex Ferguson, Mike Myers and Emma Thompson.
Join our new commenting forum
Join thought-provoking conversations, follow other Independent readers and see their replies