Vladimir Putin and Silvio Berlusconi named in criminal case over 240-year-old bottle of wine
A winery director in Crimea allegedly opened one of the most expensive bottles of wine in the world for the two politicians
Lizzie Dearden
Saturday 19 September 2015 18:11 Comments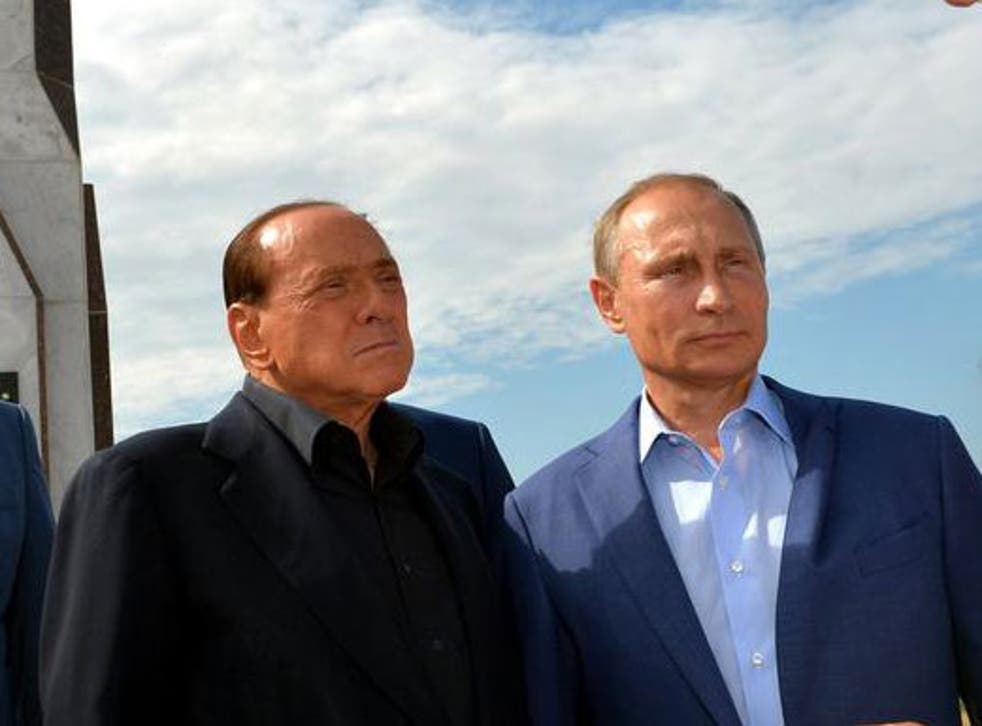 Ukrainian prosecutors are preparing criminal charges against a woman who allegedly uncorked a 240-year-old bottle of wine for Vladimir Putin and Silvio Berlusconi.
The Russian President and former Italian Prime Minister, said to be firm friends, were on a tour of Crimea when they visited the famous Massandra estate.
The pair spent the weekend together on the peninsula, which was annexed by Russia more than a year ago as the Ukrainian crisis continued.
One of their trips was to the Massandra winery, the oldest in Crimea, which has gained a global reputation for its fine products since it was founded in the 1890s.
Footage broadcast on Russian television showed Mr Berlusconi examining a vintage bottle from its vast cellars during a tour, and asking the winery's director if he could try it.
Yanina Pavlenko duly obliged, Russian newspaper Promyshlennie Vedomosti reported, with a witness describing how she uncorked a precious bottle of Jeres de la Frontera.
Also known as Massandra Sherry 1775, it is one of the oldest and most expensive wines in the world, according to the winery's website.
Ukrainian prosecutors for Crimea, who are working in exile, say the bottle was worth more than $90,000 (£58,000), Radio Free Europe reported.
When the peninsula was annexed, Massandra only owned five of the famous bottles, after two were sold at Sotheby's auctions, with the personal authorisation of then Ukrainian President Leonid Kuchma.
The successful bidder paid almost $50,000 (£32,000) at the 2001 auction, which then went to the government to fund the development of Massandra and wine-making in Crimea.
Ukrainian prosecutors are reportedly looking into filing embezzlement charges against Ms Pavlenko, who is also wanted for alleged "treason" after voting in favour of the Russian annexation of Crimea.
"This is one of the five bottles that constitute not only Massandra's or Crimea's heritage, but the heritage of all Ukrainian people,'' Nazar Kholodnytsky, first deputy prosecutor for Crimea told the Associated Press in Kiev.
Mr Putin and Mr Berlusconi are both reportedly named in the case over "large-scale misuse of property".
During the two-day trip to Crimea, they also laid flowers at a war memorial, toured the seaside, inspected an archaeological dig and visited three palaces and a cathedral.
Massandra was Ukrainian government property before Russia's annexation of Crimea in March 2014, but has since been nationalised by the Kremlin.
Additional reporting by PA
Register for free to continue reading
Registration is a free and easy way to support our truly independent journalism
By registering, you will also enjoy limited access to Premium articles, exclusive newsletters, commenting, and virtual events with our leading journalists
Already have an account? sign in
Join our new commenting forum
Join thought-provoking conversations, follow other Independent readers and see their replies