VMAs 2015: Justin Bieber reveals he was crying on stage because he felt 'overwhelmed' at people cheering him after being booed last year
It had nothing to do with his emo haircut, surprisingly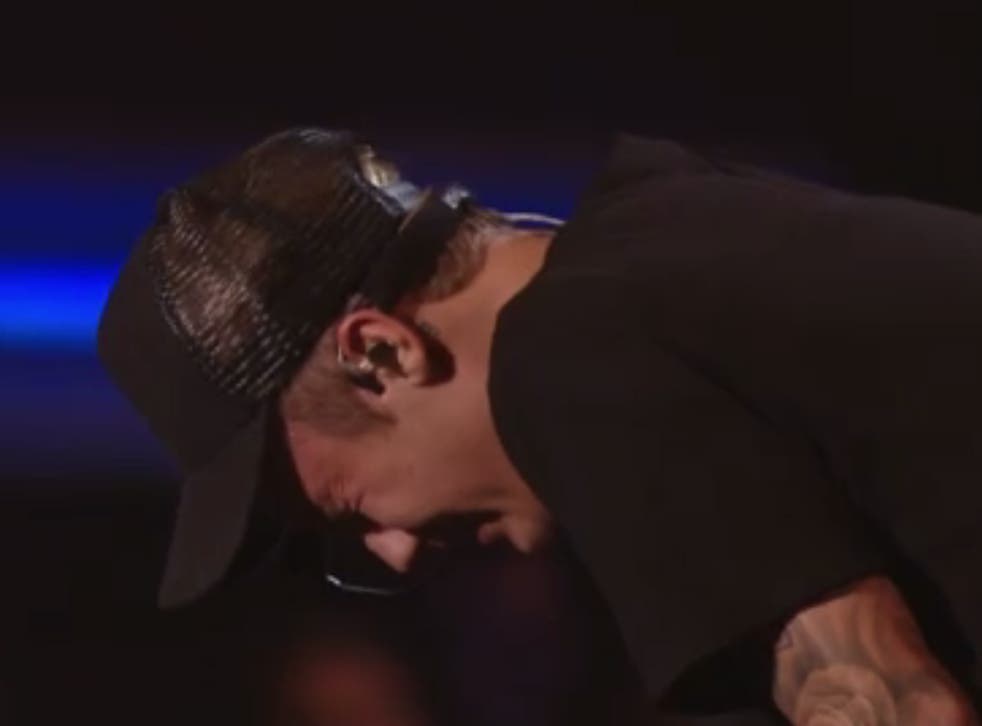 Justin Bieber, pop music's very own difficult middle child, was one of the stand-out artists at the MTV Video Music Awards this weekend.
Not for performing his new songs "Where R U Now" and "What Do You Mean" - although they're both very good - but because he broke down in tears after an emotional performance and proved, after a year or so of brutal PR mishaps, that he might have a heart after all.
A year ago, Bieber was known for abandoning his monkey in another country, attacking paparazzi and staring stony-faced at his shoes during a deposition, claiming he was so confused by the question "Have you ever been to Australia?" that he couldn't possibly give an answer.
So why the tears? Was it because Miley Cyrus and Nicki Minaj's argument was upsetting him? Was he moved by Kanye West's poignant speech? Was his harness a bit tight?
Surprisingly it was none of the above.
The reason he was so upset, a well-placed source claims, is because he wasn't expecting anyone to cheer for him.
"He didn't know how people would accept him. When he saw them on their feet cheering, he was overwhelmed," the source told US blog Gossip Cop.
"Last time he was on an award show he was booed. This time he was cheered for. It meant a lot to him."
Bieber took to Twitter after the performance to thank people for their support after clips of him crying went viral on social media.
"Thanks for always making me smile," he said.
Are we about to witness the second coming of Bieber? A Justin-naissance? Watch this space.
Join our new commenting forum
Join thought-provoking conversations, follow other Independent readers and see their replies