Wes Craven dead: The king of low-budget horror films was once a university professor
The writer-director, died on Sunday at his home in Los Angeles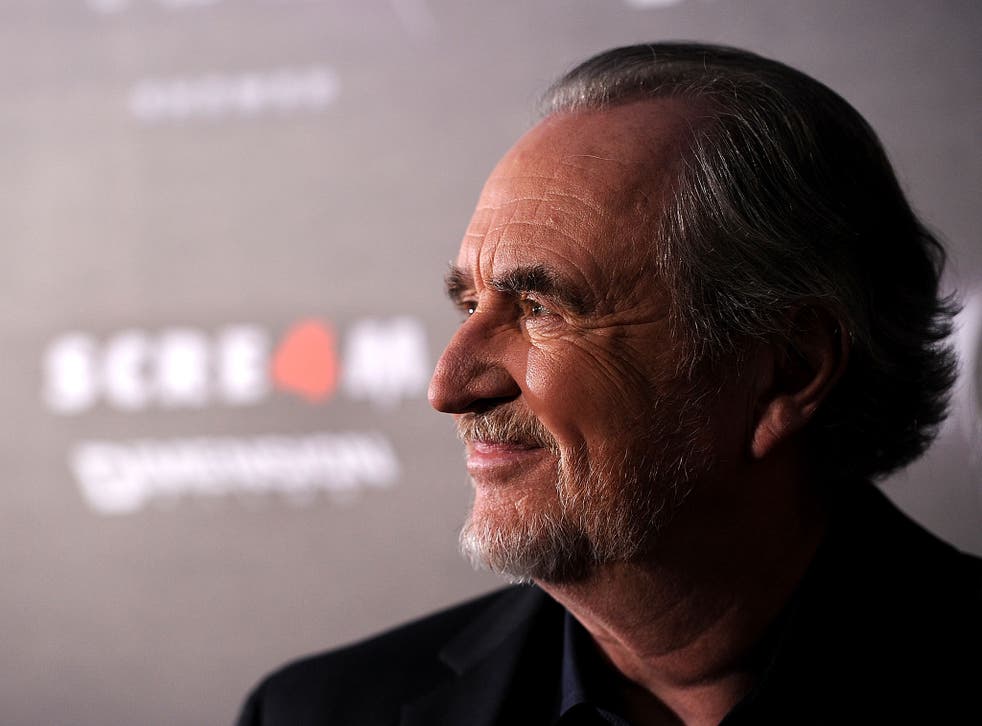 Lovers of scary movies are mourning the death of horror auteur Wes Craven, who terrified two generations of teenagers with his slasher franchises A Nightmare on Elm Street and Scream. The writer-director, who was 76, died on Sunday at his home in Los Angeles. His family said the cause was brain cancer.
Craven's name became synonymous with the genre he first invigorated in his 1972 debut, The Last House on the Left, which ends with two parents taking revenge on the Manson-like psychopaths who rape, torture and murder their daughter. The film was a micro-budget flick with an art-house sensibility; Craven cited Ingmar Bergman's The Virgin Spring as a key influence.
It was banned in the UK but inspired a string of low-budget horror classics such as The Texas Chainsaw Massacre and Halloween, and later enthused a younger generation of horror film-makers, leading to the so-called "torture porn" of the 2000s and films such as Hostel and Saw. "Wes Craven reinvented horror at least four times," critic Kim Newman tweeted. "Most directors don't even manage it once."
Craven began his career as a humanities professor at a university in upstate New York, but quit aged 28 and briefly worked in the porn film industry before turning to horror. Born in Cleveland, Ohio, in 1939 and brought up in a strict Baptist household, he claimed to have got the idea for his breakthrough film from living next to a cemetery on a real-life Elm Street.
In 1984, he created Freddy Krueger, the razorblade-fingered monster who haunted the dreams of teenagers in the classic A Nightmare on Elm Street. Krueger remains a Hallowe'en fancy dress staple more than 30 years later, despite the four poor sequels that followed, none of which was directed by Craven.
The director gave several major actors their first leading roles, including Sharon Stone, Bruce Willis and Johnny Depp, star of the first Elm Street. In 1996, he revolutionised the horror genre again in the teen horror pastiche Scream, which grossed more than $100m at the US box office.
Scream parodied and undermined the horror movie conventions that Craven had helped to create, only to see them become clichés: the haplessness of adults, the dangers of promiscuity, the unreliability of mobile-phone coverage. Its heroine was Sidney Prescott, played by Neve Campbell, who survived despite losing her virginity – often a death sentence in a teen slasher movie – and went on to endure several sequels.
During his five-decade film career, Hollywood rarely permitted Craven to stray from the confines of the horror genre. In 1999, however, he directed Meryl Streep in Music of the Heart, a drama based on a true story about an inspirational Harlem music teacher, for which Streep earned an Oscar nomination. He also wrote and directed a segment of the 2006 rom-com anthology Paris Je T'aime.
"It was a great pleasure to make [Music of the Heart], and to see Meryl nominated," Craven later said. "But most of the people I run into who loved it are surprised that I made it. When you have a name that means scares, you have to live with that."
Craven published a suspense novel, The Fountain Society, in 1999. An avid birdwatcher, he also wrote a monthly column for Martha's Vineyard Magazine, entitled "Wes Craven's The Birds". "People would be introduced to Wes, and they expected to meet this crazoid biker type guy with tattoos and a leather jacket," Robert Englund, the actor who played Freddy Krueger, told the Cleveland Plain-Dealer. "Instead, they met this sweet, unassuming guy who would talk about philosophy and literature."
Over the past decade, Craven's earliest work has returned to fashion, with Hollywood remaking both The Last House on the Left and his 1977 film The Hills Have Eyes, about a family stranded in the desert and attacked by a gang of mutant cannibals.
Recent B-movies such as You're Next (2011) and The Purge (2013) bear the Craven hallmarks, but the director leaves behind a genre with little of the vigour he instilled, made up largely of pale imitations and low-budget sequels with limited imagination, such as the Paranormal Activity franchise.
Craven's final film as director was 2011's Scream 4, but he was also an executive producer for a new television adaptation of the Scream series for MTV. He is survived by his wife, producer Iya Labunka; his sister Carol; his children from his first marriage, Jonathan and Jessica; a stepdaughter, Nina; and three grandchildren.
Join our new commenting forum
Join thought-provoking conversations, follow other Independent readers and see their replies