Winnie Harlow: Everything you need to know about the star of 'Freedom' in Beyoncé's Lemonade
Once bullied at school because of her vitiligo, the model currently features in the world's most talked about album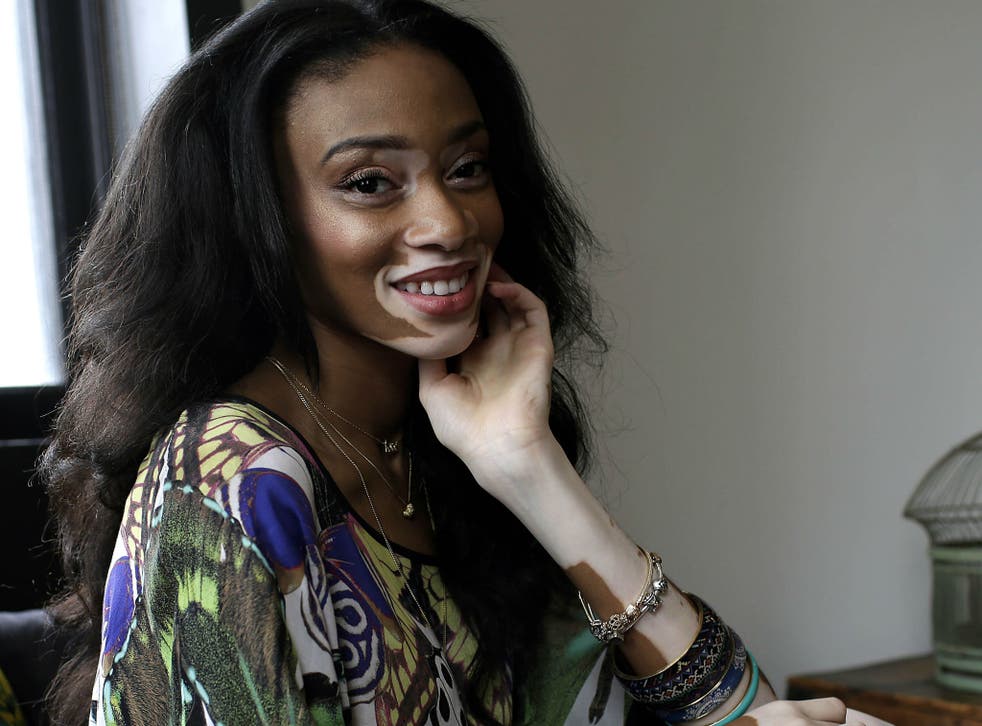 Beyoncé's latest surprise album is, to none's surprise, all the internet is talking about.
After switching up the mainstream music industry in 2013 by releasing a self-titled album which nobody saw coming, she's done it again two and a half years later with Lemonade.
The visual album was accompanied by an hour-long HBO documentary which as well as Bey leading the way featured a number of cameos, many from strong, influential black women.
Serena Williams, Amandla Stenberg and Zendaya are some of these well-known faces but another person who features but is not as well known is the model Winnie Harlow.
Every cameo in Beyoncé's Lemonade

Show all 16
Harlow has a starring role in "Freedom", a politically charged song and video which is accompanied by the powerful voice of Kendrick Lamar. Set on a New Orleans plantation, Harlow holds up a picture of her grandfather, which follows on from the mothers of Trayvon Martin, Mike Brown and Eric Garner all holding up photographs of their sons in "Resurrection".
Harlow told Billboard the mysterious call to be included in the show came just a few weeks before they shot the top-secret video. Who is the model who caught the attention of Beyoncé?
Background
Hailing from Toronto, Canada, the 21-year-old was born Chantelle Brown-Young. She developed the skin condition vitiligo, which causes white patches on the skin due to a lack of melanin, at around four years old. Unfortunately, Harlow experienced bullying over her vitiligo at school.
Speaking to Cosmopolitan last year, Harlow discussed being beaten up by a group of girls who also shouted "moo" noises at her.
Harlow left school at 16 and worked in a call centre, however, was soon spotted by a journalist who advised her to take up modelling.
Modelling
After modelling for several local shows in Toronto, Harlow built up an Instagram catalogue of photos and tagged model Tyra Banks in them in the hope she would see her.
It worked, Banks saw her and a casting director invited her onto Banks' long-running talent show America's Next Top Model for season 21.
She ended up coming sixth and scored some major modelling work as a result. Since the show, Harlow has worked with famed fashion photographers like Nick Knight, walked in New York Fashion Week and modelled for brands including Diesel and Desigual. She also caught the attention of fellow Toronto native Drake who mentioned her in his song "Know Yourself".
Body positivity activism
Since gaining a successful career in modelling, Harlow has used her platform to spread messages of body positivity. In 2014, she gave a TED talk where she said "there's beauty in everything" and told the crowd: "Know for yourself what beauty is rather than looking to a magazine or even me for what beauty is. Know it in your heart and make your own mould for what beauty is."
She's also stressed that her skin condition does not define her, telling the Guardian last year: "I am not my skin. I am a model with a skin condition."
Join our new commenting forum
Join thought-provoking conversations, follow other Independent readers and see their replies