World Cup 2014: Neymar is Brazil's golden boy but who is the man behind the ball?
Doting father, enthusiastic dancer and fashion fan - inside the life of Neymar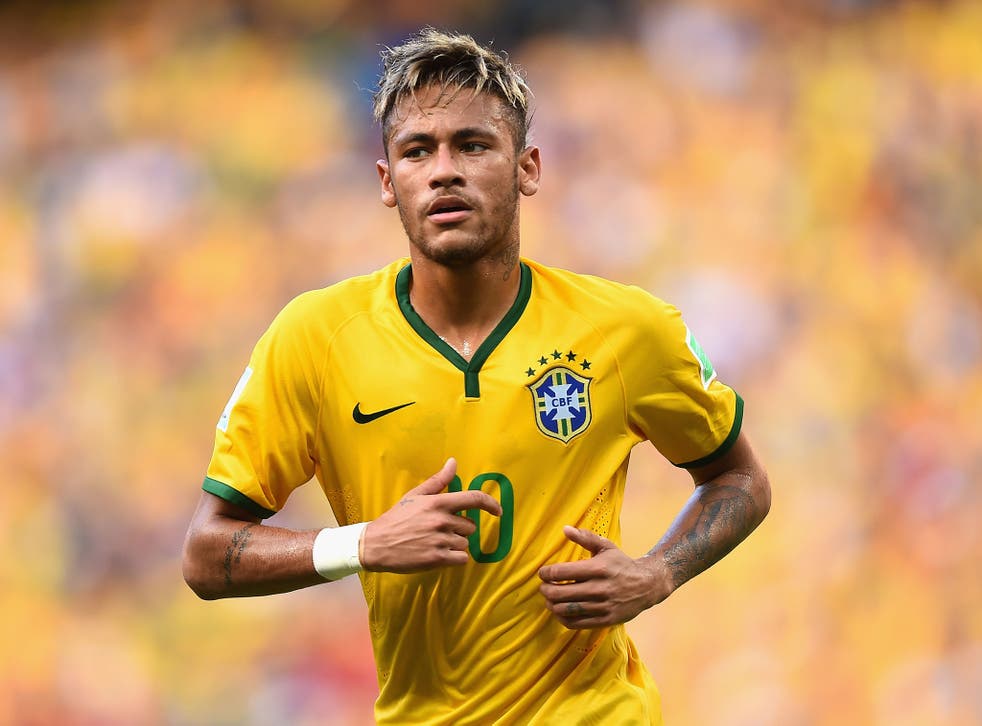 Every World Cup has its golden boys and Brazilian player Neymar is this tournament's young wunderkind.
This is the 22-year-old's first World Cup, but it undoubtedly won't be his last. His footballing prowess teamed with his fun-loving personality has made him one of the tournament's most popular players – this week his name was trending above Brazil, proving that he is a powerful tour de footballing force.
So we know he's impressive on the pitch, but what's his personal story?
His childhood was "humble and happy"
Neymar da Silva Santos Júnior was born in Sao Paulo and was named after his father who was also a footballer. He spent his childhood playing street football, flying kites, riding bikes, tag and indulging in games of hide-and-seek. His aunt and uncle play the cavaquinho (a type of guitar), so there was always music at home.
His father is his hero
Neymar grew up watching his father play football and says he's had a big influence on the way he plays. It was his father who taught him the nuances of the game and he still offers him sporting advice today. Neymar's flamboyant post-goal celebrations (he likes to dance and do handstands) were also inherited. "A little while ago we watched a video of a match in which [dad] scored a goal with his head and in the celebration he looks like a madman, doing a handstand and ending up dancing," Neymar told Highsnobiety. "I think my inspiration when I celebrate comes from him."
World Cup 2014: The most entertaining and controversial players

Show all 11
He always looks on the bright side
Neymar is about as far from a sporting bad boy as you can imagine. "Since I was little, I have always been very cheerful and playful with everyone," he said. "I like to enjoy myself!"
He's big into fashion…
He starred on the cover of Brazilian Vogue with his country's most famous and successful supermodel, Gisele, photographed by Mario Testino. He models underwear for Brazilian label Lupo, and isn't shy to bare his muscles on a regular basis.
…but not he's not as groomed as Ronaldo
His Mohawk haircut has been widely copied across Brazil (and it surely takes a while to style every morning), but Neymar insists he isn't "excessive" when it comes to grooming. "You have to look after yourself, use cologne, moisturiser – particularly in Barcelona where it can be cold – but without being over the top about it," he said.
In fact he thinks he's better-looking than Ronaldo
"Cristiano Ronaldo might have style, but I'm the handsome one," he famously joked once.
His girlfriend is a Brazilian model
Her name is Gabriella Lenzi, and she's been spotted in the stands during the tournament. She's a swimmer, a gymnast and is also signed to David Foster Talent Agency. Lenzi is a big fan of selfies and is followed by over 40,000 on Instagram.
He's quite a mover and a YouTube phenomenon
Footballing aptitude aside, Neymar is worth watching for his post-goal Samba dancing. The 22-year-old is quite the mover; his 2011 video in which he danced in front of his teammates in the Santos locker room to the tune of Michel Teló's hit "Ai se eu te pego!" went viral and in 2013 he featured in a rap music video for MC Guime, entitled "Pais do Futebol".

He's a One Direction fan
He met Niall Horan and was delighted to share a selfie of himself with the boyband member on his Instagram page, with the caption: "Honour to meet you. I'm a fan and I admire the whole group."
He's a Christian
Neymar prays before every match and has previously said that, "Life only makes sense when our highest ideal is to serve Christ!"
He's a father of one
His former girlfriend Carolina Dantas gave birth to his son in August 2011, when Neymar was 19. "I cried when I learned that I would be his father," he said. "At first, I felt fear. Then joy. It is a new responsibility and I am now enjoying it."
He shares his birthday with a trio of footballing pros
His birthday on 5 February is also shared with Cristiano Ronaldo, Carlos Tevez and Paulo Maldini. Imagine the party.
He is apparently the world's most marketable player
In May 2013, SportsPro magazine named Neymar as the most marketable athlete on the planet for the second consecutive year, measured by monetary value, age, force in domestic markets, charisma and market potential in the next three years.
Join our new commenting forum
Join thought-provoking conversations, follow other Independent readers and see their replies