Qatar begins review of worker conditions after union says 4,000 could die before World Cup
Union members give Qatar the red card as country says a review of mirgant labourer maltreatment has been put in place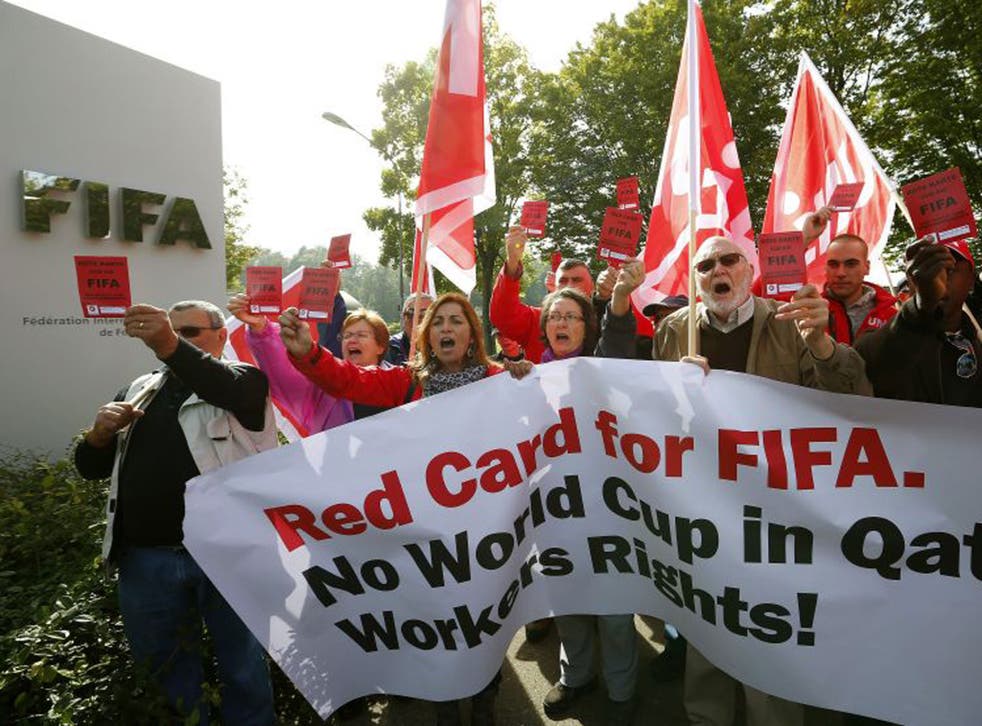 Qatar says it has begun a review of conditions for migrant labourers after the international community and victims groups spoke out about the host nation's maltreatment of foreign construction.
A statement issued by Qatar's minister for labour, Ali Ahmed al-Kholeifi, said an outside legal consultant had been hired to review the state of worker conditions in the six World Cup venues under construction.
Previously, a union had suggested as many as 4,000 migrant labourers could die before the World Cup begun in 2022.
Meanwhile football's governing body Fifa have convened a meeting in Zurich to discuss preparations for the tournament and the possibility of moving the event from summer to winter in order to avoid high temperatures.
Ahead of the assembly Uefa president Michel Platini said he was "much more concerned" with the allegations of migrant worker maltreatment than with the issue of whether the sporting event – the biggest the Middle East has ever seen – should switch seasons.
Today, however, around 100 union members gathered outside the Fifa headquarters in Zurich. Protestors from Building and Wood Workers International (BWI) and Swiss union Unia waved red cards to show their disapproval at migrant worker conditions in Qatar.
BWI assistant general secretary Marion Hellman said that foreign labourers – most of whom are recruited from South East Asia – still faced abhorrent daily circumstances at work.
"Those people working on the sites have nothing, they suffer," he said.
"We want people to have drinking water, food, a good bed to sleep, good air-conditioned rooms, good salary, not just seven dollars a day.
Mr Hellman added: "We want to get labour inspectors in place to go to the sites and do inspection work. We want to get a very clear commitment from the (Qatar) government and from FIFA.
"We still have 10 years to go, good time to make changes," he added.
Join our new commenting forum
Join thought-provoking conversations, follow other Independent readers and see their replies