British shipwrecks dating back to medieval era given protected status
The earliest of the three wrecks, known as the Axe Boat, was unrecorded before it emerged out of the mud on the west side of the Axe River in south Devon in 2001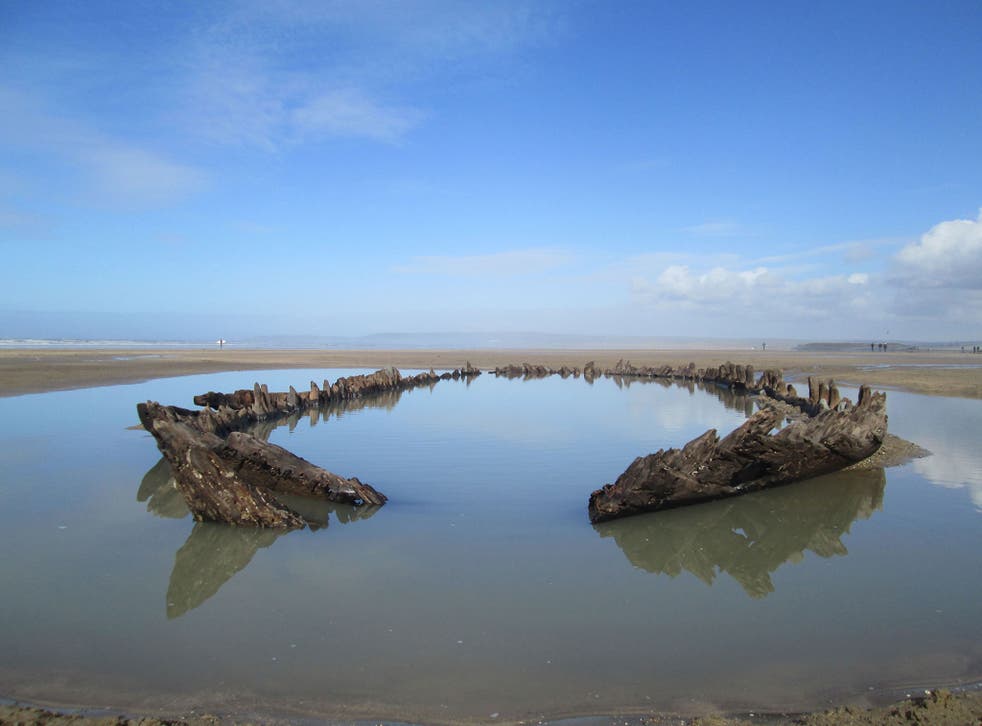 The wrecks of a medieval fishing boat and two 18th-century merchant ships which reveal Britain's trading past have been given protected status.
The three historic shipwrecks, which lie in the sands and mud of Devon's coasts and estuaries and are visible to the public when the tides are right, have been protected for their potential to shed light on key periods of English maritime history.
All three are rare survivals of wooden sailing vessels found in English waters and have been protected as part of an investigation of pre-1840 shipwreck sites by government heritage agency Historic England.
The earliest of the three wrecks, known as the Axe Boat, was unrecorded before it emerged out of the mud on the west side of the Axe River in south Devon in 2001.
Dating of wood from the boat suggested it was built between 1400 and 1640, and is likely to have been used for fishing or trading.
Such boats would have been prolific as England's mercantile trade developed, with Axmouth ranking as a major port by the mid-14th century, accounting for 15 per cent of the country's shipping trade.
England's commercial ambitions are also revealed by the two 18th-century shipwrecks which have been protected by the Department for Culture, Media and Sport on the advice of Historic England.
The two vessels lie a few hundred yards apart on the sands at Northam Burrows Country Park, in an Area of Outstanding Natural Beauty in North Devon. They have been exposed by the elements a number of times in recent decades, most recently following the winter storms of 2014, and are publicly accessible from the sands.
The larger vessel is believed to be the remains of the Sally, which ran aground on the sands in 1769, while bound for Bristol from Oporto in Portugal, with a cargo of port wine.
The smaller boat was probably a Severn Trow, a small merchant ship working the Bristol Channel coastline around 200 years ago. It is lying at such an angle that it appears to have been driven ashore in a storm, Historic England said.
Mark Dunkley, maritime archaeologist at Historic England, said: "We identified these three important wreck sites during a survey of Devon's coastal shipwreck heritage. Despite the effects of environmental decay and the passage of time, substantial portions of their lower hulls survive, allowing us to determine what type of vessels they were and the role they played in Devon's coastal economy.
"The fact that they're often visible to the public gives them a whole added significance as it's quite rare that such old maritime fabric can be seen by anyone who isn't a diver."
Devon County Council archaeologist Bill Horner said: "While these wrecks have been known about for some time and we have been monitoring their condition, it's great that Devon's maritime past is now being recognised by their protection."
PA
Join our new commenting forum
Join thought-provoking conversations, follow other Independent readers and see their replies