Call for UK to take tougher action to save antiquities from Isis
Statues, artworks, shrines, manuscripts, figurines, seals and coins are being pilfered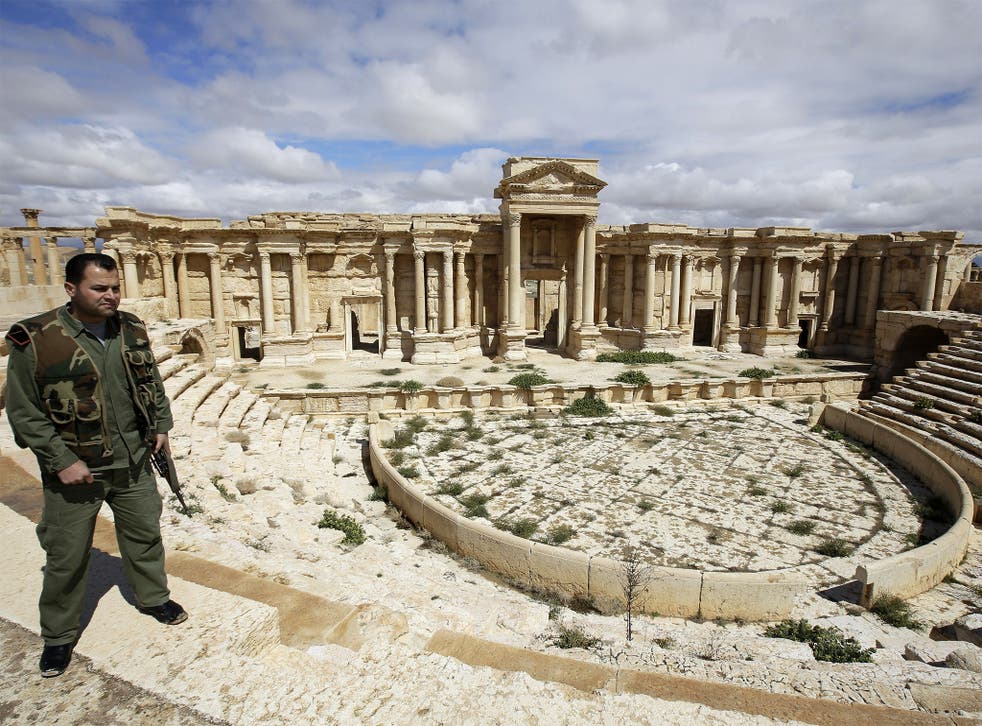 Collectors in the Gulf states are fuelling a multimillion-pound trade in precious relics and artefacts looted by Isis from historic sites, mosques, museums and libraries in Syria and Iraq.
Statues, artworks, shrines, manuscripts, figurines, seals and coins are among the items being pilfered from locations controlled by militant fighters across wide areas of their so-called Islamic Caliphate.
Locations targeted in Syria include the world heritage sites of the ruined city of Palmyra, the crusader castle Crac des Chevaliers and medieval buildings in Aleppo. Experts believe the looting, as well as demolition of some ancient relics such as 2,800-year-old Hittite sculptures in Raqqa, represents the biggest threat to artwork and heritage sites since the Second World War.
Many of the antiquities are being sold by middlemen to wealthy collectors in the Gulf, a Conservative MP will tell the Commons as he presses the Government to take tougher action against an illicit trade that helps to buy weapons for Isis fighters. It is also linked to drugs and arms smuggling and people trafficking.
Robert Jenrick, the Tory MP for Newark and a former director of Christie's, will urge ministers to put diplomatic pressure on countries in the region to oppose the trade. "The royal families in the Gulf states profess to be lovers of the arts and supporters of museums. Yet there seems to be a pervasive culture in these states of turning a blind eye to dealing in illicit antiquities," he told The Independent.
He said militants were tapping into networks created under Saddam Hussein's rule to spirit weapons, drugs and trafficked people out of the region. There is also evidence of Isis demanding a 20 per cent cut of all sales of antiquities stolen by private individuals.
Some items are also being looted by forces loyal to President Bashar al-Assad, as well as by starving people desperate to raise money for food and fuel, Mr Jenrick added. They can routinely be found for sale in markets on the Turkish-Syrian border.
He will contrast the huge scale of the international trade with the "woeful" response from the Metropolitan Police, which employs just three people in its art and antiquities unit. "It dates from the Lovejoy era of lovable antiques rogues," the MP said.
He said practical help should be sent to curators and museum staff in Syria who were struggling to protect their antiquities, as well as to monks in Iraq hoping to digitise centuries-old holy manuscripts before they are seized by militant fighters.
"A small amount of money could go a long way towards saving a cultural legacy. We need to be doing practical things such as helping people on the ground trying to hold together what remains of heritage sites," he said. "Isis aren't just about taking lives. They are also about destroying completely the ties that bind communities together."
Mr Jenrick is also urging ministers to back a UN Security Council resolution opposing the trade in stolen antiquities, and the Hague Convention protecting cultural properties during war.
Timeline: The emergence of Isis

Show all 40
Register for free to continue reading
Registration is a free and easy way to support our truly independent journalism
By registering, you will also enjoy limited access to Premium articles, exclusive newsletters, commenting, and virtual events with our leading journalists
Already have an account? sign in
Register for free to continue reading
Registration is a free and easy way to support our truly independent journalism
By registering, you will also enjoy limited access to Premium articles, exclusive newsletters, commenting, and virtual events with our leading journalists
Already have an account? sign in
Join our new commenting forum
Join thought-provoking conversations, follow other Independent readers and see their replies