The dig that may have unearthed Leonardo's muse
Archaeologists claim bones found in basement of Florentine convent belong to Leonardo's model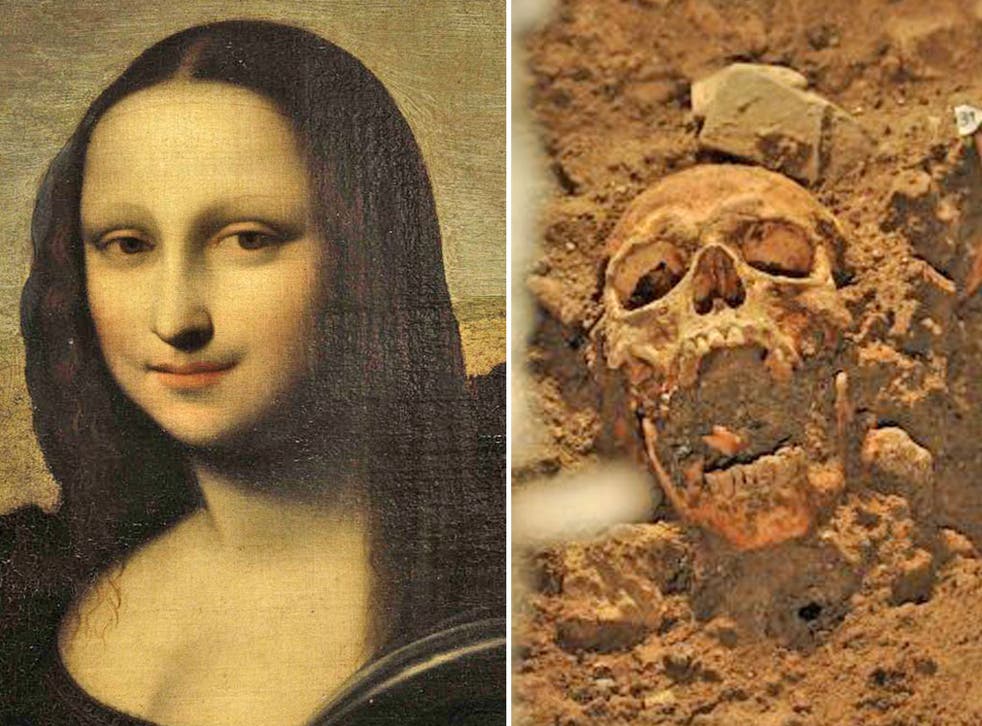 There's no trace of that celebrated, knowing expression, but archaeologists hope that one of two skeletons unearthed in a Tuscan convent will be shown to be that of the model who became Leonardo da Vinci's Mona Lisa. In their hunt for the remains of the most famous portrait-sitter in history, experts have been digging in the former convent of St Ursula in Florence since April. They have previously found and disregarded the bones of five other people.
But the team, led by Silvano Vinceti, head of the National Committee for the Promotion of Historic and Cultural Heritage, is convinced that remains of Mona Lisa, or Lisa Gherardini del Giocondo, are buried in the basement of the building.
He said that armed with the skull of Gherardini, the wife of a wealthy Renaissance silk merchant, he would be able to make an accurate reconstruction of the sitter's face.
"If everything goes as planned, we will find Gherardini and with her skull we will be able to reconstruct her face thanks to some sophisticated technology," Mr Vinceti said yesterday.
"After that we will be able to compare the face to that of Mona Lisa and maybe for the first time will get an answer that will be based on highly sophisticated technology that does not make errors," he told Sky TV. "With this reconstruction of the face there is a margin of error between four and eight per cent so we will know whether Leonardo used Gherardini or we will be able to draw other conclusions."
The latest two skeletons, one of which was in fragments, were discovered in the same grave in the convent's basement. Researchers say that Gherardini spent the last years of her life at the convent, looked after by her two daughters who were nuns, and was buried there when she died in 1542, aged 63.
One of his colleagues, anthropologist Irene Baldi, said the project would provide useful information about the all the people buried there. "Whether the bodies were moved here from another place or buried in a container, if there was a coffin or not, or a cushion under the head, this is the information that we are searching for," she said.
But not all experts are convinced by the claims of Dr Vinceti and his team. Dr Kristina Killgrove, an anthropologist at University of North Carolina at Chapel Hill in the US, said on her blog: "Although the excavation is being carried out in a professional manner, Vinceti's quest to dig up the 'real' Mona Lisa is not grounded in scientific research methodology." She added: "The news media's breathless coverage of it threatens to signal to the public that archaeologists are frivolous with their time, energy, and research money."
And one of Gherardini's descendants, the Italian aristocrat Natalia Guicciadini Strozzi, has described the researchers' grave-digging project as a "sacrilegious act". "What difference would finding her remains make to the allure of Leonardo's painting?" she said recently. But Leonardo da Vinci's masterpiece, which the Renaissance genius began painting in 1503 before taking it with him to France, appears to be almost an obsession for Mr Vinceti.
Last month it emerged he had handed over 150,000 Italian signatures to the French Minister of Culture, Aurelie Filippetti, calling on the Louvre to hand over the painting to its "home city" of Florence.
But the Louvre has already said it has no intention of returning the masterpiece.
Join our new commenting forum
Join thought-provoking conversations, follow other Independent readers and see their replies