Million-year-old Norfolk footprints: Just who were 'Homo antecessor' and how did they arrive in Britain?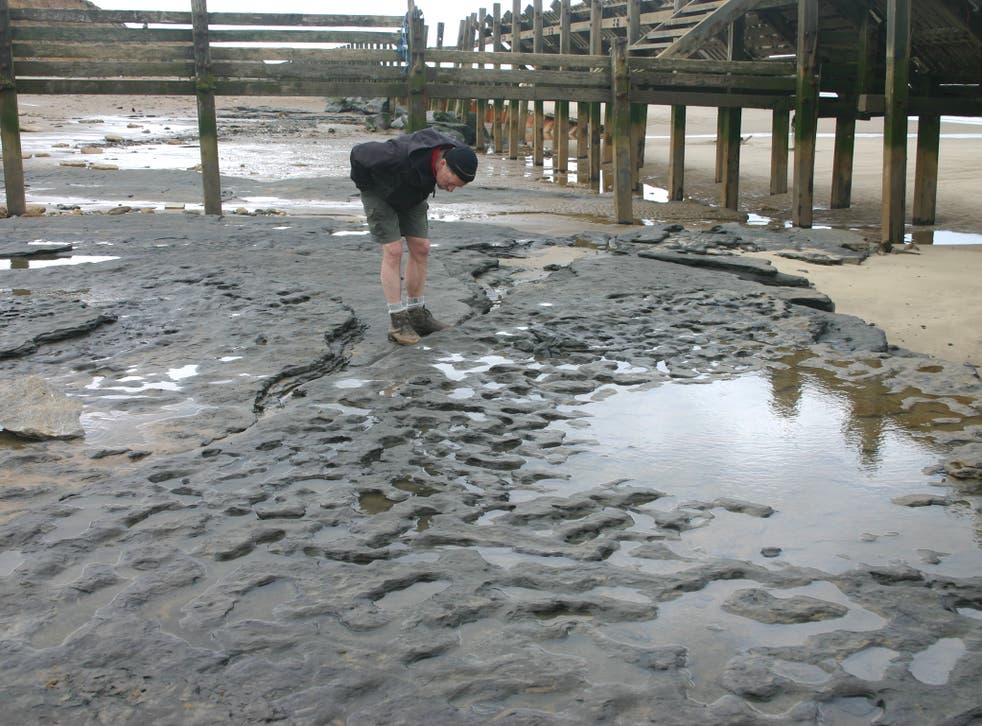 The discovery on an eroded English beach of a set of human footprints dating to about 900,000 years ago is one of those encounters that send a shiver down the spine – rather like Robinson Crusoe's first sight of footprints after years spent alone on his desert island.
Who were these people who lived on these isles so long ago? Experts are in little doubt they were human, being fully bipedal, and have suggested they probably belonged to a species called Homo antecessor ["Pioneer man"] who was known to have inhabited a set of caves at Atapuerca in northern Spain at about the same time.
At least half a dozen individuals made these prints as they walked south through the estuarine mud of an earlier version of the River Thames, which at that time ran into the sea much further north than it does today. It was one of several times over the past million years when Britain was connected by a land bridge to continental Europe.
It is likely that these people were foraging for shellfish, edible tubers or seaweed in a prehistoric landscape inhabited by deer, mammoth, rhino, horse, giant elk, hyena and possibly a sabre-toothed cat to keep everyone on their toes.
From the estimated size of these naked mud-prints it seems that these early humans may have been a small family group of children and adults, ranging in height from between 3ft and 5.5ft – the largest foot in the set would have comfortably fitted a modern size 8 shoe.
In pictures: The million-year-old human footprints found in Britain

Show all 14
This part of the heavily-eroded coast of Norfolk and Suffolk, at Happisburgh (pronounced "HAZEburra") and Pakefield, has become a rich source prehistoric remains. The earliest find, discovered in 2000, was of a flint hand-axe, which is now one of about 80 stone tools from the area dated to between one million and 900,000 years old.
These archaeological artefacts are the oldest evidence of humans north of the Alps. The footprints themselves are the oldest outside Africa – only the 3.5 million-year-old footprints at Laetoli in Tanzania and the 1.5 million-year-old prints at Ileret and Koobi Fora in Kenya are older.
Without bones or skulls it is near impossible to say with any certainty that these early Norfolk residents belonged to H. antecessor, but it's a reasonable best guess. This species of early man was about the same height as ourselves and seemed to have died out about 600,000 years ago, having been replaced by another species called H. heidelbergensis, whose fossilised remains have been unearthed at Boxgrove in West Sussex.
The first human species to emerge from Africa, Homo erectus, began colonising the rest of the world about 1.75 million years ago. It is not known exactly how H. erectus is related to H. antecessor, but there must be some close family connection – at least indirectly.
Professor Chris Stringer, head of human origins at the Natural History Museum in London, believes that H. antecessor may have been the first of perhaps nine separate colonisations of Britain over the past million years, with the eight previous colonisations – including that of the Neanderthals – dying out with each subsequent ice age.
The descendants of the ninth colonisation live on in today's Britain.
Join our new commenting forum
Join thought-provoking conversations, follow other Independent readers and see their replies