British space-weather centre will give advance protection from solar super-storms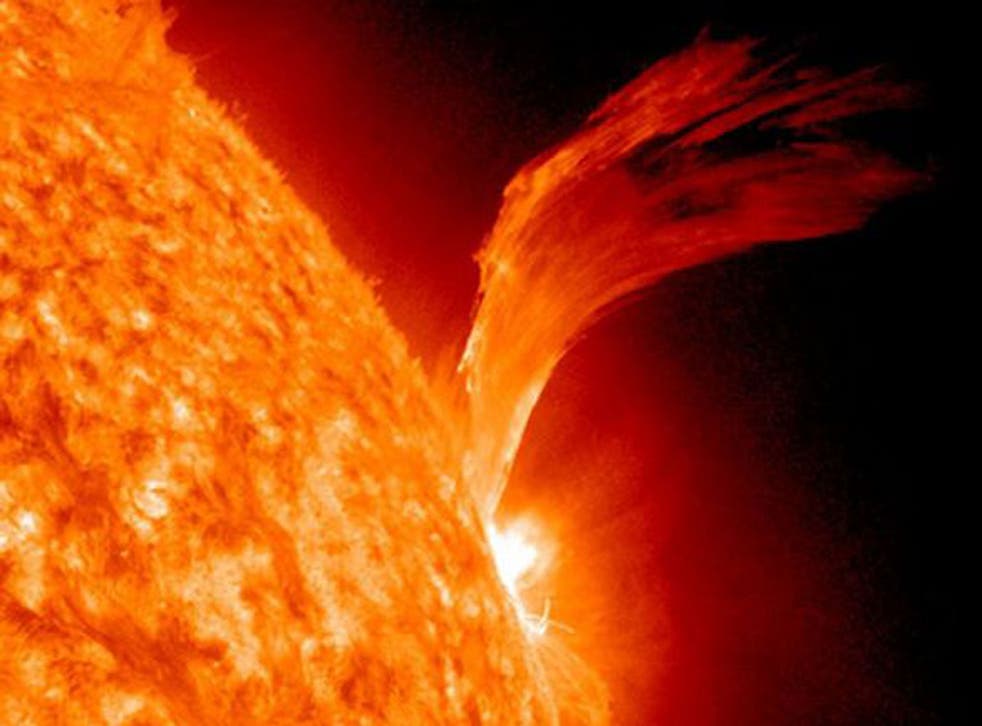 Britain will next year have its own space-weather centre for predicting the arrival of solar "super-storms" that can trigger electricity blackouts across whole cities and knock out GPS satellites, the Government will announce today.
Space weather forecasts will start from the spring of 2014 and are designed to give early warning to private companies and public utilities with critical equipment that is vulnerable to electrical malfunction during a large solar storm.
The Met Office, which is charged with providing the round-the-clock forecasts, will receive £4.6m over the next three years to bring the service fully online, covering 365 days a year.
It will be only the second space weather prediction service in the world and will collaborate closely with the one operated by the US National Oceanic and Atmospheric Administration.
Major solar storms are caused by coronal mass ejections, when billions of tons of highly energetic particles travelling at a million miles per hour are explosively released from the Sun's outer atmosphere or corona.
They can be emitted in any direction from the Sun and if they are aligned with Earth they take between 17 hours and 3 days to arrive, giving the chance of an early warning if they can be detected in time.
If coronal ejections end up hitting the Earth, these huge bodies of electrically charged particles can cause geomagnetic storms and power surges within the electrical transformers of the National Grid. Damaged transformers can take weeks to repair. David Willetts, the Universities and Science Minister, said Britain's increasing reliance on electronic technology makes it more vulnerable than ever to solar super-storms.
Large events like these are calculated to occur about once every couple of centuries – the last one of this size hit the Earth in 1859.
"Space weather is identified as one of the significant risks to our national infrastructure. There are two main risks: one is to the power system of transformers tripping out; a second vulnerability is to satellite systems," Mr Willetts said.
"We've got more systems that are potentially more vulnerable to space weather. There are more satellites out there and electricity systems are more extensive than ever before so one of the reasons why we've decided on this investment is because we have this potential increase in vulnerability," he added.
Minor solar storms occur on a regular basis and are rarely a serious problem, although they can provide a spectacular natural light show called the aurora borealis.
Solar super-storms, however, such as the 1859 event named after British astronomer Richard Carrington, have the potential for widespread disruption, particularly if they cause power surges in electrical transformers or satellites.
"We're really talking about a repeat of events like the Carrington storm in 1859. That has a return period of about one in 100 to one in 200 years," said Mark Gibbs, head of space weather at the Met Office. "That means there is probably a 12 per cent chance of one occurring in the next decade."
Join our new commenting forum
Join thought-provoking conversations, follow other Independent readers and see their replies