Flying ant day: All you need to know
Ever wondered what 'Flying Ant Day' is all about?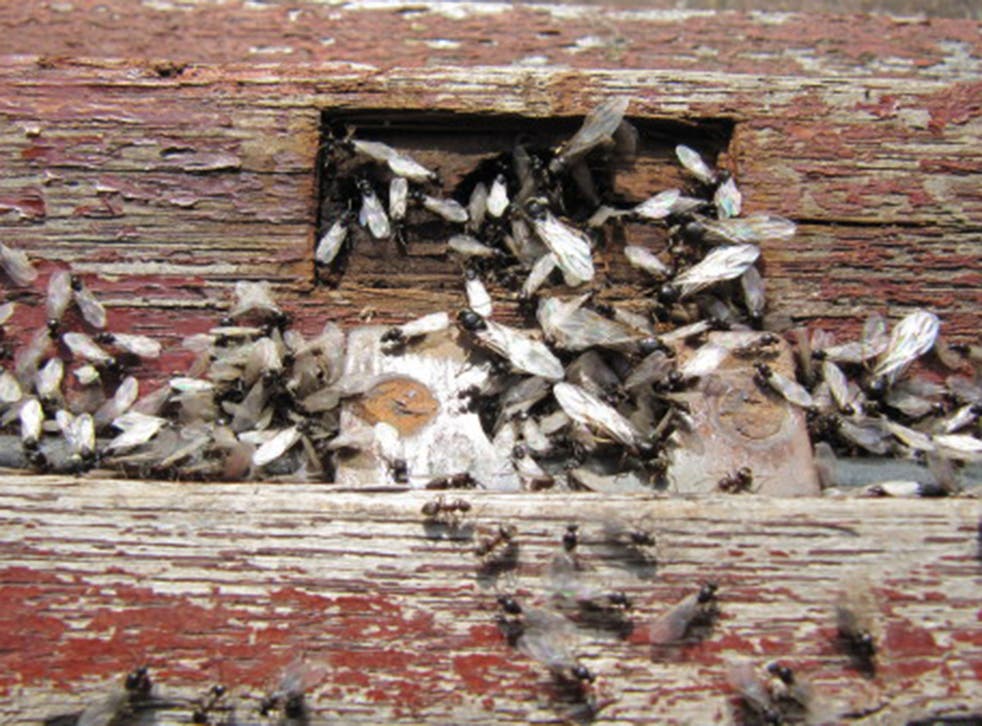 If you had got home from work to a balmy evening last night, you might have noticed an increase in ant activity in and around the streets where you live.
They were everywhere, thousands of ants crawling, climbing and even flying their way across London's concrete jungle.
That was because we are in the throngs of what some call 'Flying Ant Day.'
A day where ants seem to grow wings, grow bigger and turn up everywhere.
However, while most people have grown to accept that there is one day every summer that will see ants inevitably turn up in their thousands and then quickly disappear again, it is one of life's great mysteries as to what happens, when exactly this happens and why it happens in the first place.
What is 'Flying Ant Day'?
'Flying Ant Day' is the layman's term for the time in which the queen ants from various ant colonies emerge from their nest to begin their nuptial flight and look for male ants to mate with and begin new colonies.
The queen ant (usually the biggest winged ant you can find) will leave the nest with a number of male ants and begin their flight to try and find a suitable partner.
The queen and the male ants from the colony will then disperse to ensure that there is no cross breeding and, then, when far enough away from her worker ants the queen will release pheromones that are designed to attract frisky males.
However, it is not just a matter of meet up and get on with it, the spoils only go to the male ant that is game for the chase.
When a female finds an ant to mate with, she will try to engage in a bit of kiss chase, by flying away from her suitor. While this may seem like a bit of tomfoolery on the part of the queen, it is an essential part of selective breeding to ensure the female is able to mate with those male ants that are fit enough and fast enough to catch the queen.
Mating takes place during flight and males fertilise the sperm stored in the female's abdomen, which in some cases can be as old as 20 years.
To do this, the male inserts his genitalia into the female to fertilise the egg. With the male's only purpose being this fertilisation, his genitalia gruesomely explodes in the female and he quickly dies after mating.
The queen lands to the ground, finds a colony and then spends a life lying on her side, eating and shooting out ant larvae to populate the new colony.
When is 'Flying Ant Day'?
Like humans, there is something about the warm weather that brings out the frisky side in ants.
For a 'flying ant day' to occur it needs to be the right weather conditions. Warm, with no chance of rain and with as little chance of predation as possible.
While it is a nice image of thousands of ant colonies sending messengers to one another organising on which day 'flying ant day' will be, in reality the coordination of flying ant days are largely down to ants in certain areas reacting to the weather conditions around them.
In general, these weather conditions usually come about at the end of July; however, with global warming and rising temperatures this is occurring earlier and earlier.
Science News in Pictures

Show all 20
Does it just happen once a year?
Despite the notion that the appearance of flying ants is for just one day a year, scientists have proved that this is in fact a myth. Studies in recent years have proved that the presence of winged ants is not confined to just one single day. A study by the Society of Biology in 2012, dismissed the idea of one 'flying ant day,' after a study across the whole summer found 6,000 different reports of separate ant days, and found that it was more like a period of a fortnight that saw an increase in flying ant activity.
Last year, an annual survey of flying ants found that that the very warm weather had led to four separate flying ant mating days - the first happening as early as June, and the last as late as September. With the first 'flying ant day' having already occurred yesterday, expect another bumper year for the flying ant this year.
…..Ant another thing
Did you know that at the 2009 ICC Champions Trophy in South Africa a deluge of flying ants stopped the semi-final match between Australia and England after players could not see due to the volume of ants at the Centurion Ground.
Join our new commenting forum
Join thought-provoking conversations, follow other Independent readers and see their replies