Fossil of gigantic 'mammal-like' reptile which co-existed with dinosaurs discovered in Poland
Lisowicia bojani weighed nine tonnes and was the size of an elephant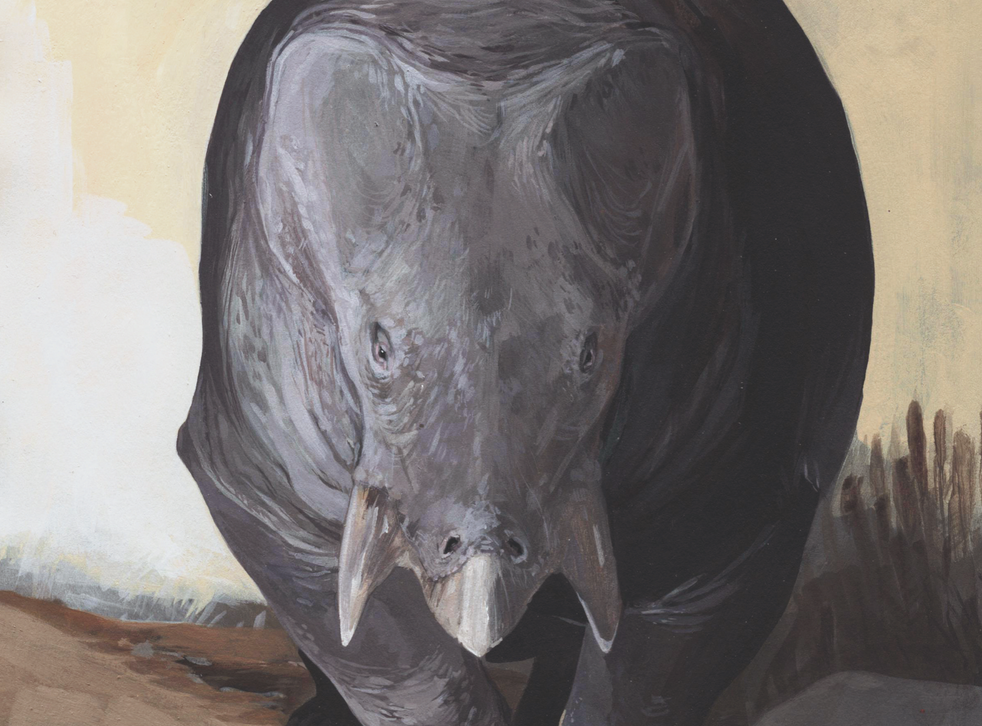 The discovery of an enormous pre-historic animal, which lived during the Triassic period 200 million years ago, indicates early dinosaurs were not the only group growing to large sizes at the time.
Though dinosaurs went on to dominate the subsequent Jurassic era, a group known as therapsids, which are the ancestors of all modern mammals, thrived even before the dinosaurs' reign.
The fossilised remains of a mammal-like reptile discovered in Poland reveal a creature which weighed nine tonnes and stood as tall as an elephant.
Scientists have identified the remains as a type of dicynodont from the therapsid group and have named the species Lisowicia bojani, after the Polish village of Lisowice close to where the fossils were found, and a German anatomist named Ludwig Heinrich Bojanus.
Dicynodonts were herbivores and their sizes ranged from small burrowing species to large browsers. Most of them were also toothless. Despite their reptilian heritage, they are the predecessors of all modern mammals, including humans.
The new species was discovered by a team from Uppsala University in Sweden and the Polish Academy of Sciences, and their findings are published in the journal Science.
"The discovery of Lisowicia changes our ideas about the latest history of dicynodonts, mammal Triassic relatives. It also raises far more questions about what really make them and dinosaurs so large," said Dr Tomasz Sulej, of the Polish Academy of Sciences.
The size of the fossil means palaeontologists will have to reassess their understanding of therapsid lineage.
"Dicynodonts were amazingly successful animals in the Middle and Late Triassic. Lisowicia is the youngest dicynodont and the largest non-dinosaurian terrestrial tetrapod from the Triassic," said Dr Grzegorz Niedzwiedzki of Uppsala University.
"It's natural to want to know how dicynodonts became so large. Lisowicia is hugely exciting because it blows holes in many of our classic ideas of Triassic 'mammal-like reptiles'."
The first findings of fossils from Lisowice in Poland were made in 2005 by Robert Borzecki and Piotr Menducki. Since then, more than 1,000 bones and bone fragments have been collected from the area, including fossils from Lisowicia. The area is thought to have been a river deposit during the Late Triassic period.
The discovery of Lisowicia provides the first evidence that mammal-like elephant sized dicynodonts were present at the same time as the better-known long-necked sauropodomorph dinosaurs, contrary to previous belief.
Sauropodomorphs include species like the Diplodocus or Brachiosaurus.
The find fills a gap in the fossil record of dicynodonts and it shows that some anatomical features of limbs thought to characterise large mammals or dinosaurs also evolved in the non-mammalian synapsid.
Dinosaurs in the Wild

Show all 18
The Polish fossils are the first substantial finds of dicynodonts from the Late Triassic in Europe.
Support free-thinking journalism and attend Independent events
"The discovery of such an important new species is a once in a lifetime discovery," said Dr Sulej.
Register for free to continue reading
Registration is a free and easy way to support our truly independent journalism
By registering, you will also enjoy limited access to Premium articles, exclusive newsletters, commenting, and virtual events with our leading journalists
Already have an account? sign in
Register for free to continue reading
Registration is a free and easy way to support our truly independent journalism
By registering, you will also enjoy limited access to Premium articles, exclusive newsletters, commenting, and virtual events with our leading journalists
Already have an account? sign in
Join our new commenting forum
Join thought-provoking conversations, follow other Independent readers and see their replies