Life on Mars: How six scientists' trip to Hawaii simulated a mission to the red planet
The human guinea pigs spent eight months being monitored by NASA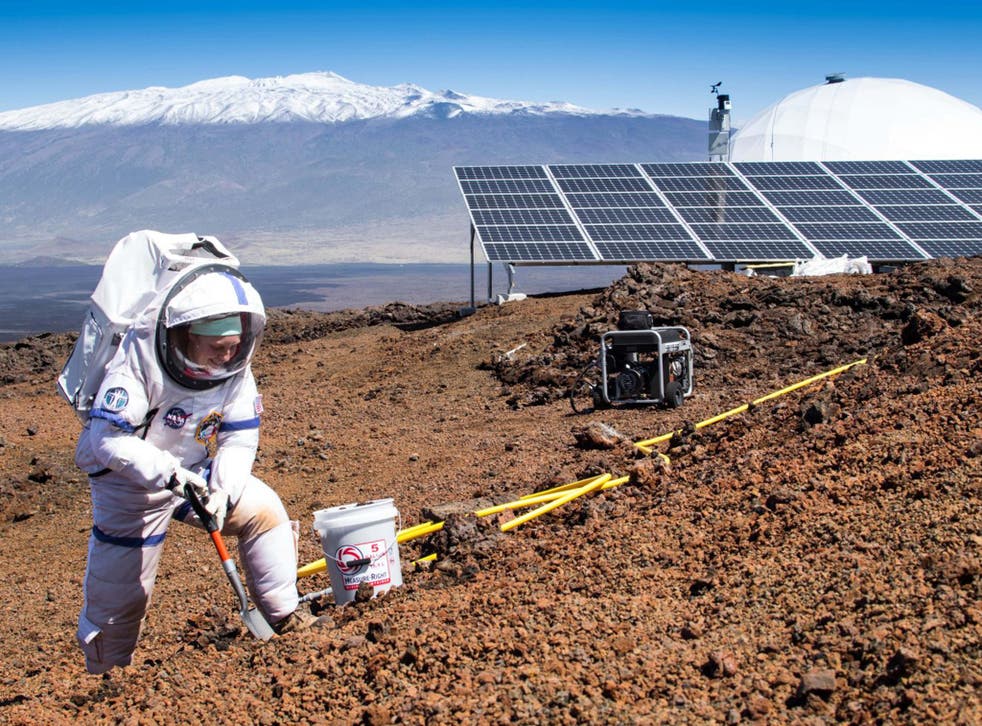 Back in the autumn, six scientists received some good news: they were being treated to an eight-month, all expenses paid trip to Hawaii.
There was just one little catch: they would be spending all eight months cooped up together in conditions designed to simulate a mission to Mars, as NASA-funded researchers watched to see whether they coped or developed cabin fever.
For the Hawaii Space Exploration Analog and Simulation mission (HI-SEAS), surfing, fresh air and sunshine were all off the menu – along with perishable food or anything that couldn't be freeze-dried. Whenever the six human guinea pigs wanted to take a short walk outside their 36ft-diameter vinyl dome, they had to don 40lb space suits.
Perhaps it should not be overly surprising that with the six having now completed their mission at the weekend, one has declared re-entering the outside world as "pure joy", and another has confessed: "I feel like a ghost."
But as NASA explores the possibility of a manned mission to Mars, it may be encouraged by just how much the six, all of them aspiring astronauts, were willing to put up with.
During the eight months – the expected length of an outbound journey from Earth to Mars – the six mission members had to live together in just 1,300 square feet of living space, built on the side of the Mauna Loa volcano on the archipelago's Big Island.
As if to make things even tougher, showers were restricted to eight minutes per week, sound travelled easily around the dome, and the mission commander was learning to play the ukulele.
A possible clue as to why Martha Lenio and her five junior colleagues appear to have survived relatively unscathed may lie in her final blog before leaving the dome, about her pre-mission goals to "learn the ukulele, improve my French and finish off a knitting project".
"Of those three," wrote the 34-year-old Canadian renewable energy consultant, "I think the knitting is the only one really close to being accomplished. I can play a few chords on the ukulele but not a whole song."
In pictures: Mars Exploration Rover

Show all 12
An indication of how the HI-SEAS inmates did pass their time was given by their blogs. Sophie Milam, a robotics researcher, posted excitedly about making a model boat out of sticks, and making an alternative spacesuit helmet out of tin foil.
"When you're trapped in a dome on the side of a volcano with five other nerds," she explained, "you'd be surprised at how excited people get when you propose a fancy tinfoil hat."
But it wasn't all fun. As well as a team led by the University of Hawaii professor Kim Binsted watching them, the six inhabitants conducted their own research projects. The mission being intended to look at the physiological as well as psychological effects of isolation, they also froze eight months' worth of saliva and urine samples for NASA.
And the team did have its own crisis moment. About halfway through the mission, bad weather on the volcano left them unable to use their solar batteries. They had to huddle up for warmth and restrict energy use to just the essential systems, coming within hours of the fan on their composting toilet running out of power.
Ms Lenio admitted that the potential consequences on Mars would have been far more serious. "If we were really on Mars, that would be life or death," she said. "Here it's not like we would have died, so the same stress level [as on Mars] isn't there."
But it did seem that her team members had succeeded in avoiding cabin fever. In her final blog, Ms Lenio referred to her fellow mission members as "lovely people".
It seems that in this earthbound space race, the Americans might have done better than some Russian-led projects. One of their isolation projects, in 1999, ended with blood on the walls following a fist fight between two of the participants.
Join our new commenting forum
Join thought-provoking conversations, follow other Independent readers and see their replies