Mangalyaan orbiter blasts off: India hails 'text-book' launch for mission to Mars
Craft due to arrive in the orbit of the Red planet on 21 September next year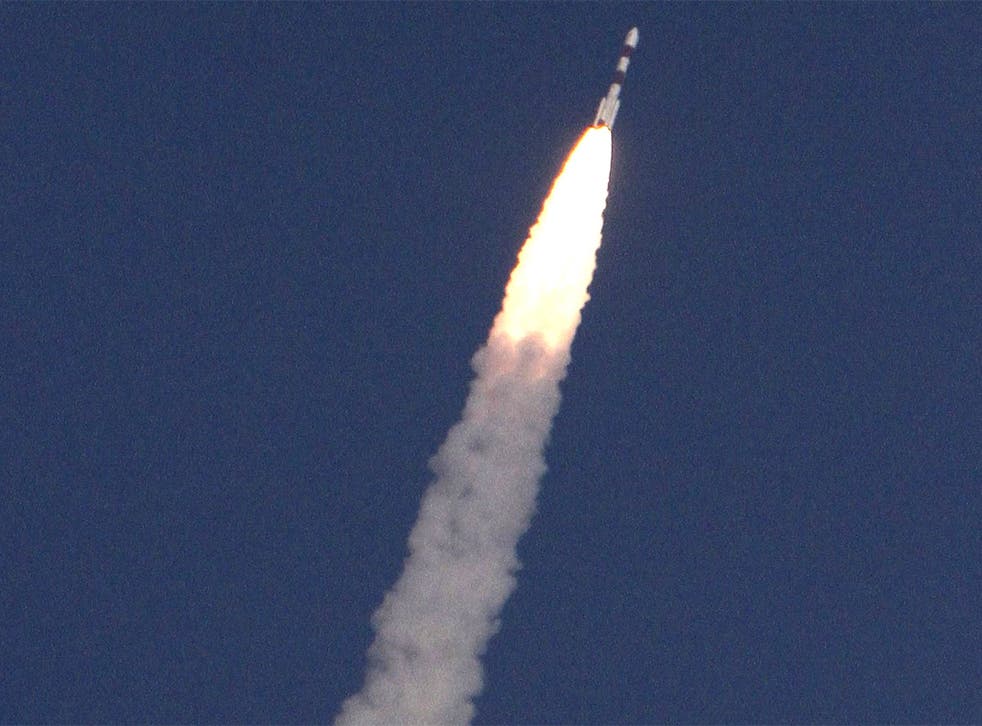 India's attempt to become just the fourth nation to successfully send a mission to Mars has today made a good start after the Mangalyaan orbiter blasted off.
The unmanned craft was launched at 2.38pm local time from a site on an island off the eastern coast of India, carried aboard a powerful rocket. Observers said the initial blast-off had been "text-book".
Television footage showed flames and smoke at the base of the launch rocket as it lifted off. Scientists at base control in Bangalore cheered as they watched the launch rocket pass first over Thailand and then Indonesia as they awaited the separation of the orbiter and the rocket.
After around 45 minutes, the scientists could be seen cheering again as the orbiter successfully separated from the rocket.
"It has been a new and complex mission. We attempted to put the satellite from the orbit of Earth to the orbit of Mars," said K Radhakrishnan, chairman of the Indian Space and Research Organisation.
He said he had received a phone call from India's Prime Minister, Manmohan Singh, congratulating the team. It had been Mr Singh who announced India's plan to send a mission to Mars when he addressed the nation last year from the ramparts of Delhi's Red Fort.
After today's initial blast-off, the plan is for the £62m orbiter to circle the earth, gradually increasing in velocity until booster rockets are fired, setting the craft on route for a 300-day journey to Mars. It is due to arrive in the orbit of the Red planet on September 21 next year, where it will then carry out a series of scientific investigations over four months.
India is aiming to follow the Soviet Union, United States and the European Space Agency in having a successful visit to Mars.
Supporters of the space mission say research over decades has allowed India to develop satellite, communications and remote sensing technologies that help to solve everyday problems, from forecasting where fish can be caught to predicting cataclysmic storms and floods.
The craft is carrying equipment that will enable it to perform five main scientific experiments during its four-month orbit of the planet.
Of particular interest will be tests to try and check for the presence of methane, a sign that Mars may once have borne life. Nasa recently said that its Curiosity rover, which landed on the surface of Mars in August 2012, has not detected methane.
Indian scientists point out that Nasa had previously said there was no evidence of water on the moon. Yet the 2008 Indian mission, Chandrayaan-1, confirmed the presence of water molecules within the lunar soil.
Join our new commenting forum
Join thought-provoking conversations, follow other Independent readers and see their replies