Nasa Mars announcement: Agency likely to announce how Red Planet went from more habitable to cold and dry
Andrew Griffin
Thursday 05 November 2015 12:07 Comments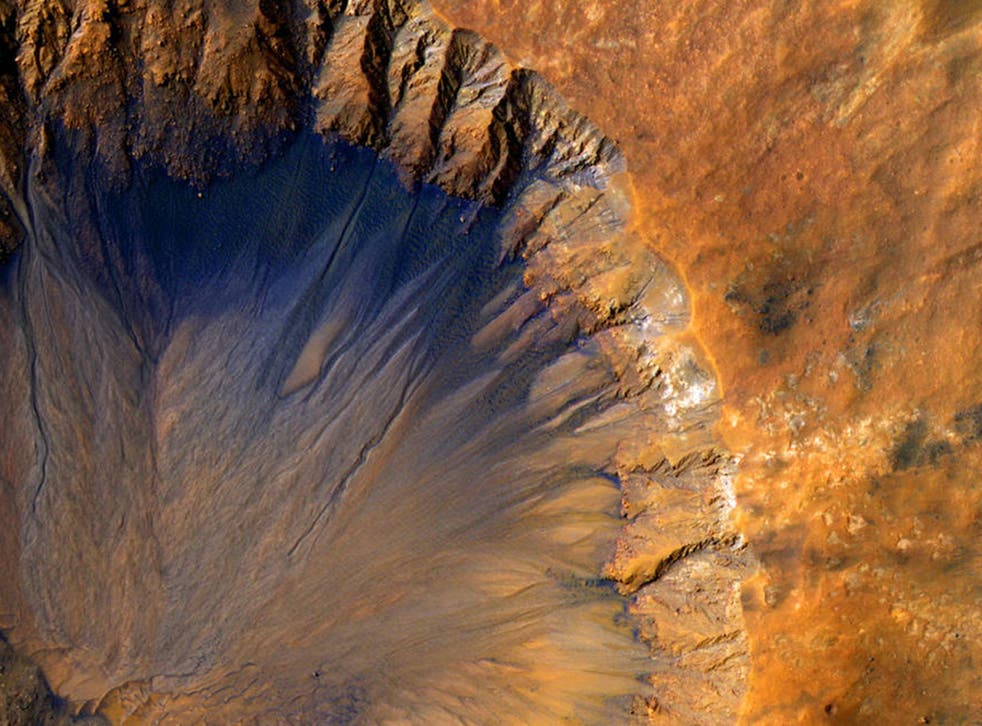 Nasa could be about to announce that Mars once looked a lot like Earth.
The space agency has made a cryptic announcement that it is about to make an announcement about the red planet's atmosphere. And while it hasn't said , a list of speakers posted on the agency's website indicates that it could be revealing new findings about how Mars turned from the wet and warm planet that it once was to the dry, cold and most inhospitable place that it is now.
Nasa said in its announcement only that it would "provide details of key science findings from the agency's ongoing exploration of Mars". It said that those announcements would revolve around the "fate of Mars' atmosphere".
But a list of speakers indicates that all but one of them is direclt involved with the Mars Atmosphere and Volatile Evolution (Maven) mission. That is a spacecraft that arrived in Mars's orbit in September 2014, and has been studying the planet's atmosphere since.
Nasa describes Maven's job as finding data that scientists can use to "determine the role that loss of volatile compounds—such as carbon dioxide, nitrogen dioxide, and water—from Mars' atmosphere to space has played through time, giving insight into the history of Mars' atmosphere and climate, liquid water, and planetary habitability".
Four of the speakers at Nasa's announcement are part of a long list of authors on a paper looking at the way that ions escaped from the planet. It said that the findings due to be delivered will give an estimate of the way that particles have escaped from Mars — and use those to understand the history of the planet itself.
Nasa finds flowing water on Mars - in pictures

Show all 7
It is likely that today's announcement is related to that theme, potentially announcing new discoveries about the way that Mars lost its atmosphere. Though Nasa has been making a run of secretive and highly-publicised announcements recently, they are often spoiled by including a list of speakers who are experts in the thing due to be discussed.
The revelation in September that Nasa had found water on Mars, for instance, was discovered in advance because the agency's speaker list included a number of scientists who had been active in such discoveries in the past and who were named on an online paper discussing the discovery.
Nasa will start its announcement at 2pm eastern time, or 7pm in the UK.
Register for free to continue reading
Registration is a free and easy way to support our truly independent journalism
By registering, you will also enjoy limited access to Premium articles, exclusive newsletters, commenting, and virtual events with our leading journalists
Already have an account? sign in
Join our new commenting forum
Join thought-provoking conversations, follow other Independent readers and see their replies