Nobel Prize for Medicine announced: three scientists win award for discoveries that helped stop infections from roundworm parasites and malaria
First ever Chinese winner of the prize for medicine is part of a trio of scientists that were awarded the year's first Nobels — though she doesn't know it yet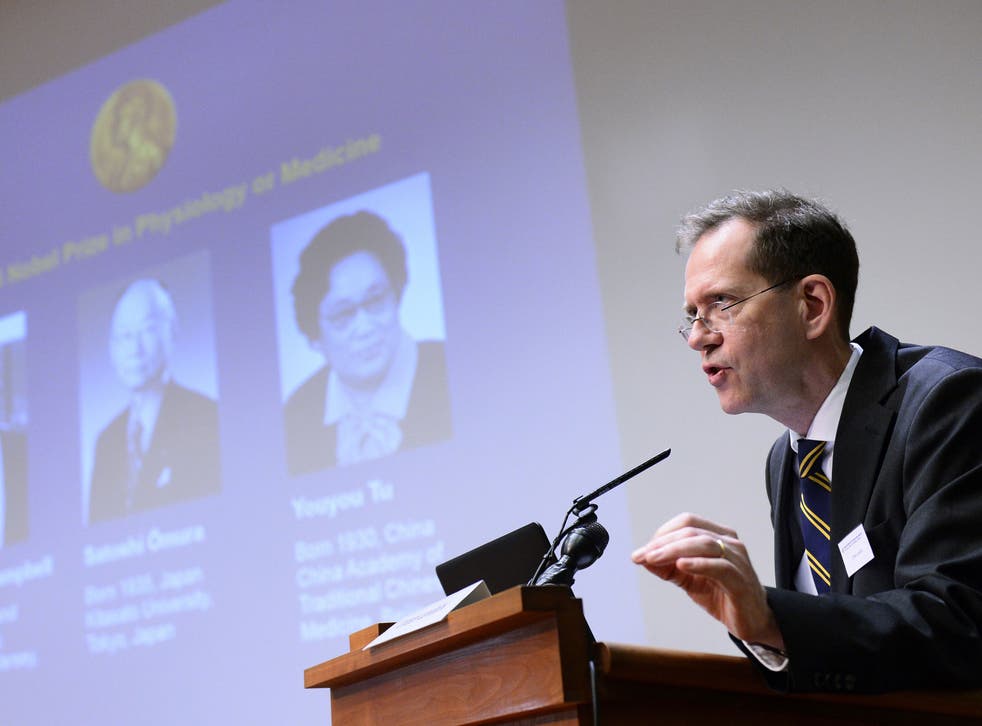 Three scientists have been given the Nobel Prize for medicine for advancements in the fight against Malaria and infections from a particular parasite.
Irish-born William Campbell, Japanese Satoshi Omura, and the Chinese Tu Youyou together were awarded the prestigious prize by a committee in Stockholm.
Mr Campbell and Mr Omura were given the award for helping to find a new therapy that fought infections caused by roundworm parasites. Ms Tu was given it for her work against Malaria.
"The two discoveries have provided humankind with powerful new means to combat these debilitating diseases that affect hundreds of millions of people annually," the committee said. "The consequences in terms of improved human health and reduced suffering are immensurable."
Ms Tu is the first ever Chinese medicine laureate. The committee were asked whether the prize was a recognition of traditional Chinese medicine — and said that it wasn't, though the discovery was "inspired" by it.
Tu was part of a secret project set up by Chinese leader Mao Zedong in 1967, according to the New Scientist. She has said that it is "scientists' responsibility to continue fighting for the healthcare of all humans", and that her discoveries were "what I should have done as a return for the education provided by my country".
The committee said in their announcement that Ms Tu hadn't yet heard that she had won the award, because they couldn't get through to her.
The three winners will share the roughly £630,000 of prize money. Half will be split between Campbell and Omura, and Tu will take the other half.
They will also get a diploma and a medal at the ceremony on December 10.
The medicine prize is the first to be announced. The physics, chemistry and peace prizes will be announced later this week and the economics prize will be announced next Monday. The literature prize doesn't yet have an announcement date but is expected on Thursday.
Join our new commenting forum
Join thought-provoking conversations, follow other Independent readers and see their replies