Prototype blood test will assess for suicide risk in soldiers
Scientists believe they may have found genetic key to identify which Iraq and Afghanistan veterans are vulnerable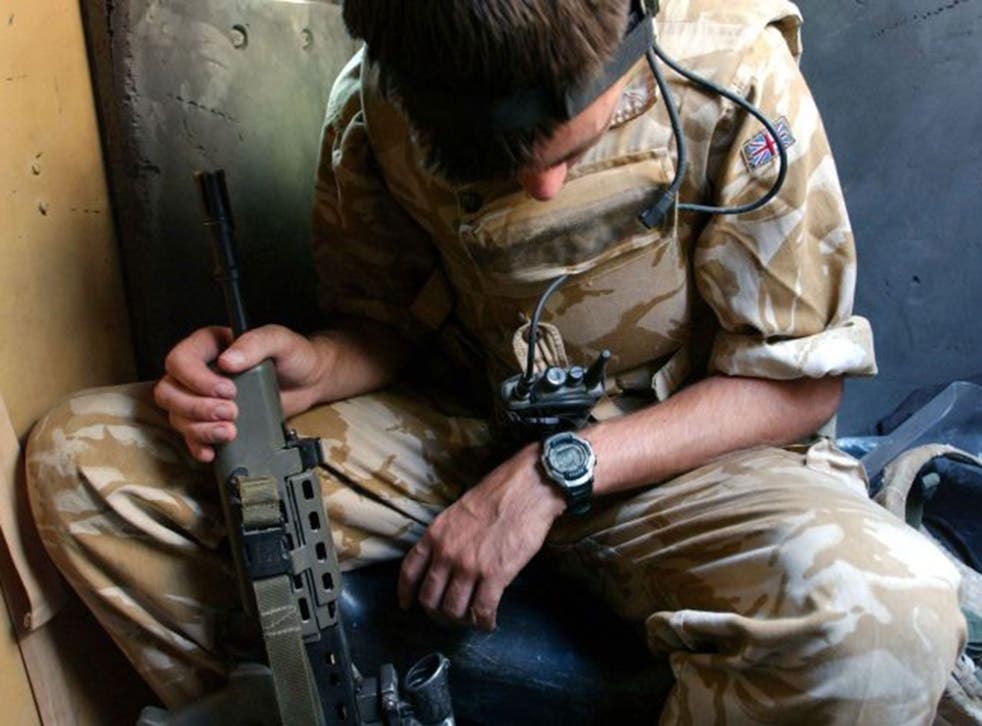 Soldiers who fought in Iraq and Afghanistan are to be assessed for their risk of suicide with a prototype blood test that measures changes to a gene in the brain linked to the control of stress.
Scientists will carry out the genetic tests on blood samples collected from US army soldiers before and after active combat in an attempt to identify people who are at greatest risk of suicidal thoughts or behaviour.
The genetic test has already been used experimentally on a group of 325 volunteers in a civilian research programme, in which it predicted suicidal thoughts with an accuracy of 80 per cent, and severe suicidal risk with 90 per cent accuracy, scientists said.
There has been a sharp increase in suicides by American soldiers. Between 2004 and 2012, the rate tripled from 9.6 per 100,000 to 29.2.
One study earlier this year found that, on average, 22 US military veterans were committing suicide each day: that represents 8,000 a year out of an annual total of 30,000 suicides nationwide.
The blood test is designed to measure two kinds of changes to a gene called SKA2, which works in the prefrontal cortex of the brain, a region involved in inhibiting negative thoughts and controlling impulsive behaviour, scientists said. SKA2 is believed to play a crucial role in regulating the body's response to stress hormones. If the gene does not function well, scientists believe that it lowers the ability of the brain to cope with stress and so increases the risk of suicidal thoughts and actions.
The test measures the genetic variation within the gene that a person inherits, as well as the "epigenetic" changes in DNA that occur during a person's lifetime, which may be influenced by exposure to stressful situations such as combat, said Professor Zachary Kaminsky of Johns Hopkins University School of Medicine in Baltimore.
"Suicide rates are high in the military, probably because of elevated combat stress. There have been more deaths in Afghanistan by suicide than by active duty – we are sending people out to fight wars but a lot of them just end up killing themselves," Professor Kaminsky said.
Suicides in the US military 25 years ago were well below the comparable civilian average but they began to rise sharply after troops were sent to Iraq in 2003, and they continued to rise after soldiers were sent to Afghanistan. "Suicide is a major preventable public health problem, but we have been stymied in our prevention efforts because we have no consistent way to predict those who are at increased risk of killing themselves," Professor Kaminsky said.
"With a test like ours, we may be able to stem suicide rates by identifying those people and intervening early enough to head off a catastrophe," he added.
A study involving blood samples collected from several hundred veterans from the Iraq and Afghanistan conflicts could begin as early as this year.
The civilian study found that mentally ill people who had committed suicide had lower activity levels of the SKA2 gene than healthy people. It also found that, in suicide victims, the gene was more likely to have been modified by an epigenetic process called methylation.
"Defects in the gene are a bit like having faulty brakes in your car. If the car is not moving, or you are not exposed to stress, there is no problem. You need the stress to see whether the gene works or not," Professor Kaminsky said.
Join our new commenting forum
Join thought-provoking conversations, follow other Independent readers and see their replies