Sexist toys stop girls choosing to study sciences at school, says top academic
Barbie or Lego? Stereotyping starts early, says physics professor as she calls for a rethink by parents and educators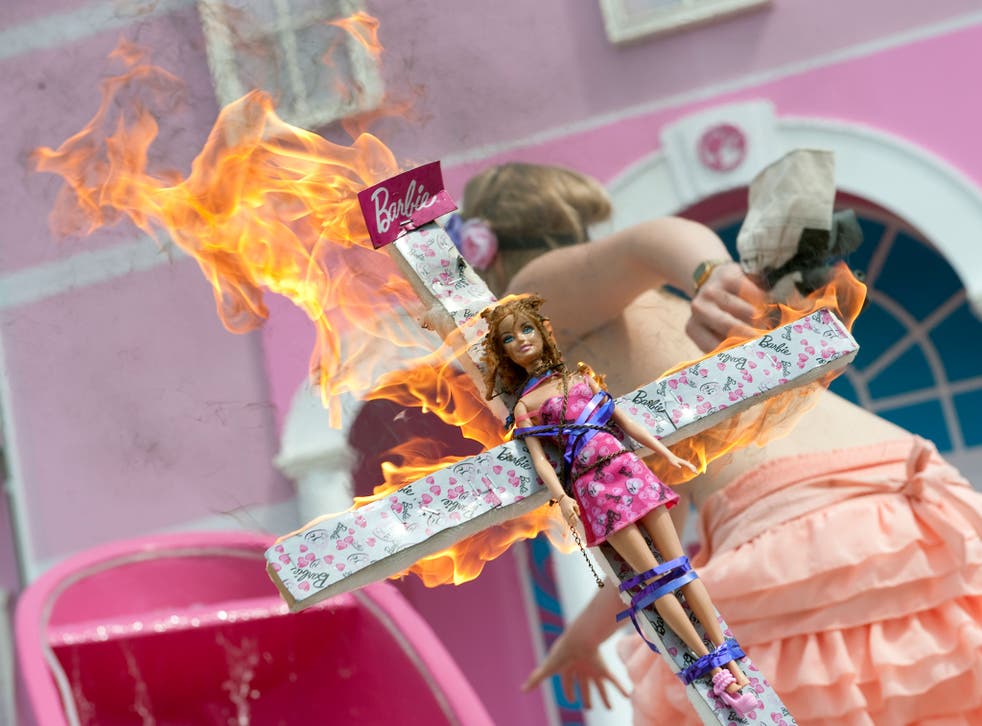 Girls are still being put off science and engineering and it starts in early childhood with sexist toys and attitudes, according to one of Britain's leading women scientists.
Barbie dolls rather than chemistry sets are being pushed at young girls who find it difficult to follow an educational path towards a career in science, said Dame Athene Donald, professor of experimental physics at Cambridge University.
Speaking prior to her inaugural address as the new president of the British Science Association, Dame Athene said that gender stereotyping starts very early, often with the kind of toys children play with, which fosters the attitude that science is for boys not for girls.
"We need to change the way we think about boys and girls and what's appropriate for them from a very early age. Does the choice of toys matter? I believe it does," Dame Athene said.
"We introduce social constructs by stereotyping what boys and girls receive from the earliest age. Girls' toys are typically liable to lead to passivity – combing the hair of Barbie, for instance – not building, imaging or being creative with Lego or Meccano," she said.
"I'm sure it's not only down to that, but it can't help. If a girl has never been given the opportunity to take things apart or play with a chemistry set, it must influence them," she added.
Despite attempts to encourage girls to take physics, maths and other "hard sciences", only a few are doing so. In her own subject, physics, only a fifth of A-level students are female, Dame Athene said.
"We need to change the mind-sets of teachers and parents alike. The problem of how we introduce gender stereotyping for our children starts incredibly early. I know there are people who think that what children do at age four is irrelevant at their A-level choices, but I'm not so sure," she said.
"Evidence suggests that many children make up their minds, certainly about what they don't want to do around the time they go to secondary school….Girls as young as seven are saying 'engineering is not for me' – but how do they know that at such an early age?" she said.
In her presidential address to the British Science Festival, which starts this weekend at Bradford University, Dame Athene will point out that girls from single-sex schools are two and half times more likely to take A-level physics than those form mixed schools. About half of mixed schools in the UK do not have a single girl taking physics at A-level.
"If teachers and parents, peers and the media give the message to the teenage girls that physics and engineering are subjects for boys and men, we should not be surprised," Dame Athene said.
The educational system does not help when children have to choose between arts and sciences at the age of 14 in order to take the specialised A-level courses between 16 and 18. This leads to the premature abandonment of important science, technology, maths and engineering (Stem) subjects, Dame Athene said.
"Not enough students stick with maths post-16. That isn't a statement about gender, however study after study indicates that we are not producing enough 18-year-olds and graduates with skills in Stem subjects," she said.
"One easy way to get more would be to make sure that half the population are not put off before they ever start. These are indeed two different issues but both need to be addressed," she added.
Britain, and England and Wales in particular, force children to take important decisions far too early about which subjects they want to take. A baccalaureate-style education system should replace A-levels to give children the option of taking either science or the arts much later in their school career, Dame Athene said.
"It seems as if our society expects children at the height of adolescence to make these absolutely fundamental decisions when they are swayed by things of the moment and by cultural and peer-group pressure – never mind parents and teachers," Dame Athene said.
"In most other countries around the world, children are simply not allowed not to study maths right up until they leave school. Indeed they are not allowed to narrow their choices in the drastic way our so-called A-level gold standard requires," she said.
"We need an informed citizenship who understands how science operates more than ones stuffed full of disparate facts that they can't pull together. I hope that politicians heed the centrality of this message, for all our sakes."
Toy story: A gender revolution
The issue of gender based toys – Barbie for girls, Meccano for boys – and their segregation in shops has long been a source of parental irritation. So much so that they are now actively campaigning against the promotion of particular toys as purely for boys or girls.
In 2012 a post on the parenting website Mumsnet complaining about the gendered marketing of toys to children, such as witch costumes for girls and skeleton costumes for boys, led to the founding of the campaign Let Toys Be Toys.
Just last week, the international chain Toys R Us announced it will be working with Let Toys Be Toys – and many UK retailers, including Debenhams, TK Maxx, Next and Morrisons, have already agreed to remove gender-specific signs.
In America, the major retailer, Target, announced last month that it would be bringing not just toys, but bedding, home decor and entertainment lines under one section in its 2,000 stores.
In May, the online retail giant Amazon also announced it would also be removing the terms "boys" and "girls" from its toy categories. There is also headway with the toy manufacturers as Lego has introduced its first female scientist figure.
Books targeted at a particular gender are also a problem, parents believe. Last year Let Toys be Toys started the Let Books Be Books campaign and won the backing of Children's Laureate Malorie Blackman, the bookseller Waterstones, and several publishers.
Ellen Morris
Join our new commenting forum
Join thought-provoking conversations, follow other Independent readers and see their replies