Whitehall puts Ranulph Fiennes' latest trek at risk – with a couple of tractors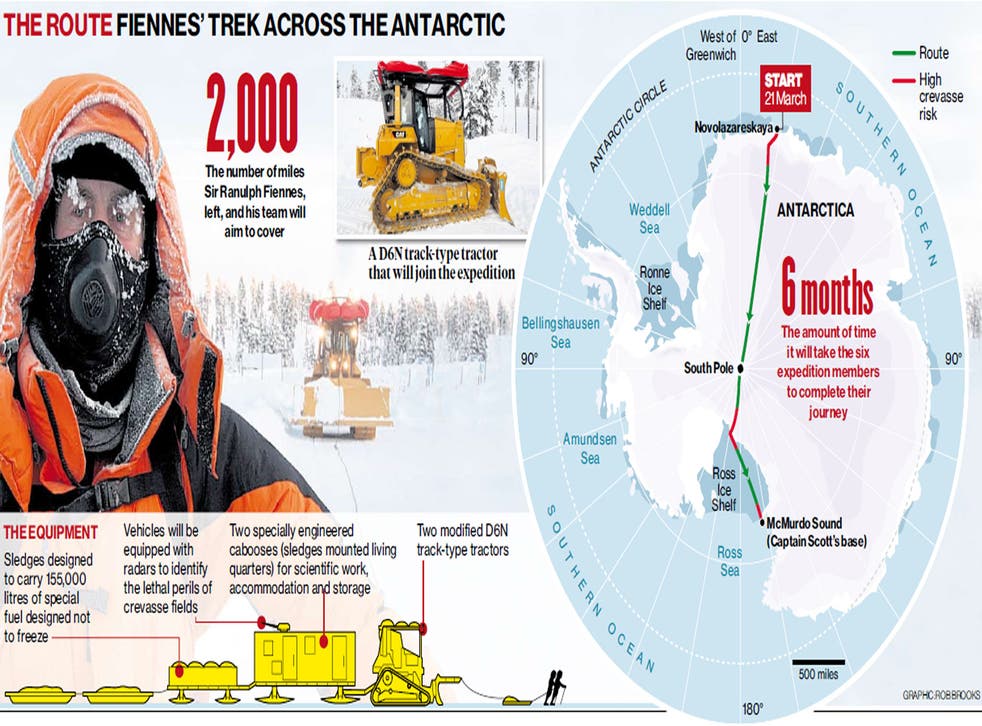 A pioneering British expedition to trek 2,000 miles across the Antarctic in winter led by veteran explorer Sir Ranulph Fiennes has been made more risky by the interference of the UK Government, a key team member has warned.
Dr Mike Stroud, who accompanied Sir Ranulph, 68, on the first unsupported crossing of the Antarctic 20 years ago, said that the Foreign and Commonwealth Office (FCO) has jeopardised the entire expedition by insisting on the deployment of two 20-tonne tractors to support the crossing. The support tractors make it less likely that that the UK will be called upon to rescue the team if the mission goes wrong.
"I believe the Foreign Office's attitude, which led to this vehicle-led concept, has made the trip vastly more dangerous and less likely to succeed," he told New Scientist magazine.
"Operating complicated machinery in that environment is asking for trouble. We've tried to envisage every problem that could arise with the tractors but it wasn't practical to test everything at those temperatures. Are the seals going to fail? You hope not," he said.
Rather than crossing the Antarctic entirely on foot and unsupported, the two-man expedition has now grown into a six-man team followed by two Caterpillar tractors pulling sledges containing mobile living quarters, equipment and 20,000 litres of specially prepared fuel designed not to freeze at temperatures of -70C.
"My original idea was for a simple, lightweight expedition with me and Ranulph, but because that wasn't feasible it has morphed into a huge vehicle-supported trip taking a year," Dr Stroud said. "That is why I'm not going – it would take me away from my job for too long. The original idea had a measure of insanity but it is even closer to insane now," he said.
Dr Stroud, a consultant gastroenterologist at Southampton University Hospital, is the senior medical adviser for the expedition and is currently on board the ship taking the equipment to the Antarctic. However, he will return to the UK rather than take part in the expedition itself, which is scheduled to set off on 21 March on the 2,000-mile journey across the frozen continent in the near-total darkness of the polar winter.
Last month, another British Antarctic expedition had to be called off as a result of equipment failure. The scientific mission to drill through the ice sheet and reach Lake Ellsworth buried two miles beneath the ice was abandoned following a series of technical failures.
Dr Stroud said that the added complications of taking heavy machinery and its associated equipment and fuel are more likely to lead to some kind of technical failure that would ruin the mission than if it was just the two men pulling sledges.
"Lots of things could go wrong. Anything made of rubber or plastic has a problem, and computer hard drives have real trouble in cold and low-oxygen environments," Dr Stroud said. "Psychologically it is a completely different challenge to anything we've tried before. You've got six individuals in a very contained, pressurised environment, unable to get out of it," he said.
An FCO spokesperson said this would be the first attempt at a winter crossing of the Antarctic when there would be no possibility of mounting a rescue if things went wrong.
"Working with us, Sir Ranulph developed his plans to meet the various requirements of environmental responsibility (e.g. testing fuel storage systems), safety (e.g. team training, clothing, equipment, medical and safety provisions) and self-sufficiency," she said.
"The FCO is grateful for the constructive way that Sir Ranulph and his team engaged with us and responded so positively to the challenges they faced in designing their expedition."
Join our new commenting forum
Join thought-provoking conversations, follow other Independent readers and see their replies