Woolly mammoth cloning war: Scientists are divided over the ethics of attempting to revive extinct mammal
An exceptionally well preserved adult female was discovered in Siberia in May 2013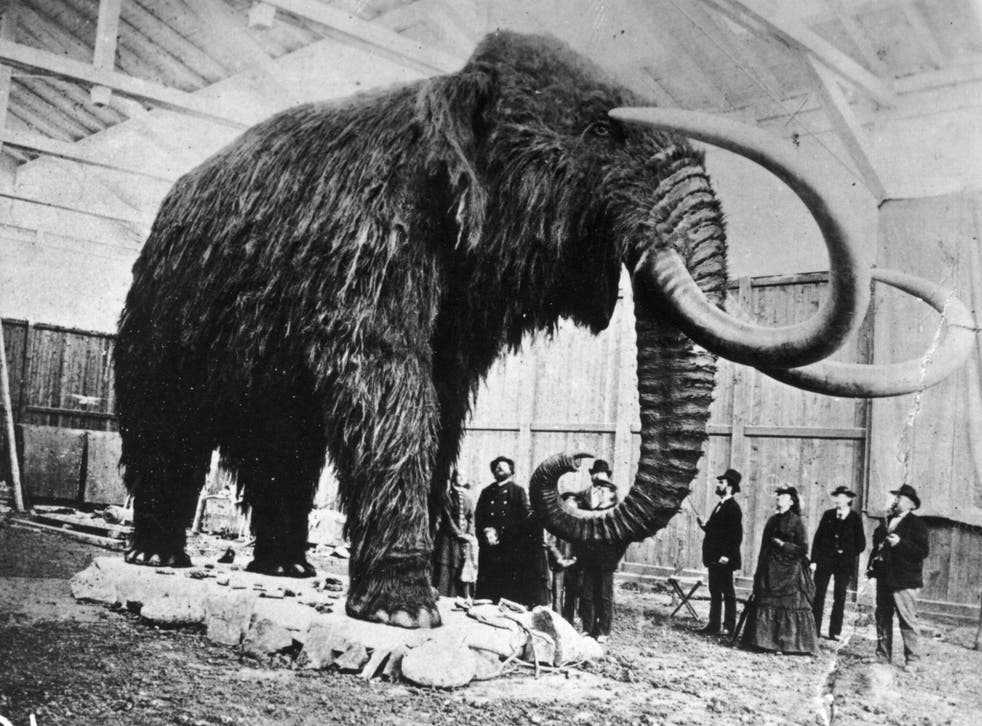 Will woolly mammoths stride the Siberian plains once again? DNA samples from an exceptionally well preserved extinct Mammuthus, found in the snowy wastes of Siberia, have raised the prospect of cloning.
But scientists are divided about raising the species from the dead, 10,000 years after becoming extinct.
Russian scientists were amazed at the condition of the mammoth, found embedded in a chunk of ice on a remote Siberian island. The samples were so well preserved that fresh blood was found within muscle tissue.
The team used carbon dating techniques to reveal the animal had walked the Earth around 40,000 years ago and raised hopes that it could be cloned.
Nicknamed Buttercup, the adult female was discovered in May 2013. At 2.5 metres tall, she is not much larger than an Asian elephant. Incredibly, three legs, most of her body, some of her head and her trunk had survived. She was in her fifties when she became trapped in a peat bog and was eaten by predators, scientists believe.
A Channel 4 film, to be shown next weekend, follows Buttercup's autopsy in Siberia, and the extraction of high-quality DNA and cells for future use by Sooam, a South Korean biotech company.
CLICK HERE TO SEE A LARGER IMAGE
The Korean researchers hope to find a cell with a complete nucleus, containing an intact genome.
"We're getting an unprecedented amount of access to mammoth samples through this collaboration," said Insung Hwang, a geneticist at Sooam.
"DNA has been distributed to multiple institutes for scientific purposes," he added.
Dr Tori Herridge, a palaeobiologist based at the Natural History Museum in London said: "The guys from South Korea, who are collecting tissue for cloning, were excited because the better preserved the tissue, the greater their hopes were that there would be some intact DNA."
However she warned that the dream of bringing the woolly mammoth back to life would be a cruel nightmare for their modern- day descendant, the elephant.
Dr Herridge, an expert in mammoth anatomy, said: "The most fundamental step and ethical concern with this kind of procedure is that you need to have an Asian elephant surrogate mum at some point; cloning a mammoth will require you to experiment on probably many, many Asian elephants." She added: "The most important thing is how much we can learn without having to go down the route of cloning."
Dr Herridge questioned "whether or not the justifications for cloning a mammoth are worth the suffering, the concerns of keeping an elephant in captivity, experimenting on her, making her go through a 22-month pregnancy, to potentially give birth to something which won't live, or to carry something which could be damaging to her. And all of those aspects... I don't think that they are worth it; the reasons just aren't there."
The autopsy has already provided crucial information. The growth rings on the mammoth's tusks, which grew at a slower rate during pregnancy, revealed she had given birth at least eight times. And examination of her teeth revealed dental abnormalities, indicating she wasn't able to chew her food properly, which may explain the small stones which were found in her gut.
Mr Hwang accepted that "there are inherent ethical questions that we have to address".
"That's why we have to start discussing the implications now," he said. "Some of our colleagues are still working on analysing the genome from Buttercup's specimen. This is a long and complicated process that is unlikely to be finished anytime in the near future.
"Bringing back the mammoth either through cloning or genetic engineering would be an extremely long process as well. We're trying hard to make this possible within our generation."
'Woolly Mammoth: The Autopsy' is on Channel 4 at 8pm on 23 November
Join our new commenting forum
Join thought-provoking conversations, follow other Independent readers and see their replies