Anti-racism campaigner and immigration caseworker sent 'go home' text messages by Home Office
UKBA left red faced after Suresh Grover and Bobby Chan receive texts telling them to leave the country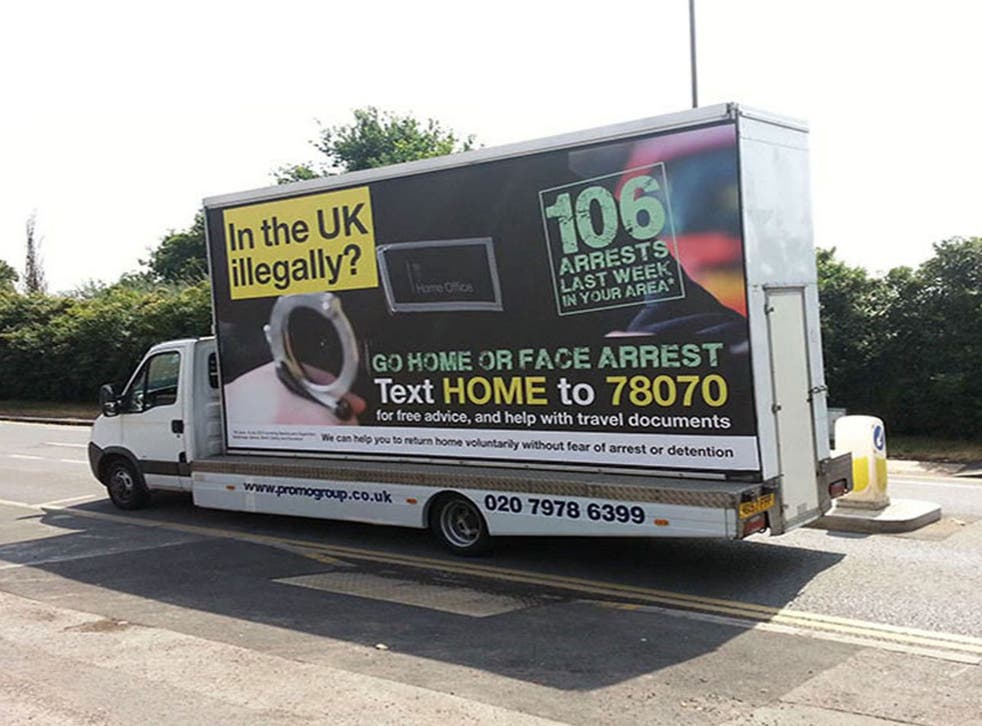 Less than two weeks since the Home Office anti-immigration vans were banned by the advertising watchdog for using "misleading" statistics, the UK Border Agency has come under fire for telling an anti-racism campaigner and an immigration adviser to leave the country in a text.
On behalf of UKBA, private contractor Capita sent leading campaigner Suresh Grover a text telling him he had no right to live here. The same text was sent to Bobby Chan, an Immigration Caseworker at Central London Community Law.
Mr Grover, who founded the anti-racism charity The Monitoring Group, has campaigned for justice for Stephen Lawrence, Zahid Mubarek and Victoria Climbie. He also runs race relations advice surgeries across London.
He told the Independent " I was absolutely shocked and quite horrified to receive the text. I thought it wasn't meant for me. I came here with my parents in 1966, I was born in East Africa and have always had a British passport."
Mr Grover rang the number on the text and got through to Capita. They told him that he was indeed the right recipient of the text. Despite explaining he had lived in Britain for 50 years, the woman on the other end of the line pressed for more information.
"The more I talked to the woman the more angry I got," Mr Grover said.
"She was asking for more personal information about me and was not telling me where she got my number. I'm not going to be giving them information I don't think they deserve. I think it's outrageous sending people random texts without knowing who they are sending them to. I was angry but i was also bemused, because of the work I do. But I think people who don't work in this area may take them seriously and be worried they don't have the right to live in the UK. It's horrific."
Mr Grover said he realised he wasn't alone when talking to his acquaintance Bobby Chan, who had received the same message. Mr Chan is accredited immigration adviser at a central London law centre who has given evidence as an expert witness to the Home Affairs select committee.
Yet he received a text stating "Message from the UK Border Agency. You are required to leave the UK as you no longer have right to remain."
Mr Chan told the Independent "I came here in 1973 so I was very surprised to receive this message and even found it quite funny. But if an elderly Chinese person received one of these messages they would get very worried. Capita told me I received the message because I put in an application to the Home Office recently but it must have been 30 years since I last put one in and I didn't have a mobile then.
"These are the equivalent of 'fishing raids' and one of the reasons Chinatown is going on strike next Tuesday. These kind of practises stereotype immigrants as a criminal community and create an atmosphere of fear.
"We complained but the Home Office has still not provided us with adequate information as to how they award that contract to Capita, how much the company is paid to carry out these services and how the bonus structure works.
A Freedom of Information request submitted to the Home Office by Mr Grover and published by the Discover Society reveal that 39,100 individuals have been contacted in this way by text.
It appears Suresh is not alone in being wrongly contacted. So far the Home Office has received 103 complaints and Capita have received 95 complaints. Mr Grover and Mr Chan believe the number to be far higher.
Mr Chan said he is looking into making a formal complaint and finding out more information about these contracts.
Theresa May promised to look into cases of British citizens incorrectly told to leave the country in January after wrongful recipients became distressed at receiving the texts over the festive period.
Yet it appears this practise, carried out by Capita as part of a £40m government contract is still on-going. Additionally it has been reported that illegal immigrants who do leave the country are being text as they leave with a message wishing them "a pleasant journey."
Social policy publication Discover Magazine reported on the case of a Croatian man who left two weeks after UKBA told him he no longer had leave to remain.
The not-for-profit writes that he found "the politeness of the British Immigration Officials that had questioned and scrutinized him was somehow the hardest thing to take."
Capita said they are given the number in "regular data drops of information detailing applications with a negative outcome on the Home Office immigration database. This data includes contact details that were provided by applicants at the time of, or subsequent to, making an application.
"Where it is identified that Capita have contacted an individual in error, Capita and Home Office records are immediately updated and contact is ceased. Furthermore, if an error has been made at the triage stage of handling the case, this is fed back, any learning incorporated into training and where, applicable processes, are amended.
"There have also been a very small number of instances where the contact details on record of an individual actually relate to a different person and this has only transpired during the contact process e.g. where a mobile phone number has changed hands. In these circumstances it is the responsibility of the individual to inform the Home Office of their new contact details. This is stated on Home Office application forms."
A revised statement given the Independent today read: "In order to assist the Home Office, we were asked to check two mobile phone numbers. We established that neither number received text messages or phone calls from Capita.
"The number of complaints received to-date about erroneous contact has been negligible. We do, of course, investigate all complaints thoroughly. "
Join our new commenting forum
Join thought-provoking conversations, follow other Independent readers and see their replies