Campaigners fight to save 'quirky and extraordinary' jewellery shop in the East End
Conservationists join forces to stop plans to destroy London's 'best visual joke'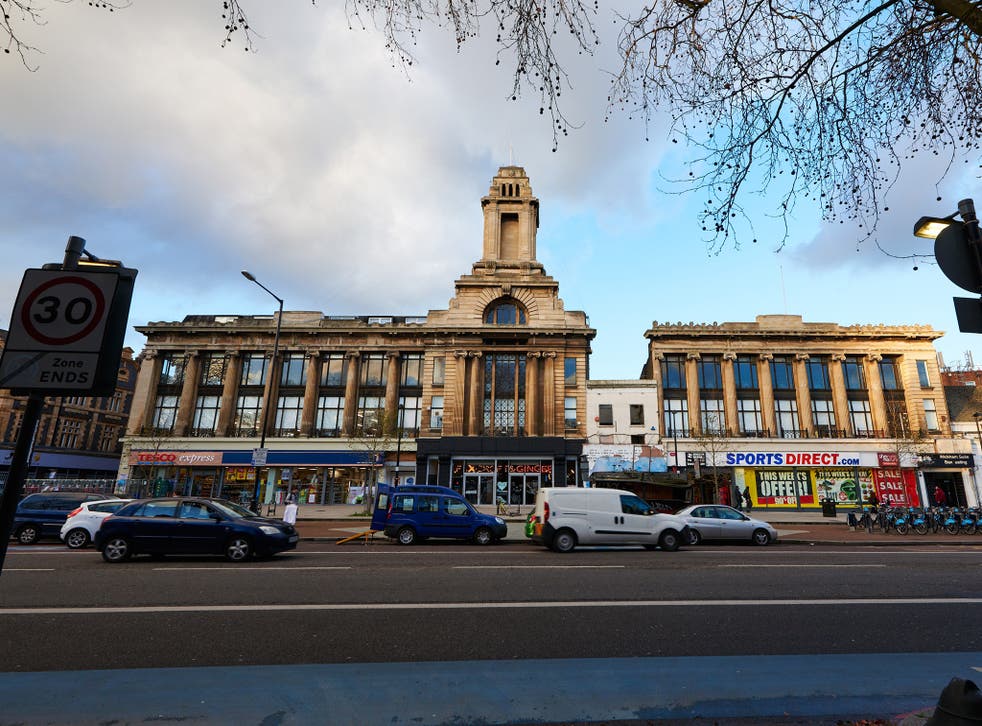 The Spiegelhalter's jewellery shop in the East End of London may be tatty and disused – but as the shop that forced developers to build their grandiose department store around the small premises after the owners refused to sell up back in the 1920s, it still offers inspiration for any small business trying to fend off the advances of a giant rival.
The chances of it surviving 21st-century developers are now in doubt, however, with new plans to tear it down, prompting campaigners to mobilise to protect a "quirky and extraordinary" part of London's history.
The Victorian Society and the Twentieth Century Society have this week thrown their weight behind the campaign to save the 19th-century shop front. It has been labelled the capital's "best visual joke" by an eminent London historian for its bizarre location – tightly sandwiched between two parts of a colonnaded building designed as a Selfridges-style department store.
London writer and campaigner David Collard launched an online petition last week after learning that developers, Resolution Property, planned to tear down the jewellers' façade and replace it with a glass atrium.
Mr Collard plans to distribute flyers over the local area for the next three weekends to boost support for his plan to call on Tower Hamlets Council to locally list the whole site, including Spiegelhalter's, to "fight for the area's history and protect it from blandification". "It would be such a shame to lose this, even though it doesn't look like much at the moment," he said, adding the plan would be to return it to a working commercial site.
In pictures: The UK's best hidden gems

Show all 23
When, in the 1920s, the Wickham family chose the spot for their proposed department store, designed to rival Selfridges and Harrods, the family firm of jewellers who had been on the site since 1880 dug in their heels.
Local legend has it that the Wickhams offered to cover the ground floor of Spiegelhalter's shop in gold sovereigns if the family moved out.
The three brothers, who had all been born there, said they would only leave if the coins were balanced on their side. The Wickhams had to complete their project with a gap in the middle of their building. One local called it a story "worthy of an old Ealing comedy".
Celebrated London historian Ian Nairn wrote: "The result is the best visual joke in London, a perennial triumph for the little man, the blokes who won't conform."
The baroque buildings flanking the small shop now contain offices on the first floor, while on street level there is a Tesco Express, a Sports Direct and a café called Foxcroft & Ginger.
Join our new commenting forum
Join thought-provoking conversations, follow other Independent readers and see their replies