Andy Coulson jailed for 18 months: News of the World journalists sentenced for phone hacking
The disgraced Number 10 spin doctor was found guilty of conspiring to hack phones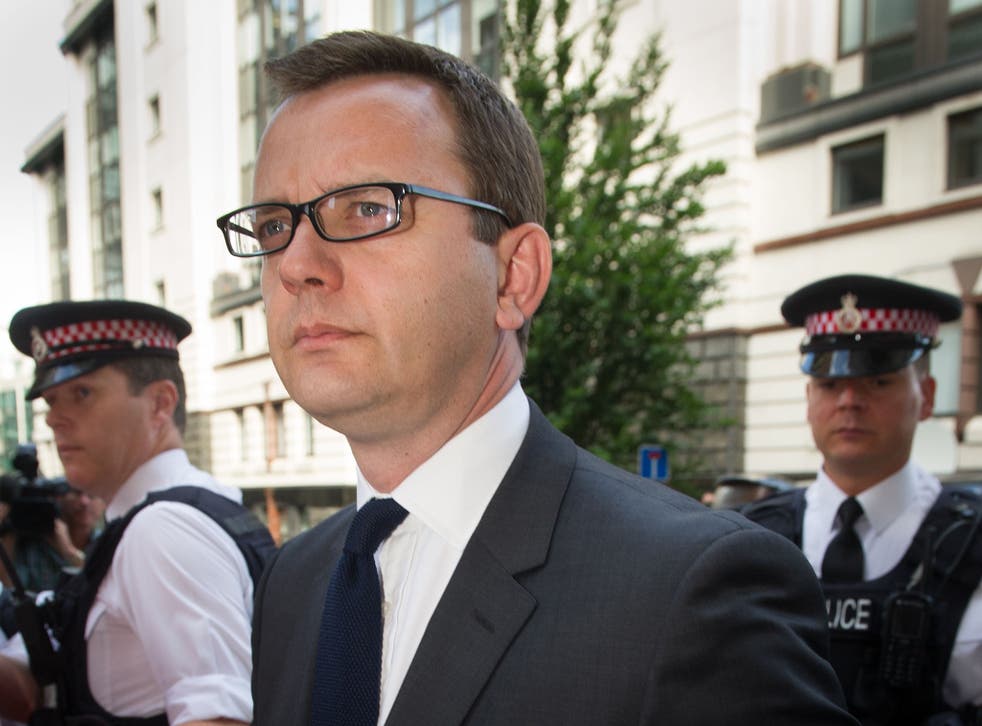 Andy Coulson has been jailed for 18 months for conspiring to hack phones at the News of the World.
The former editor was convicted by a jury last week, although they failed to reach a verdict on other charges.
Coulson, who went on to become director of communications for David Cameron, arrived at the Old Bailey with three other former NoW journalists.
Justice Saunders said the paper's delay telling police about the intercepted Milly Dowler voicemail in 2002 was "unforgiveable" and showed the motivation was to "take credit for finding her" and boost sales.
Coulson believed hacking was necessary to maintain the newspaper's "competitive edge", the judge added.
He told the defendants: "I do not accept ignorance of the law provides any mitigation.
"The laws of protection are given to the rich, famous and powerful as to all."
Coulson, 46, faces a retrial on two charges of bribing police officers for royal phone directories.
The newspaper's news editor Greg Miskiw, 64, and chief reporter Neville Thurlbeck, 52, were also sentenced today along with news editor James Weatherup, 58.
They had all admitted one general count of conspiring to illegally access voicemails between October 2000 and August 2006.
Miskiw, from Leeds, and Thurlbeck, of Esher, were each jailed for six months at the Old Bailey on Friday.
Weatherup, of Brentwood, was given a jail term of four months, suspended for a year, and ordered to do 200 hours unpaid community work.
Glenn Mulcaire, a former private investigator, was jailed for six months, suspended for a year, and ordered to do 200 hours of community service.
According to Mulcaire's notes, Miskiw tasked him 1,500 times, Thurlbeck 261 times and Weatherup 157 times, the court heard.
Justice Saunders told them: "All the defendants that I have to sentence, save for Mr Mulcaire, are distinguished journalists who had no need to behave as they did to be successful.
"They all achieved a great deal without resorting to the unlawful invasion of other people's privacy. Those achievements will now count for nothing.
"I accept that their reputations and their careers are irreparably damaged."
Hacking trial: The sentences in full

Show all 5
The Prime Minister apologised for appointing Coulson as his spin doctor after the guilty verdict last month and supporting him when the initial phone hacking allegations came to light.
Responding to his sentence, Mr Cameron said: "What it says is that it's right that justice should be done and that no one is above the law - as I've always said."
A spokesman for the Hacked Off campaign group said no one could take pleasure from the sentences handed down.
He added: "These sentences are the inevitable outcome of a colossal failure of corporate governance within News International that allowed a culture of criminal behaviour to fester for many years."
Rebekah Brooks was cleared of all charges after the eight-week trial, as was her husband Charlie Brooks.
Stuart Kuttner, the retired managing editor, was also cleared of involvement in a six-year phone hacking conspiracy and Brooks' former assistant, Cheryl Carter, was cleared of trying to hide evidence.
Additional reporting by PA