Andy Coulson: Prosecutors face questions after perjury charges against former News of the World editor dropped
Ex-tabloid editor walks free after he was accused of lying under oath in Sheridan trial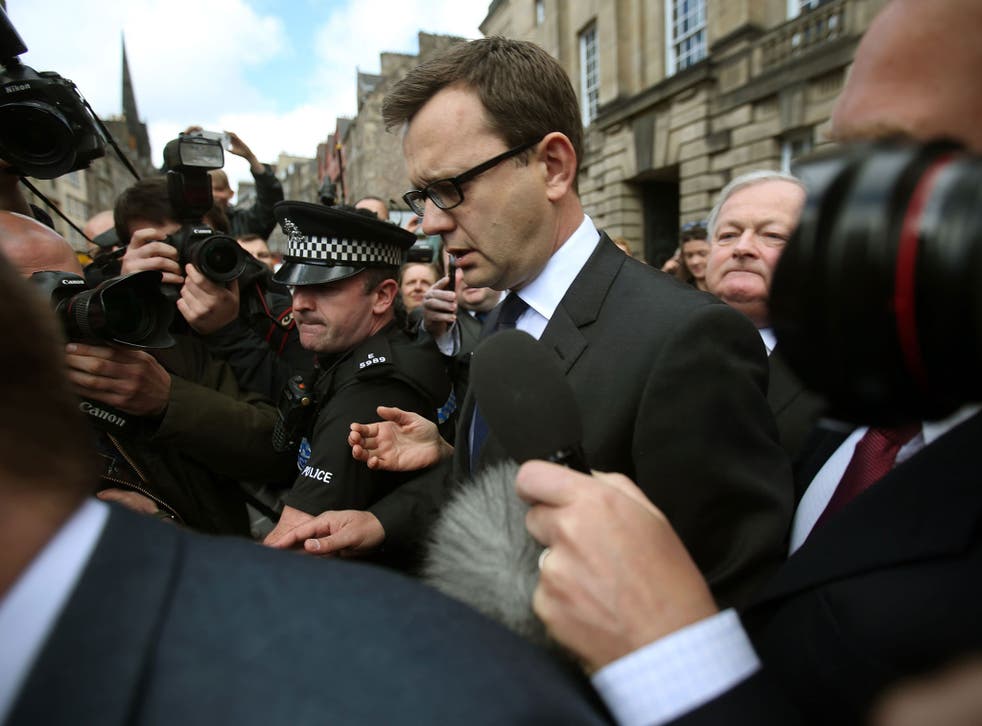 Prosecutors are facing questions about their decision to bring perjury charges against Andy Coulson after the judge dismissed the case against the ex-tabloid editor halfway through his trial.
The former No 10 communications chief walked free as the judge ruled that evidence he gave during the 2010 trial of Tommy Sheridan, a former Scottish politician, had been "irrelevant" – and therefore not covered by perjury laws.
Sources in the Crown Office, which brings prosecutions in Scotland, told The Independent that they had known for almost a year that it was "always going to be difficult" to prove the case against Mr Coulson, a former News of the World editor.
Outside the court, Mr Coulson said the entire trial process had been a "gross waste of public money". He added: "This prosecution was always wrong … I didn't lie."
The Crown had argued that the former editor had lied in the Sheridan trial when he said he had no knowledge of criminal practices, including phone hacking, inside the now-defunct tabloid. The decision by the judge, Lord Burns, to dismiss the case followed five days of legal argument. Mr Coulson's advocate, Murdo MacLeod QC, had accused the prosecutor, Richard Goddard, of attempting to make "a silk purse of a pig's ear".
The legal proceedings related to the case, including the Police Scotland investigation Operation Rubicon, have cost the taxpayer more than £2m.
The jury, who had remained in the dark about the legal battle taking place during their absence from the courtroom, were told by Lord Burns: "Not every lie amounts to perjury."
A written statement from the judge said the "false evidence" alleged in the indictment against Mr Coulson was not central to the original trial in 2010 and therefore the charge of perjury itself was also irrelevant. He told Mr Coulson: "I acquit you of the charge." Mr Coulson simply replied "Thank you" and walked out of the court.
Crown Office sources told The Independent that the difficulty of proving relevance had been discussed in the months before the trial but the prosecution, however difficult, was deemed necessary. In 2006 Mr Sheridan won £200,000 in libel damages against News International after the NOTW published a story claiming the former Scottish Socialist MSP was a serial adulterer, swinger, and drug user.
But four years later the politician was jailed for three years after being convicted of committing perjury during the 2006 proceedings. During this trial, Mr Coulson said that he knew nothing of hacking – a claim that formed the basis of the Crown Office's decision to bring the 2015 perjury action.
The jury in the trial aborted were not told that Mr Coulson was convicted last year of involvement in a phone-hacking conspiracy, and had spent seven months in jail, some of it in the high-security Belmarsh prison.
Register for free to continue reading
Registration is a free and easy way to support our truly independent journalism
By registering, you will also enjoy limited access to Premium articles, exclusive newsletters, commenting, and virtual events with our leading journalists
Already have an account? sign in
Register for free to continue reading
Registration is a free and easy way to support our truly independent journalism
By registering, you will also enjoy limited access to Premium articles, exclusive newsletters, commenting, and virtual events with our leading journalists
Already have an account? sign in