Animal welfare activists criticise Yulin dog meat festival in China
The meat, not often consumed in China, is believed to boost the male libido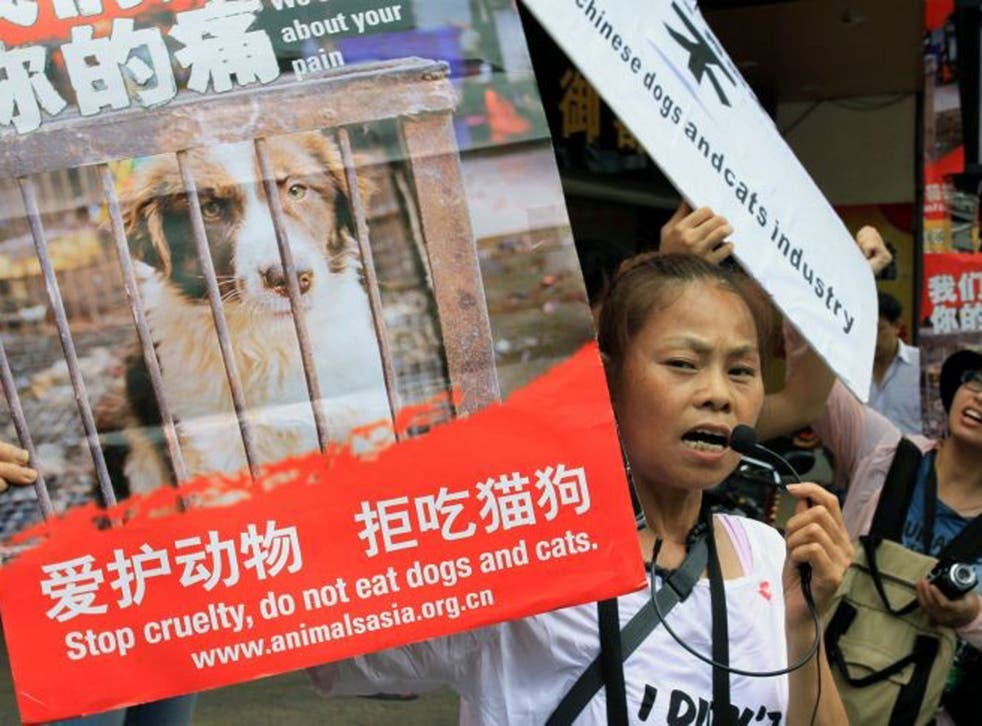 Animal rights activists protested as an annual tradition took place in Yulin, China: a dog meat festival.
Held every year to mark the summer solstice, the festival sees the city, in the southern Guangxi province, filled with revellers who feast on the meat with lychee wine.
According to the South China Morning Post, animal rights activists estimate 10,000 dogs will be killed during the festival.
In many Asian countries eating dog meat is believed to be good for the health, and boost male fertility.
The animals are often beaten to death with bamboo poles because of the belief that the adrenalin surging around their bodies adds to the resulting meat's flavour. Campaigners say the dogs are often strays, or abducted from their owners, but officials insist they are bred on farms.
There are further concerns that the cramped conditions in which the dogs are delivered to the festival means diseases can easily spread among the dogs.
Suki Deng, China cat and dog welfare manager for welfare charity Animals Asia, said: "We have written to the local authorities to lodge our complaints and to outline the cruelty involved and the dangers of eating dog meat.
"Each year opposition to the event grows and the publicity surrounding the event becomes less favourable.
"By taking part, people will be endangering themselves as disease can easily spread through dogs trafficked in this way."
Government officials previously said that they could not close the festival as it was organised by locals, and not the government
Officials in Zhejiang province cancelled a similar dog meat festival in 2011 following an online campaign.