Anti-austerity protesters accuse police of 'violence' after 15 arrested near Downing Street
Police arrested 15 people and several officers were injured in clashes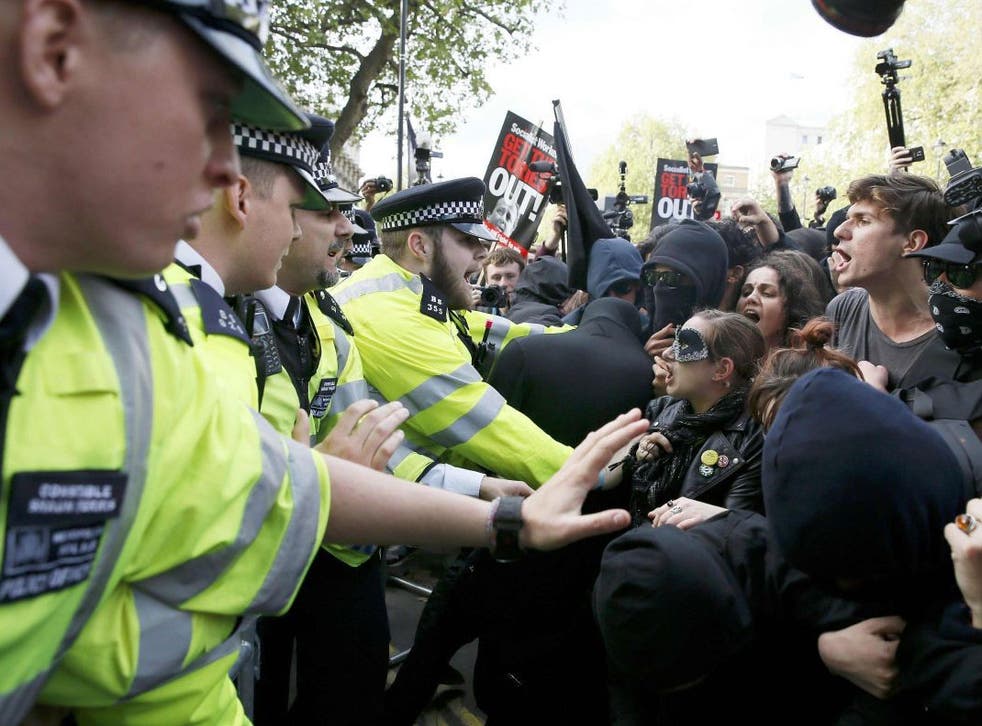 Police have arrested 15 people, including a 16-year-old boy, following angry anti-austerity protests near Downing Street that saw a war memorial vandalised.
Thousands of people marched to the Prime Minister's official residence on Saturday in the wake of the Conservatives' unexpected election victory, which paved the way for another £12 billion of welfare cuts.
Mostly peaceful protesters held placards reading "I pledge to resist" and "stop the cuts", while shouting anti-Conservative and ant-cuts chants.
Hundreds of people marched from the Conservative Party's headquarters, where David Cameron hailed his victory last week, and ended near Number 10, where tensions started to rise between protesters and riot police.
Smoke bombs, traffic cones and missiles were thrown at officers blocking the way, armed with batons.
Masked demonstrators could be seen struggling with police over metal crowd barriers and the crowd was eventually "kettled".
Several protesters were said to be injured, as were four police officers and a member of police staff. Two were being treated in hospital and Scotland Yard said the three others were "assaulted" but not seriously wounded.
The protests appeared to be largely spontaneous, with no one group appearing to take charge of organisation.
Members of the National Campaign Against Fees and Cuts (NCAFC) said there were 3,000 demonstrators at the peak and accused police of using excessive force after protesters claimed they were "beaten with batons, choked, punched, and thrown to the floor".
The group quoted Georgie Robertson, co-president of the School of Oriental and African Studies' student union, as saying she was kettled alongside peaceful protesters and unwitting tourists for more than three hours.
"The tactics of the police today show that they are scared of the fact the people are mobilising immediately and want to stop us from escalating," she added.
Daphne Wikken, a 22-year-old student at the London School of Economics, claimed she witnessed "police violence".
"My legs are bruised everywhere and I cut my arm," she told the group. "For me what is particularly scary is the fact that the government is already cracking down on dissent so badly just days after the general election."
All but one of 15 people arrested have been bailed, police said as they continued to investigate who sprayed "f*** Tory scum" on the Women of World War II monument in Whitehall.
A spokesperson for Downing Street called it "a despicable display of disrespect for those who fought and died for their country, particularly at a time when the whole nation comes together to commemorate the 70th anniversary of VE Day".
The vandalism sparked outrage on the eve of nationwide commemorations to mark the end of the Second World War in Europe.
Chief Superintendent Gerry Campbell, from the Metropolitan Police, said: "The vast majority of those protesting did so peacefully.
"However a small minority were intent on causing disorder and engaged in violence, injuring five officers and staff - two of which required hospital treatment. Our best wishes are with those officers and staff at this time.
"We have launched an investigation into criminal damage to the Women in World War II Memorial. This is particularly abhorrent considering we are celebrating the 70th anniversary of VE Day."
A dozen people were detained on suspicion of violent disorder and three for assault on police, including a 24-year-old man still in custody.
Acting Commander Colin Morgan said police were aware of potential demonstrations and a number of separate groups had been "monitored" as they moved around Westminster on Saturday afternoon.
"During the course of the evening, the protest in Downing Street became larger and more disorderly," he added. "A number of protesters engaged in violent disorder and, in a quick response to this escalation, at 6.17pm a containment was put in place to prevent any further breach of the peace.
"We respect the right of people to protest peacefully, while we must also balance the need for Londoners and visitors to go about their business - and for events such as this weekend's VE Day celebrations to be held safely."
In Cardiff, singer Charlotte Church joined a similar rally that saw hundreds of people protest at the Aneurin Bevan statue in Queen Street, where she was pictured carrying a placard which read: "I'm mad as hell and I'm not going to take it anymore."
What does five more years of the Tories mean for Britain?

Show all 8
A protest called "Stop the Tory coup" organised by campaign group The People's Assembly had been scheduled for Saturday but was cancelled after the Conservatives unexpectedly won a working majority on Thursday.
Instead, they are planning an "End Austerity Now" demonstration outside the Bank of England on 20 June. More than 42,000 people have already pledged to attend on Facebook.
Additional reporting by PA