Bloody Sunday: Arrest of British soldier over 1972 shootings could lead to chain of new of legal proceedings
66-year-old former paratrooper is being questioned over the infamous shootings of protesters by British soldiers at a march in Londonderry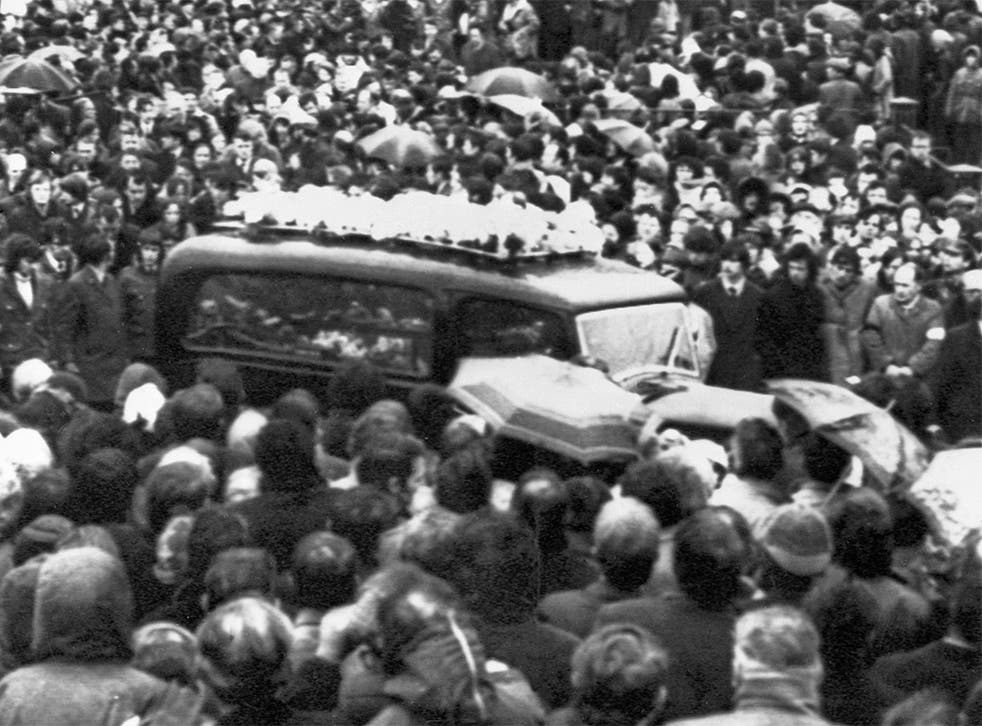 More than four decades since Bloody Sunday, the first arrest over the deaths – made in County Antrim on 10 November – could mean a new chain of legal proceedings is still being fought come the 50th anniversary.
The man who was detained, a 66-year-old former paratrooper, is being questioned in police custody in Belfast over the infamous shootings of protesters by British soldiers at a civil rights march in Londonderry in 1972. Thirteen died, with a 14th dying later.
News of the arrest caused surprise in Northern Ireland, since most people had assumed the incident was unlikely to generate new developments at this stage, despite a lengthy police investigation.
Opinion is sharply divided between those who believe a line should be drawn with the past and those who believe that police inquiries should continue. A chief inspector leading the investigation said his arrest "marked a new phase in the overall investigation which would continue for some time".
He described the inquiries as long, complex and protracted. If charges are brought against any of the Bloody Sunday soldiers, the legal processes which follow will be no different.
Police are seeking to connect individual soldiers with individual shootings which might lead to murder charges. It was reported that yesterday's arrest of the paratrooper – who was known as Soldier J when he appeared before the official inquiry – was over the deaths of William Nash, Michael McDaid and John Young.
Thirty-one troops and more than 300 civilians have been interviewed so far, while 55 soldiers and more than 200 civilians have declined to make statements.
Dark past, bright future: The legacy of Bloody Sunday

Show all 9
The police investigation was launched after the British judge Lord Saville criticised soldiers and exonerated those killed, following his inquiry which lasted 12 years and cost almost £200m.
Offering an apology in the Commons when the inquiry results were finally published in 2010, David Cameron declared: "There are no ambiguities. What happened was both unjustified and unjustifiable – it was wrong. These are shocking conclusions to read, and shocking words to have to say."
No one had expected that Lord Savile's report would be so time-consuming or so costly, and few anticipated that there would be such an intensive police follow-up.
News of the arrest was welcomed by Kate Nash, whose brother William was shot dead and who, along with other families and human rights groups, continues to campaign for prosecutions.
"I started to shake," she said. "I couldn't believe it – I became very emotional. To see a soldier even being questioned has truly shocked me. I never thought it would get to this – there is a flicker of hope, it's a very positive step."
But the Democratic Unionist East Londonderry MP Gregory Campbell asked if all killings dating back to the Bloody Sunday era would be investigated, including "others who were engaged in illegal terrorist activity".
"Two police officers were in a patrol car on part of the route of the march three days before Bloody Sunday and were murdered by the Provisional IRA," he said.
"The police need to confirm if they are questioning anyone in relation to that double murder or the other murders that occurred around the same time."