Body in well: Seven men bailed following arrests over corpse discovered by gardeners
Police in Surrey say 'it is a murder investigation' as it is apparent the body was placed in well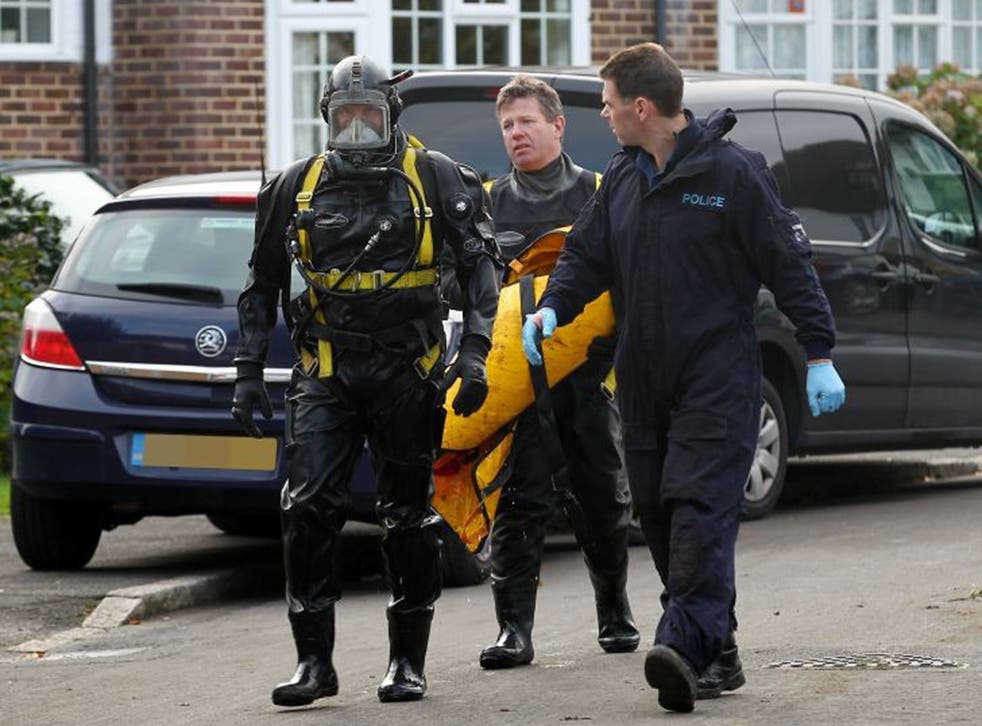 Seven men who were arrested over the discovery of a body in a well in Surrey have been released on bail, police said.
The body was discovered by a pair of gardeners at around 1.50pm on Friday, and recovered from the well by specialist police officers yesterday.
The seven who were arrested on suspicion of murder are aged between 21 and 27, and have been bailed to appear at a date in late December while police carry out their investigation, a Scotland Yard spokesman said.
Speaking to the Croydon Advertiser, Jack Duncan, 17, and Rory Mulholland, 21, said they found the body while working in the garden of a cottage in Audley Drive, Warlingham, Surrey, which stands on an acre of land in a "well-to-do" area.
Mr Duncan explained how he and his colleague investigated after removing a paving slab from the top of the well – and seeing something floating in the water.
"I didn't think it was a body, I didn't know what it was," he told the newspaper. "Then I saw the shape of two legs, and then a backside, and I realised it was a body.
"It was definitely a man. You could tell by the size of his thighs. It was definitely an adult. It still had skin and hair, so couldn't have been there for very long.
"I was shocked because I had been working right next to it. I'd even sat on the well to have a cigarette with the body beneath me."
At this point the pair called the police. Yesterday, Detective Chief Inspector Cliff Lyons confirmed: "It is a murder investigation.
"As far as I am concerned, when a body is found in a well it either fell in there or was placed in there, and the evidence is apparent that the body was placed in there."
He said a specialist police marine diving team had been needed in order to preserve the body intact for forensic evidence.
"The well is two feet in diameter, it is seven feet deep to the water line, and the water is approximately four feet deep," he said.
Despite the gardeners' claims, Mr Lyons said officers could not yet be certain of the body's gender, but judging by the size it was most likely to be an adult. The person was white.
Mr Lyons told reporters at the scene: "It's not been there for an extended period of time; it will be a matter of weeks at the most."
Asked about claims by local residents that there had been quite a bit of trouble in the past couple of years, he said: "There is intelligence to support that notion, yes."
A local resident, who did not wish to be named, told BBC News: "It is really shocking. You do not expect it here. It is a really quiet well-to-do area."
Mr Lyons appealed for anyone who had concerns about a person who has gone missing, especially if they had connections to that area, to come forward.
Anyone with information is urged to call police on 020 8721 4961 or Crimestoppers anonymously on 0800 555111.